Originally posted 2018-05-26 08:18:53.
When it comes to Dubai, there are so many things to see and do that three days simply aren't enough time to learn about it and you won't be able to see it all. As a result, when it comes to choosing what to do for three days in Dubai, visitors become confused and wonder what there is to do for three days in Dubai. Additionally, the Dubai Tourism Authority permits the opening of new tourist attractions every year, making the final selection even more difficult. Having spent the past two and a half years in Dubai, I'm well qualified to guide on this topic. Let's look at the itinerary for three days in Dubai.
Day 1
The first day of your trip will be spent exploring downtown Dubai, assuming you are starting your day before 11:00 am. I have listed below a list of things you should do on the first day of your trip.
Burk Khalifa
As soon as you arrive in Dubai, you must not miss out on the chance of booking your ticket to the top of the Burj Khalifa. Not only is it the tallest building in the world, but it is also the highest floor with the most top reservations, located on the 124th floor. It is a bustling spot, and sometimes you will find yourself in a hotchpotch situation. So I would recommend you to go to Burj Khalifa in the early afternoon before 1:00 pm because at that time there will be fewer tourists than in the evening. You should purchase tickets for the Burj Khalifa online, since ticket prices at the Burj Khalifa office are expensive. Aside from that, tickets usually run out quickly.
Spend Time: 1/2 Hours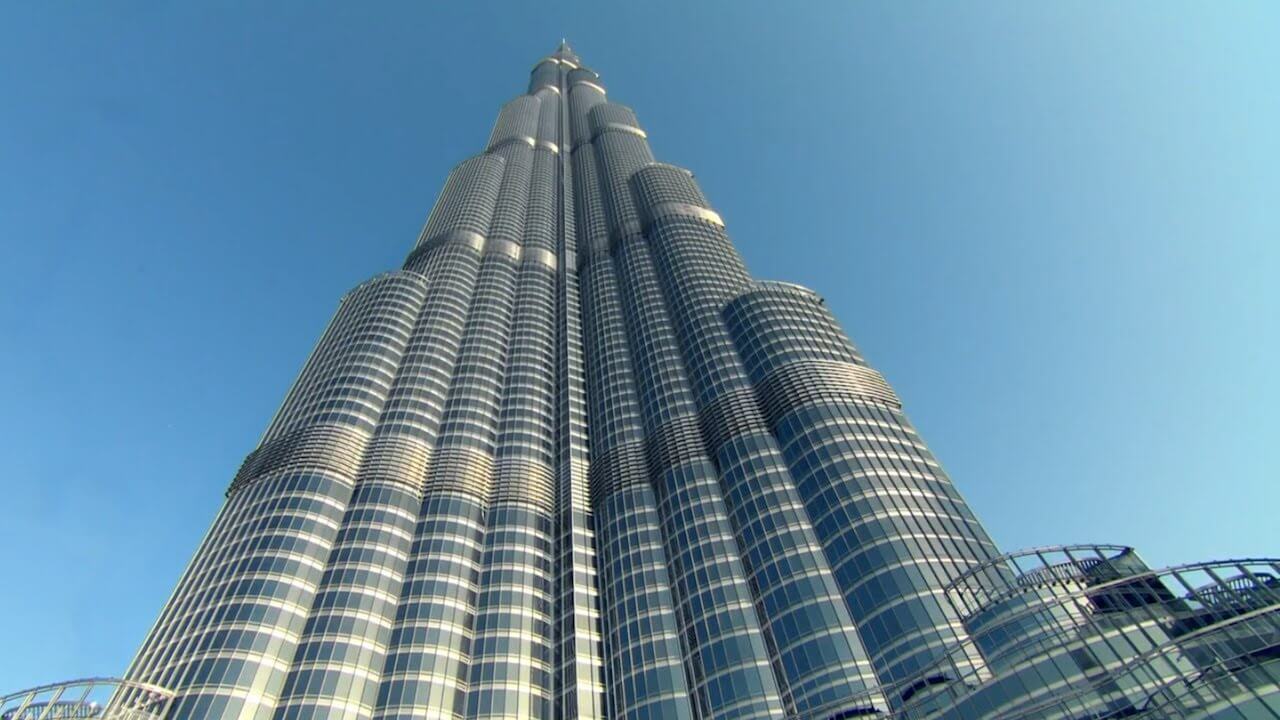 The Dubai Mall
In addition to your Burj Khalifa experience, you may also plan to visit the Dubai Mall, located directly next to the Burj Khalifa. The Dubai Mall is the world's largest shopping mall; probably one whole day would not be enough to take in the beauty of the Dubai Mall. The Dubai Mall has a wide variety of fun things to do for everyone, whether you're a couple with kids, a single girl, or a bachelor. A visit to the Dubai Aquarium & Underwater Zoo is one of the most popular things to do at the Dubai Mall and it's located on Level 2 of the Mall, which makes it one of the most popular places as well. The aquarium is free to enter unless you want to go inside, so make sure you don't miss it.
Spend Time: 4/5 Hours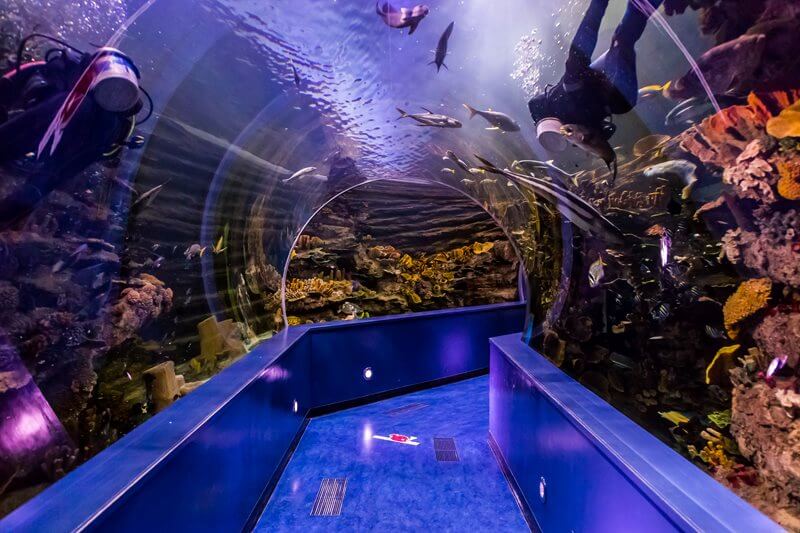 The Fountain Show
As an added bonus, you can also see a fountain show that occurs every day, and it lasts up to five minutes. There are two performances during the daytime; one starts at 1 pm and one begins at 1.30 pm (1.30 pm and 2 pm on Fridays). Additionally, it starts at 6 p.m. and occurs every 30 minutes until 11 p.m. It is also worth noting that many restaurants offer fountain views, so you might want to give those restaurants a try as well.
Spend Time: Less than 1 hour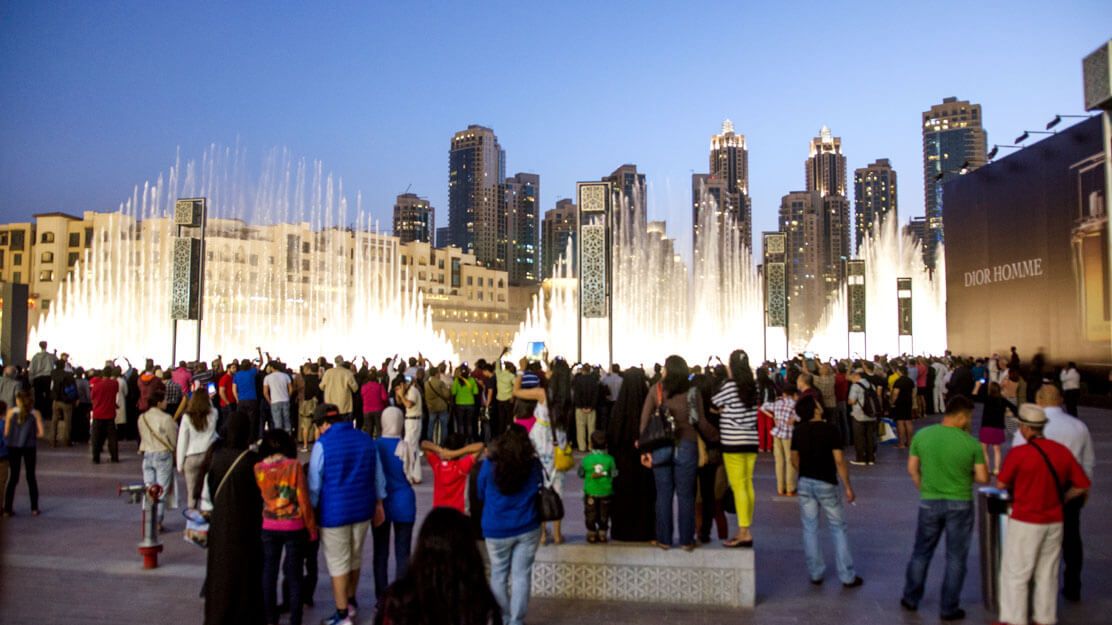 Dubai Opera and Dubai Canal 
In the evening, consider adding a visit to the Dubai Opera, a magnificent venue that hosts world-class performances and cultural events. Check their schedule for any shows or concerts during your visit. Afterward, take a leisurely stroll along the Dubai Canal, with its beautifully lit walkways, charming cafes, and picturesque views of the city.
Day 2
I will strongly suggest you book a half-day in Dubai city tour from any operator for Day 2 as they can cover maximum places in 6 hours tour. If you prefer to do manually, here, I will list down what most of the tour operator offers in their Dubai city tour.
Start your 3rd day with an adrenaline rush and thrilling experiences suitable for solo travelers, families with kids, and couples:
IMG Worlds of Adventure – A World of Entertainment:
Experience the largest indoor theme park in the world at IMG Worlds of Adventure. A variety of attractions are available at this massive complex, including thrill rides, roller coasters, immersive zones featuring characters from Marvel superheroes and Cartoon Network, as well as family-friendly entertainment. A perfect destination for solo travelers, families with kids, and couples seeking adventure.
Estimated Time Spent: 4 to 5 Hours
Lunch: Enjoy lunch at one of the restaurants inside IMG Worlds of Adventure, offering a variety of cuisines to satisfy different tastes.
Alternative Options
I think it is injustice if someone come to Dubai and don't know about the Arabian culture. Dubai Museum is an official museum operates under the Dubai tourism department. It's a complete Arabian culture hub where one can see just about everything that related, to UAE culture. It's a well-maintained Small yet informative place that's shows where Dubai came from. Dubai Museum tickets cost is AED 3 only. The Dubai Museum, located in the Al Fahidi area – Bur Dubai.
Spend Time:  1 Hour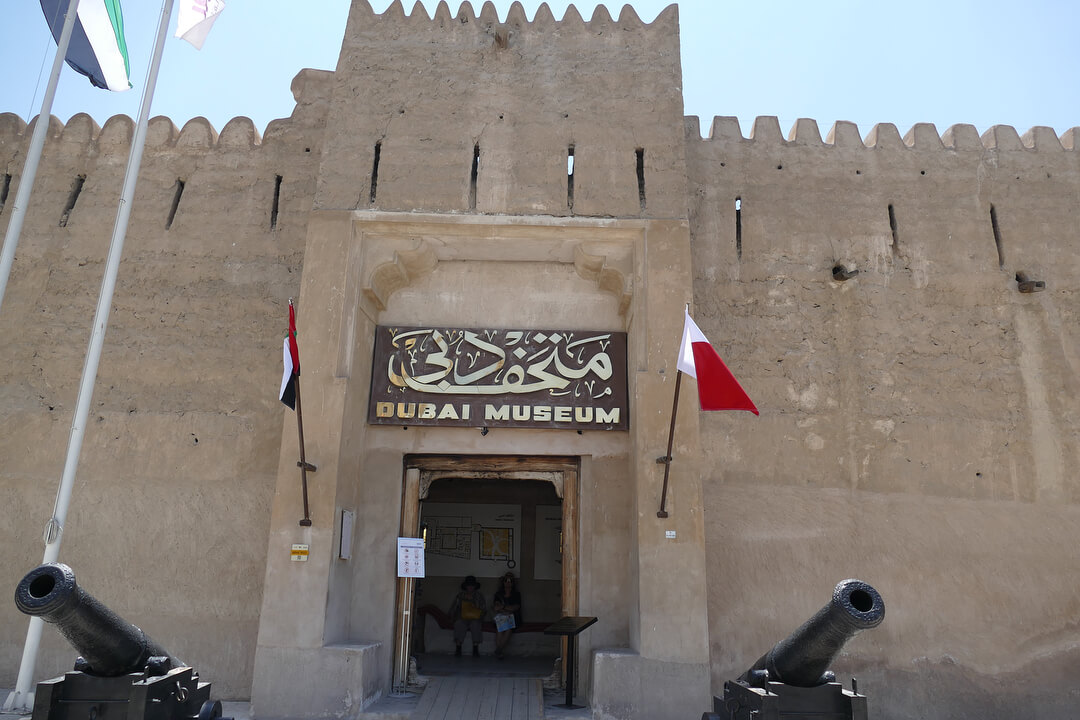 Gold Souq
Next, journey to the Gold Souk, a glistening paradise for jewelry enthusiasts. Explore countless shops showcasing exquisite gold, silver, and precious stones. While here, immerse yourself in the art of haggling for unique souvenirs and one-of-a-kind pieces. This is an opportunity to witness the craftsmanship and opulence that define Dubai's jewelry scene. You can read by going here.
Spend Time:  1/2 Hours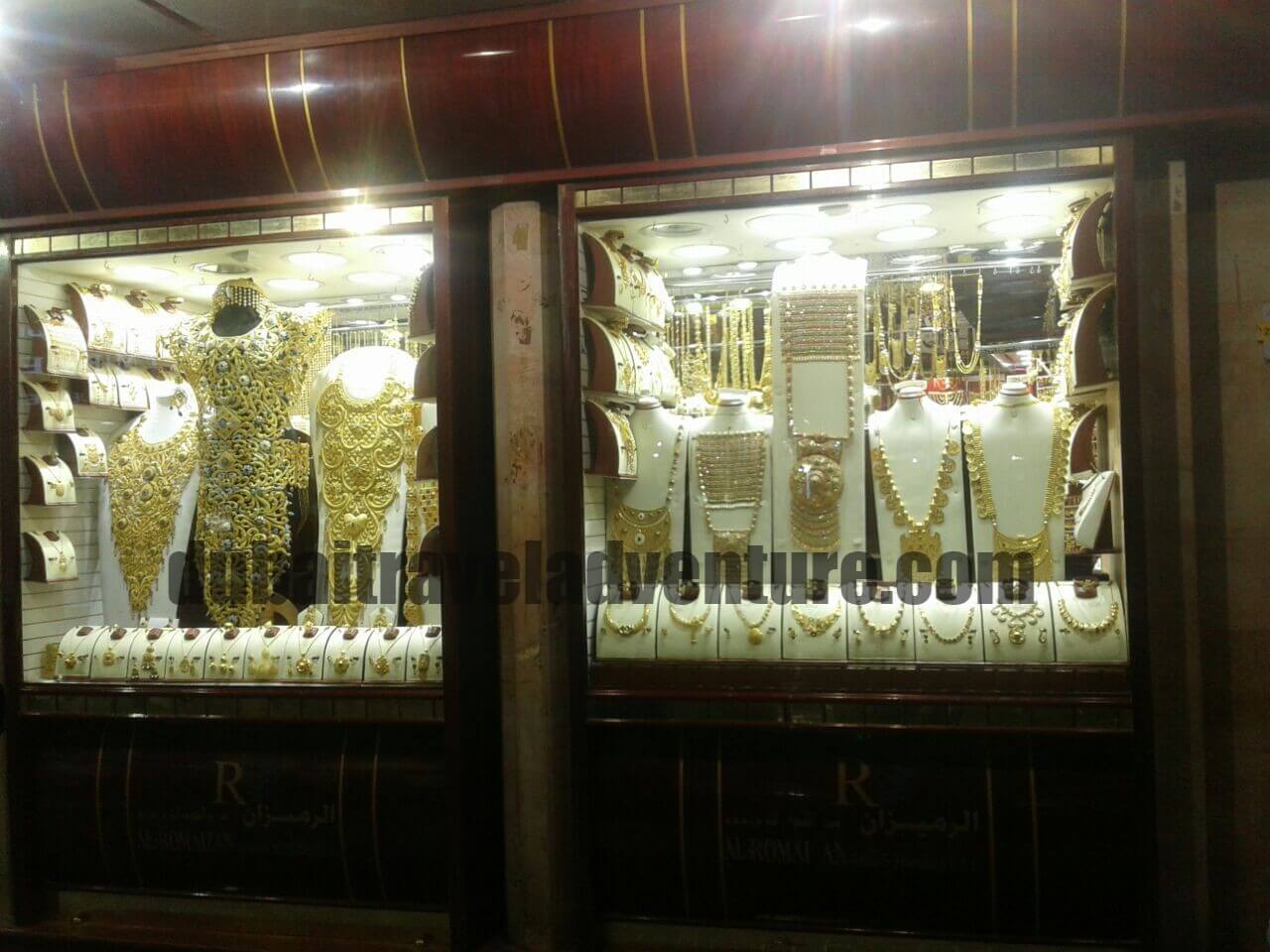 Al Bastakiya
It's one more historical place that demonstrates to you a different side of Dubai. If you have got the interest in historical things, Historical Bastakiya unquestionably will amaze you, and you take you back to 1980's UAE. Several shops and restaurants can be found around it which sells mostly UAE tradition items. You can make your Al Bastakiya visit remember beating the camel burger that is available at the many cafes and restaurants around it. At the moment, entry costs nothing.
Spend Time:  1 Hour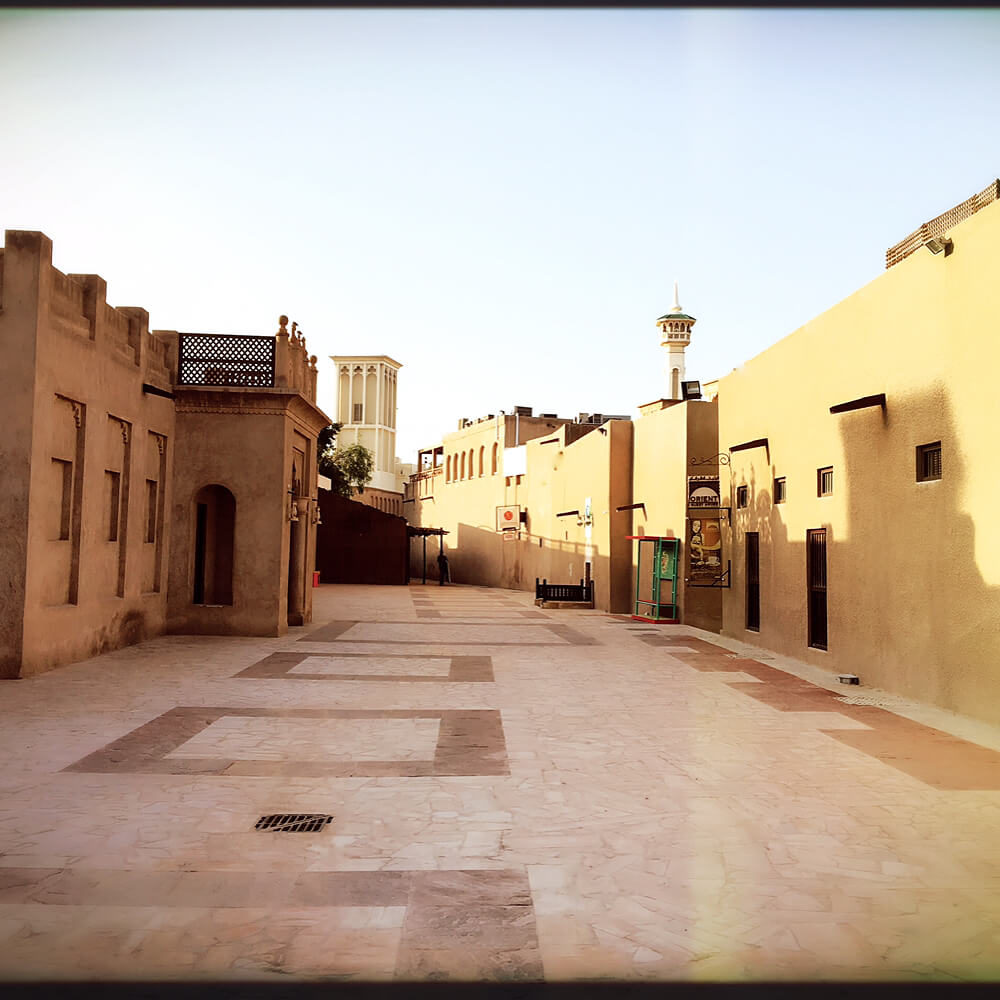 Dubai Creek
To begin with, let me make it clear hardly any tour operator offers this in the city tour package. Dubai creek a saltwater creek that connects old Dubai (Deira area) to Bur Dubai. Here the mode of transportation is small motorized water taxis known as Abra. The ticket for an Arba ride is AED 1 only. You can use this ride to reach Deira from Bur Dubai and contrariwise. If you're staying in Deira area, come to gold Souq first and then go to Dubai Museum and Historical Bastakiya from there because both of these attractions are located in Bur Dubai Area. Similarly, you can reach to gold souq with this route. You can find more details and map here. In evening, dhow cruise tours are also arranged here (check out below).
Dinner at Dhow Cruise
A dhow is a traditional Arabian cruise that is built with Wooden. In Dubai, dhow cruise, dinner is trendy among tourists and locals. Especially in Ramadan, peoples do Iftari at Dhow cruise. Dhow Cruise dinner ought to be on your trip itinerary. It's a two-hour trip that organizes in the evening (8:00 PM – 10:00 PM). Two most widely used places where this trip is offered are Creek and Marina. Price varies on Dhow type, Dinner standard, and location. I have written my dhow cruise creek trip experience here.
Day 3
Museum of the Future – A Glimpse into Tomorrow:
Begin your day with a visit to the Museum of the Future, an emblem of Dubai's dedication to cutting-edge technology and innovation. This avant-garde attraction offers a unique glimpse into the future, showcasing emerging technologies, sustainability solutions, and visionary concepts. The museum's interactive exhibits and immersive experiences promise to inspire and spark your imagination.
Alterative
Jumeirah Mosque
Whether you're a Muslim or non-Muslim, you can go inside of the Jumeirah Mosque. States show that it's one of the most photographed mosques in Dubai and peoples love to take selfies in the mosque. Jumeirah mosque situated at Jumeirah Beach Road. Although entry is free, you can book a custom guide tour directly from Dubai culture department cost AED 25 per head. Keep in mind, Jumeirah Mosque has a specific dress code.
Dubai Miracle Garden – A Floral Wonderland:
If you're traveling with family or as a couple, you will love the Dubai Miracle Garden. This captivating garden features a spectacular display of flowers and sculptures and makes for a beautiful backdrop for a leisurely stroll and memorable photos. This floral paradise will captivate kids, while couples can enjoy a romantic walk among the vibrant colors and imaginative designs.
Estimated Time Spent: 2 to 3 hours.
Jumeirah Beach
Jumeirah Beach is situated near to Satwa in the Jumeirah area. It's an incredible beach. This white sand beach with its blue water is a must-visit in Dubai. Swimming closely watched by lifeguards. A good option to hang around. One can take pleasure in, swimming and have fun playing with the sea. Proper safety arrangements have been organizations and demarcations have been made to make certain that individuals don't cross beyond a specific range. There are shower facility and washrooms available on the beach. The region is spotless. There aren't many eating joints on the beach. . Paid swimming bed are there.
Continue your day with options suitable for all types of travelers:
Desert Safari Dubai
Enough talked about modern Dubai. Now its time to explore the famous Arabian desert and taste traditional Arabic foods, belly dance, fire show, Arabic tea and take a selfie with a falcon. You should be ready to desert till 2:00 AM. It's a six hours tour. You can read my Dubai safari experience and complete trip details here.
Spend Time: 6 hours
I know this is a hectic itinerary and the reason for it you are coming to Dubai on a trip, not for rest. So why not explore this modern artificial city as much as you can. However, you can customize and skip something as per your choice.
Updated on 15, Sept 2023.