A great way to experience one of Dubai's most famous attractions is to dine at a restaurant that overlooks the spectacular fountains of the Dubai Mall. As one of the most popular tourist attractions in Dubai, it should come as no surprise to find out that this would make for an unforgettable experience. Eating at a restaurant that overlooks these spectacular fountains will make for a memorable meal. In addition to being an excellent place to eat in the city, the Dubai Mall also has spectacular fountain views. This makes it a top attraction in Dubai. Therefore, restaurants near Dubai Mall with views of the fountains are some of the most popular places in the city to dine. Luckily, Dubai Mall offers several restaurants with outdoor seating. This enables diners to enjoy the Mall's famous fountains while dining in one. Perhaps it is just me, but I find that eating a meal alongside these beautiful fountains enhances the romantic atmosphere at the mall.
The common belief that a meal at a stylish restaurant with a fountain view must be extravagantly priced is false. In fact, Dubai Mall is home to moderately priced restaurants, several of which offer vantage points over the mall's fountains.
I've broken down the most popular Dubai Mall restaurants with fountain views into different categories, so you can choose one (or many!) that perfectly suits your taste.
SIDE NOTE The fountain show runs every 30 mins.
Zouzou
Turkish cuisine has a long history in the Arab region. It is a blend of fruits, nuts, fish, chicken, seafood, lamb or beef, making it one of the most unique dishes. It is fortunate that Dubai has many Turkish restaurants. This Turkish restaurant, located in Dubai Mall near the fountains, is one of the most popular Turkish restaurants. It offers views of the Burj Khalifa and the fountains. As a Turkish and Lebanese restaurant with an impressive dining experience, Zouzou provides an impressive dining experience. You can enjoy grilled dishes, lentil soups, spicy potatoes, and fried hummus to satisfy your hunger. In addition, it is one of the best restaurants for breakfast in the city. So begin your morning with their delicious Turkish tea along with freshly baked bread. The most notable thing about Zouzou, unlike other fountain views restaurants, Zouzou price is considerable less (more or less 100 aed).  As there is plenty of seating available in the dining area and an outdoor patio facing the fountain, be sure to give it a try.
Couple Dinning Price: 150 AED | Location: Shop 092- Lower Ground Floor  | Timing: 9 am to 1 am | Contact:  +971 4 394 6394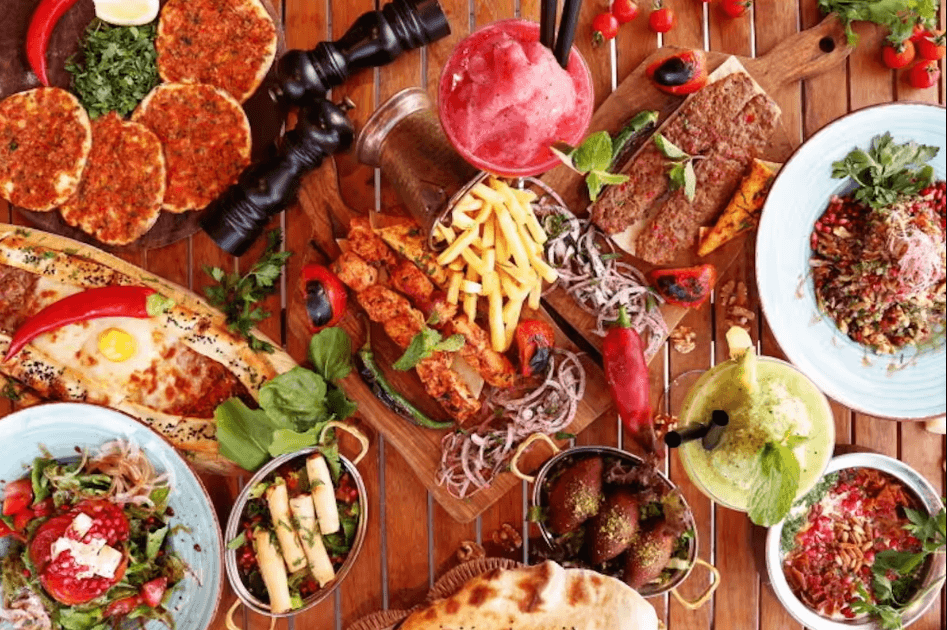 Wafi Gourmet
Whether you enjoy Lebanon cuisine or just want a breathtaking view of a fountain while dining, Wafi Gourmet is the perfect place for you. There are many delicious dishes served at Wafi Gourmet that are well known for their delicious taste: lentil soup, tabbouleh salad, mixed grill, grilled lobster and hummus. Once you have filled your stomach with your favorite Middle Eastern dishes, you should try some flavored shisha at the end so that you get the real feel of a Middle Eastern experience. It's worth noting that not all inside tables at Wafi Gourmet offer Burj Khalifa and Fountain views. On the other hand, you will have a beautiful view of the fountain show from outside. As compared to Touriskh Zouzou it's more expensive, however Waif Gourmet offers plates that are large enough for two adults.
Couple Dinning Price: 150 AED | Location:  Lower Ground Floor  | Timing: 10 am to 1 am | Contact:  +971 4 330 8297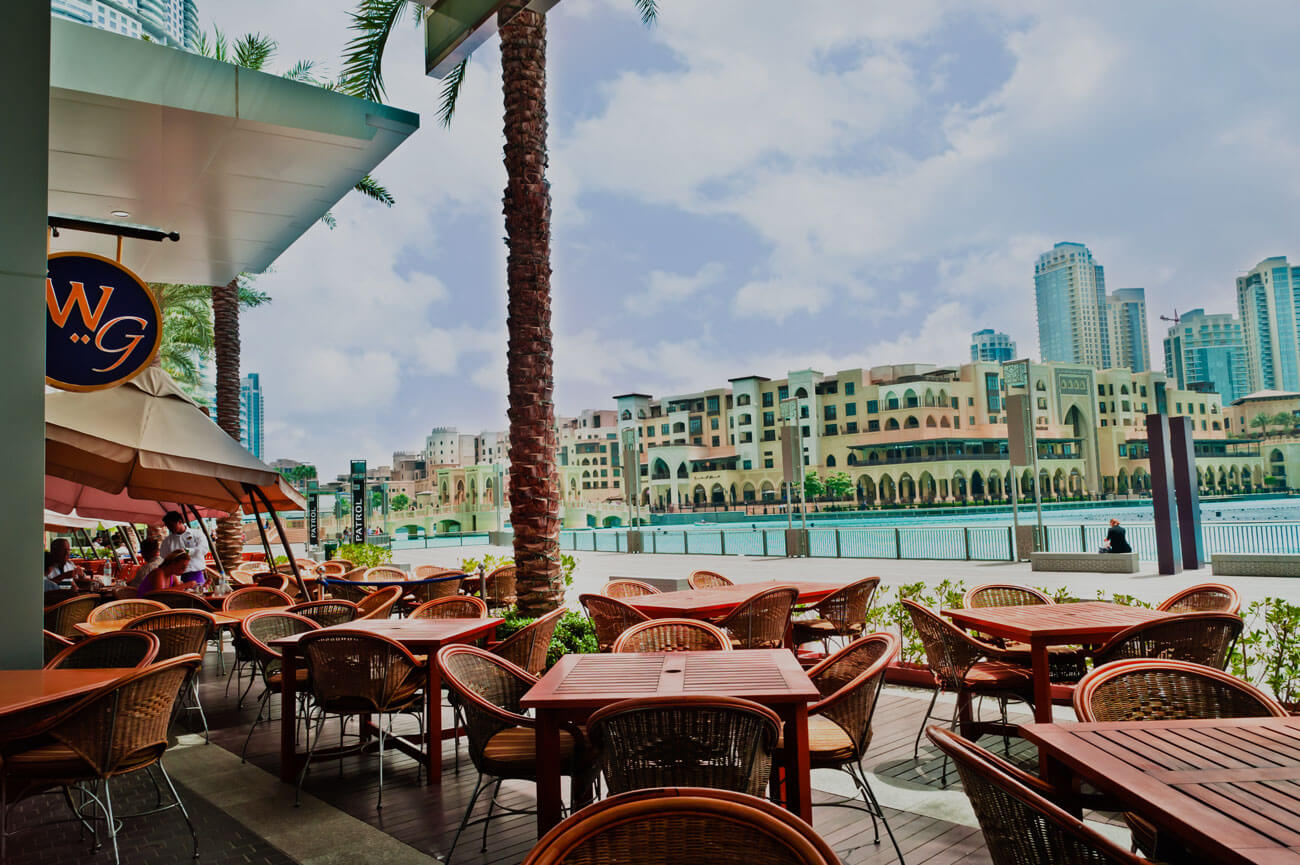 Hurricane Grill
Near the fountain, just next to the roof entrance, there is one of the most outstanding grills and steakhouses in Dubai. This is right beside the fountain. The seating area outside Hurricane Grill has a beautiful view of the fountain from the dining area outside the restaurant. Hurricane Grill serves some of the most delicious BBQ food in Dubai. Its portions are large enough to satisfy at least two people at the same time. The Hurricane Grill offers a variety of dishes, such as chops, veal ribs, beef ribs, salmon, and vegan burgers. In addition to hosting birthday parties, Hurricane Grill makes an amazing Ferrero Rocher cake that is absolutely delicious. In addition, Hurricane Grill offers a variety of dessert menu options. One excellent dish to choose from is the cream-and-mushroom seafood dish, served with baked potatoes and onion rings.
Couple Dinning Price: 300 AED | Location:  Shop 205 – Lower Ground   | Timing: 11 am to 1 am | Contact:   +971 4 283 1339
Thiptara
The Thiptara Thai restaurant is located within the Palace Downtown hotel and offers a breathtaking view of the Dubai Fountain. It also offers Thai cuisine. Whether you're looking for classic or bespoke options, there is something for everyone at Thriptara. The menu features authentic dishes prepared with fresh ingredients and traditional flavors. Thai green curry, chicken skewers, and papaya salad are the main courses. As you dine outside, you will be able to watch the light and sound show from the fountain every half hour. At Thriptara, you will be greeted by courteous staff members who will make your dining experience as pleasant as possible. A disadvantage of visiting the Thiptara restaurant is that it's pricey (400 + AED per person), so it would be better to visit it during special occasions. Valet parking is available at the restaurant.
Couple Dinning Price: 450 AED | Location: Ground Level, Palace Downtown  | Timing: 12 to 2 am | Contact:  +971 4 428 7961
Remain closed between 4 to 6:30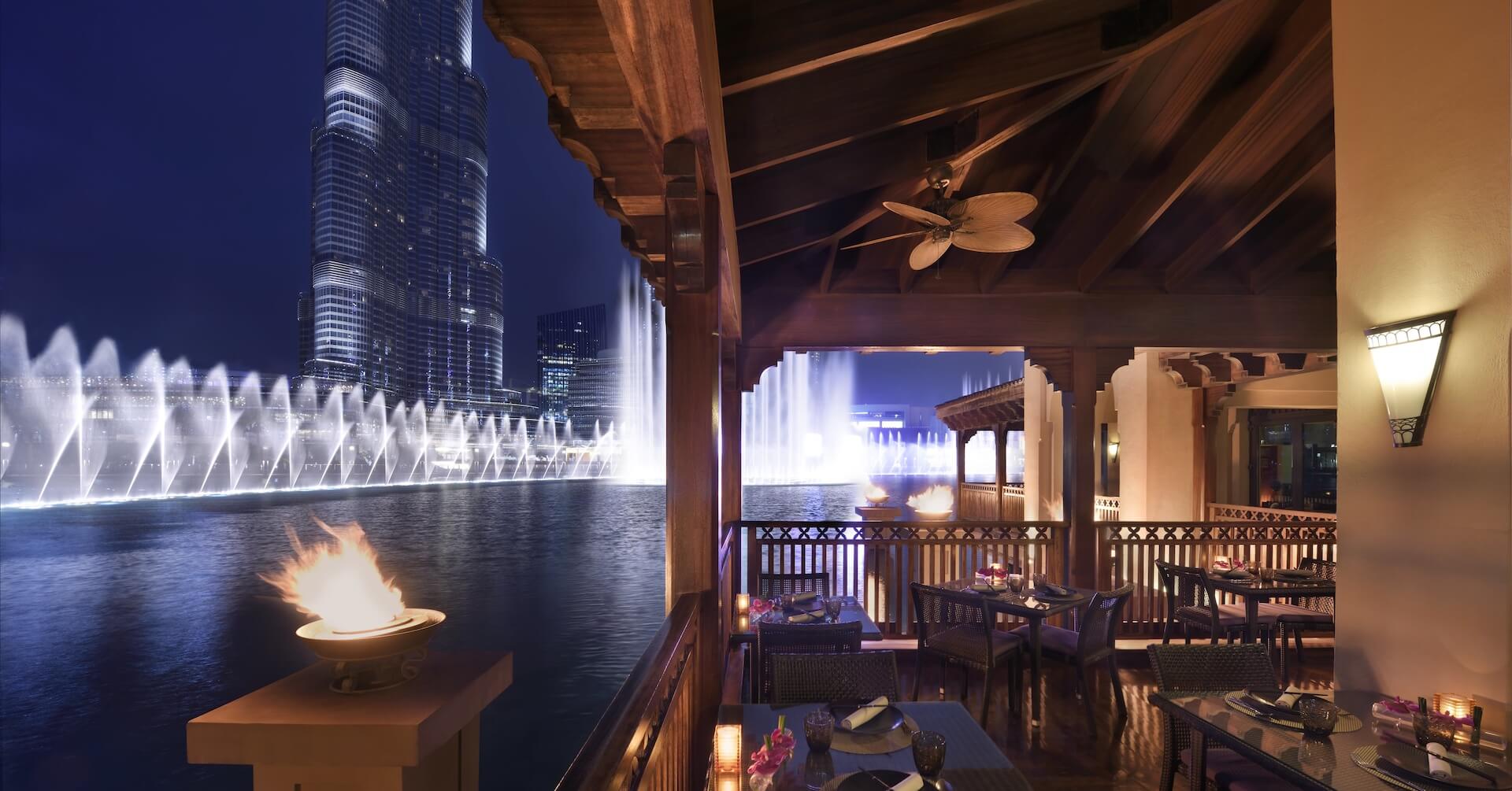 Carluccios
How could one forget an Italian restaurant when talking about a Dubai Mall fountain view restaurant? Carluccio's is located near the Dubai Fountains, offering indoor and outdoor seating with stunning views of the Burj Khalifa and fountains. Italian decor is charming and the food is made with authentic ingredients. This includes delicious dishes like margarita & daviola pizza, chicken Milanese, lasagna, and spicy daviola pizza. The service is excellent and the portion sizes are generous, with melt-in-your-mouth tiramisu for dessert. The pizzas are authentic and the pastas are even better, with the buratta being fresh. You can also order seafood linguini. Enjoy authentic Italian food with breathtaking views of the fountain at this great Italian restaurant.
Couple Dinning Price: 250 AED | Location:   Lower Ground Floor  | Timing: 9 am to 1 am | Contact:  +971 4 330 5990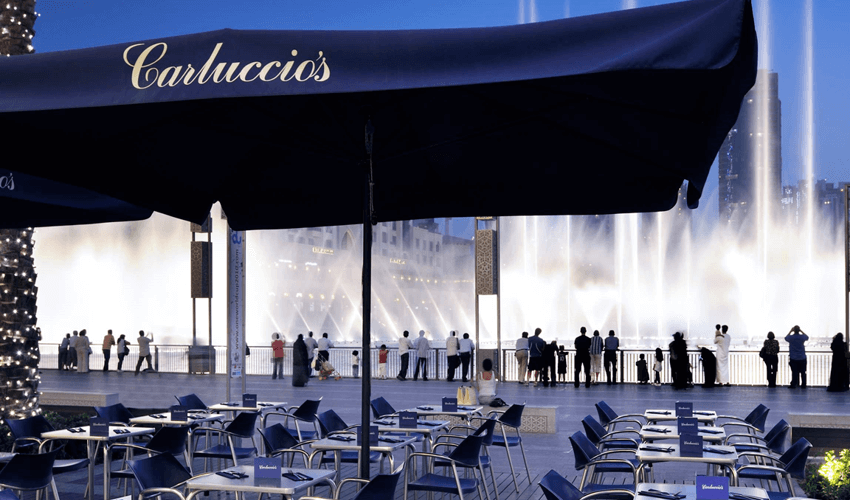 Tribes – African Restaurants
There are an enormous number of African restaurants in the UAE because Dubai is one of the top five countries with the largest African immigrant populations. As a consequence, the city is home to a large number of African restaurants, with Dubai Tribes as one of the most popular African restaurants in Dubai. Tribes is not only an excellent place for authentic African food in Dubai, it also offers spectacular views of downtown and the majestic Burj Khalifa. Tribes offers traditional and fusion foods from several African nations to provide an exceptional eating experience. Fast service is available, and colorful African music and dancing enhance the restaurant atmosphere. Try steak, Wagyu burger, and ribs if you like meat. Also, the salads and sweets are delicious. For a memorable dining experience, choose this stylish African restaurant with a terrace.
Couple Dinning Price: 150 AED | Location:  Level 2, Star Atrium, Above Apple Store | Timing: 12 m to 12 am | Contact:  +971 4 226 4974
Tulum – Mexican Food
It is no secret that Mexican cuisine has become increasingly popular in Dubai over the past few years. This is due to its delicious blend of nutritious ingredients, powerful flavors, and traditional cooking methods. Although there are not many well-known Mexican restaurants in Dubai at the moment, there is one in the Dubai Mall that overlooks the fountain. This authentic Mexican restaurant in Dubai offers you the ultimate Mexican food experience. While dining here, you can also view the Dubai fountain show. This is one of the most popular Mexican restaurants in Dubai because of its relaxed atmosphere and unparalleled panoramic views. It is very likely that you have tried guacamole elsewhere. However, the flavor found at Tulum is difficult to find in any other UAE restaurant.
The first thing that will strike you as soon as you step into this restaurant is the incredible feeling of being in Mexico. This is one of the few Mexican restaurants in Dubai where all the staff, including the owner, are native Mexicans. It even includes a saxophonist to entertain. While it may be costly, the breathtaking fountain view is worth it.
Location: Fashion Avenue area- Forth Floor | Timing: 10 am to 1 am | Contact:  +971 4 514 0135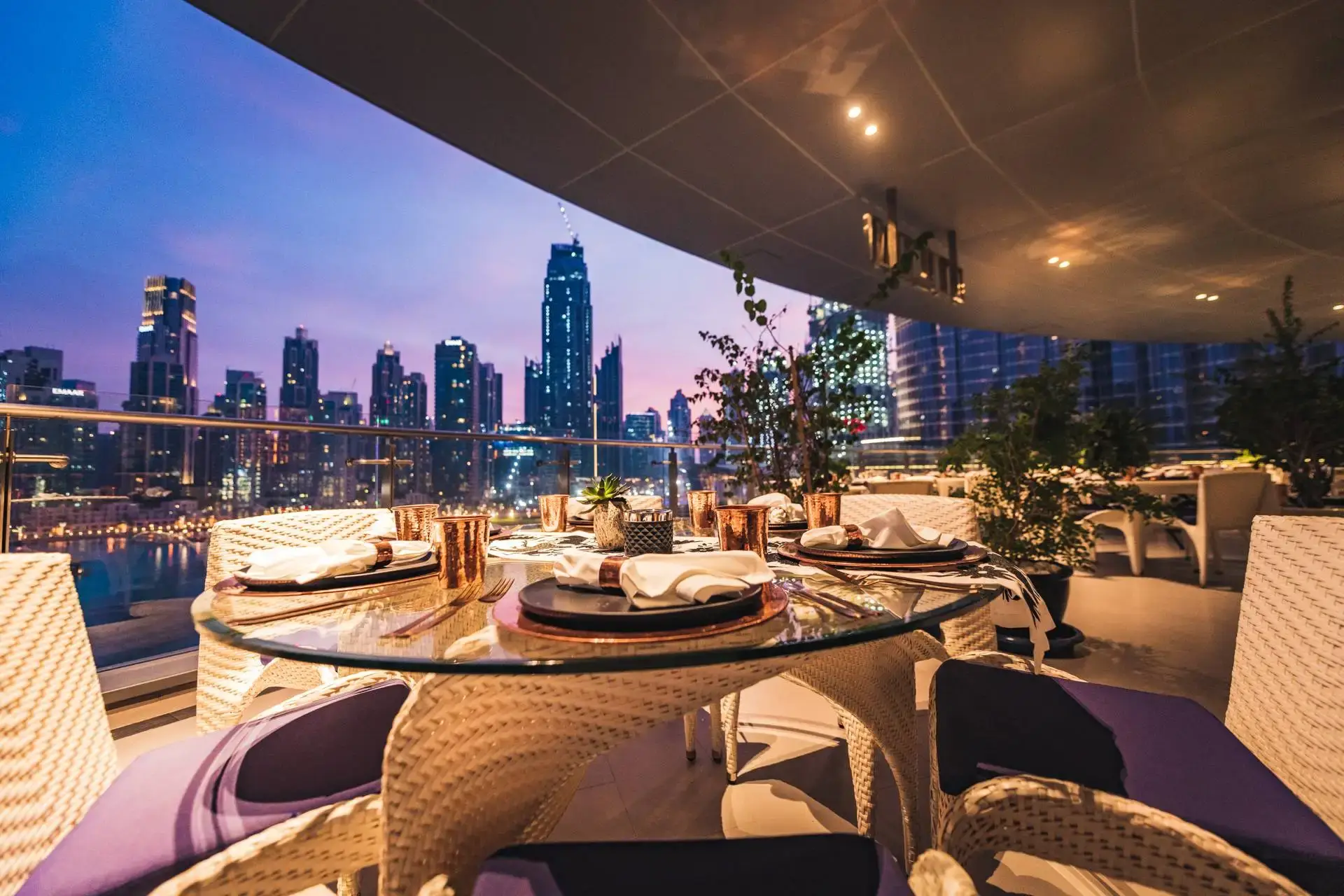 OPSO – Greek Restaurant
There is no better place to enjoy speciality coffee, pancakes, egg dishes, and drinks than OPSO, a Greek and Mediterranean restaurant located in the Dubai Mall. With stunning views of the Dubai Fountain and the Souk Al Bahar, it's the ideal place to enjoy speciality coffee, pancakes, egg dishes, and beverages. You should not miss out on the tantalizing Gianduja Explosion, a sweet treat that features homemade chocolate praline spread, caramelized hazelnuts, and gianduja chocolate curls. The menu offers a number of choices to choose from, such as Eggs & Veg or Boughatsa, a traditional Greek dessert that is made with filo and semolina custard and served in a basket. Grandma's Favorite, Granola, and Pannacotta & Passionfruit Curd are among the Greek yogurt flavors available. It opened in May 2019 after the royal blessing of Sheikh Hamdan bin Mohammed bin Rashid Al Maktoum.
Location: Fashion Avenue area | Timing: 10 am to 1 am | Contact:  +971 54 424 4999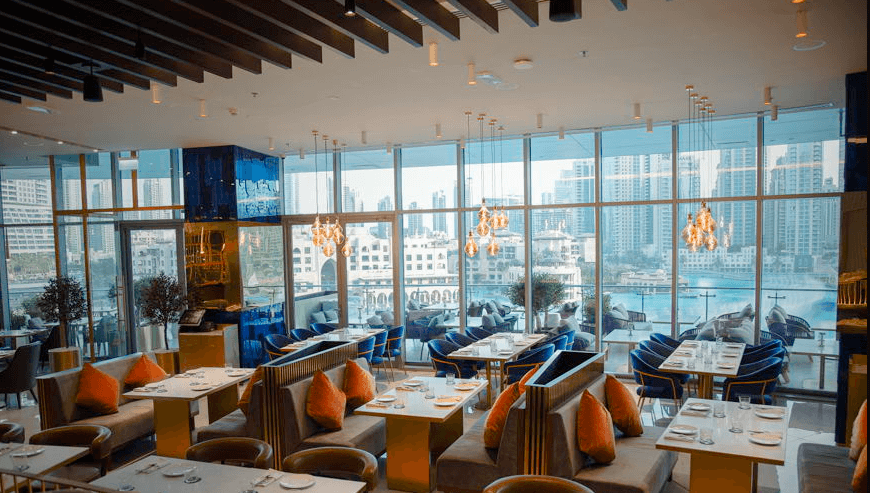 OFK Asian-Inspired Cuisine
As an upscale international restaurant specializing in Asian-inspired cuisine, Open Flame Kitchen (OFK) is one of the most popular choices among Asian food lovers in Dubai. With a view of the fountains from the dining tables, it provides an exceptional dining experience in Dubai for meat lovers. You can choose from a wide variety of delicious dishes, including miso, chicken, maki rolls, eggplant katsu, and more. The seating inside is comfortable and there is also an outdoor seating area. Cherry mojito, apple salad, mushroom risotto, rice with beef, roasted chicken pasta, and rice with beef are all delicious dishes.
Location: Financial Center | Timing: 12 to 11. pm | Contact:  +971 4 386 3599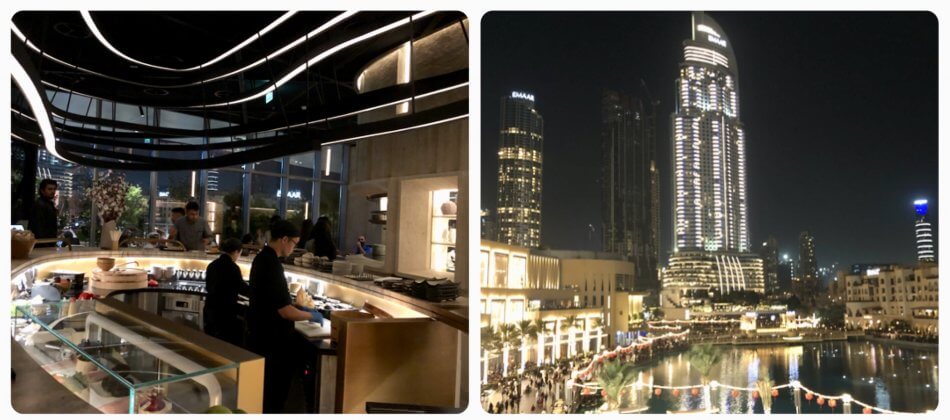 Bosporus
Located on the ground floor, Bosporus is a Turkish restaurant serving Ottoman cuisine. It offers a tasteful dining experience in a picturesque setting overlooking the iconic Burj Khalifa lake and fountain. There are meat kebabs on the menu, such as lamb kofta, kuzu omelet and baklava with cheesecake. The food is superbly tasty; it is neither bland nor too spicy in any way. Their kebab platter and baklava with cheesecake are also excellent in quality and portions.
Moreover, Bosporus offers a pleasant vibe for families. It has charming service and the staff is always quick to assist. Enjoy outdoor seating with stunning views of the fountain and Burj Khalifa, as well as nearby buildings and a partial fountain show.
Couple Dinning Price: 300 AED | Location: Shop 092- Lower Ground Floor  | Timing: 9 am to 1 am | Contact:  +971 4 394 6394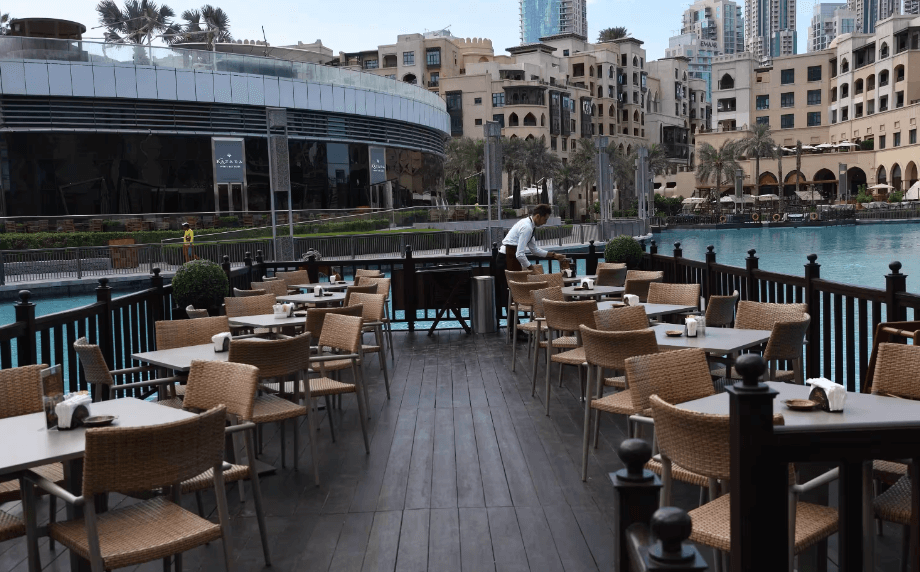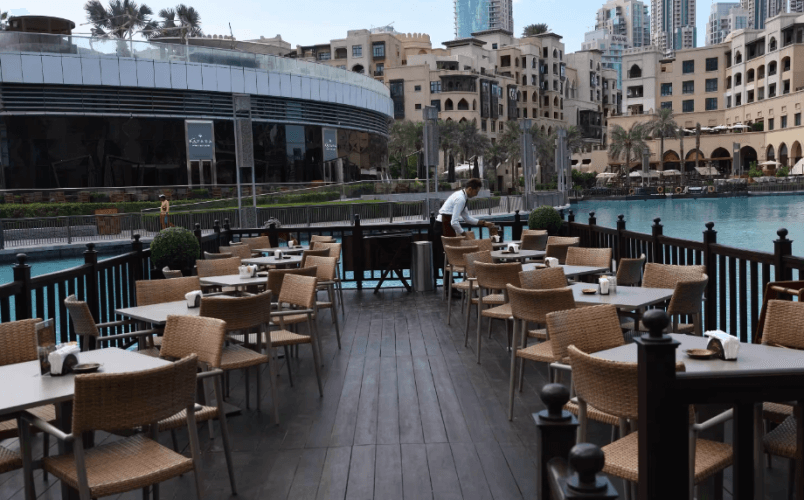 Walnut Grove
There is a wonderful outdoor terrace at The Walnut Grove restaurant in Dubai Mall. This terrace provides a view of the fountains and the Burj Khalifa, and it is tucked away in a peaceful area of the mall. The restaurant offers a delicious meal, excellent service, and a wonderful water feature. There are lamb chops served with mashed potatoes, chips or salad, cakes, salad sandwiches, and desserts offered at this restaurant. The restaurant's food is excellent in quality and portion.
Location: Financial Center | Timing: 10 am to 11 pm | Contact:  +971 4 344 4441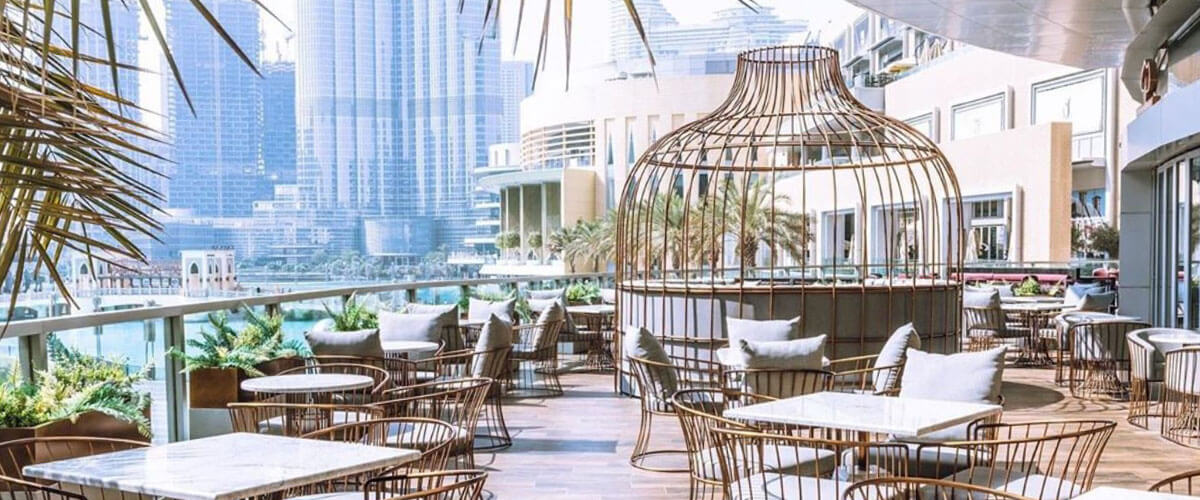 Asado
Despite only 2,000 Argantians living in the UAE, the country has a perfect restaurant in a prime location. Asado is located in Palace Downtown and home to Argentina food. Even though there are no complete views of the fountain from Asado, the authenticity of Argentinian food, along with the live Latin American music, and the partial views of the fountain and Burj Khalifa compelled me to include it on the list. The steaks here are excellent, and the roasted baby goat is a well known dish. The ambiance is excellent. You will enjoy your stay.
Location: Downtown Palace | Timing: 6 pm to 11.30 pm | Contact:  +971 4 428 7961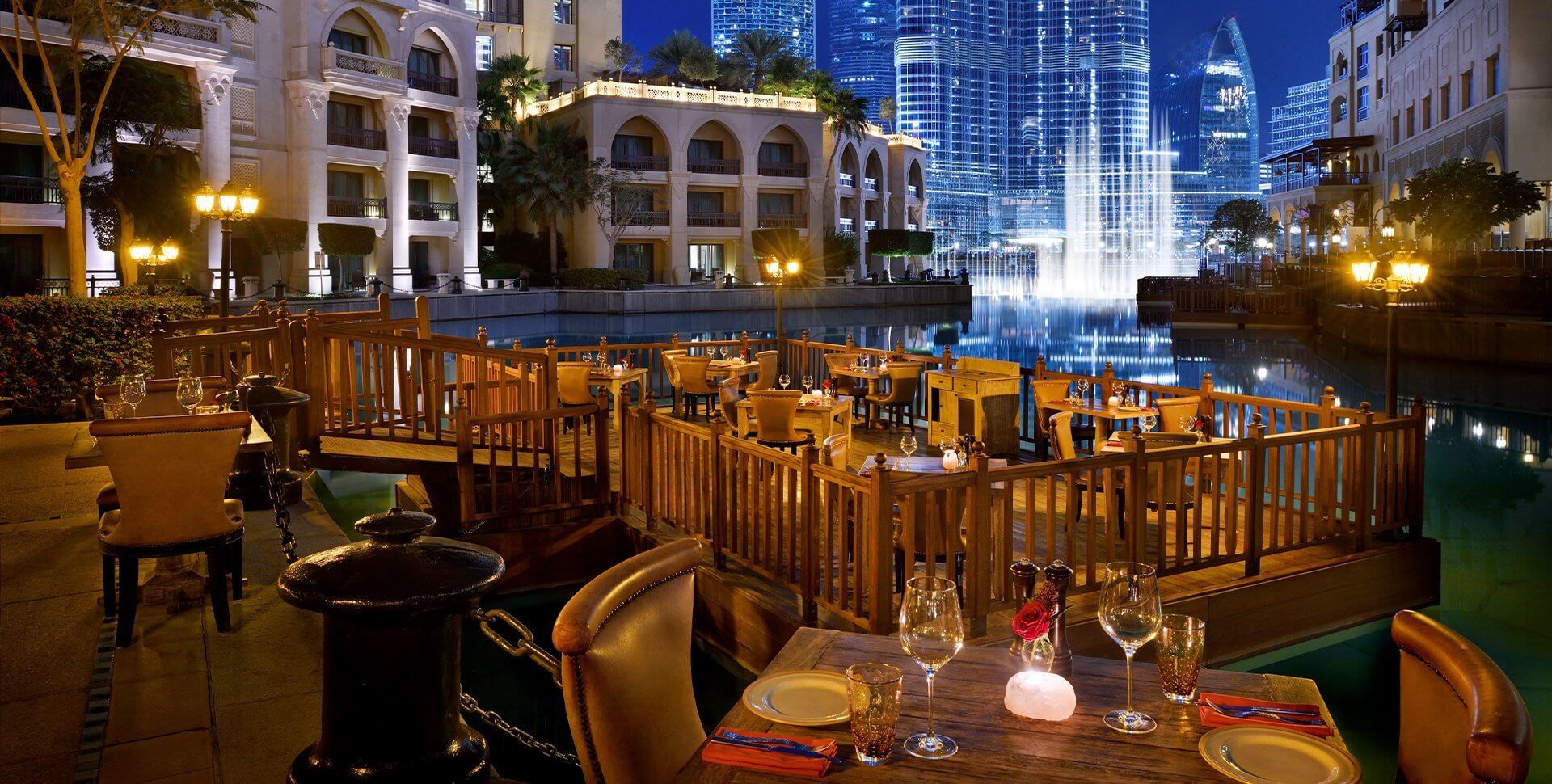 Z0u Zou Huqqa –  Turkish Cuisine
There is another trendy Turkish restaurant in Dubai Mall with a view of the Fountain, Huqqa. It offers diverse menus including appetizers, grilled meats, kebabs, seafood, and vegetarian options. Perfect for enjoying a drink with loved ones, friends, or on a date. Delicious food, pleasant atmosphere. Huqqa Dubai Mall serves traditional Turkish desserts and drinks, along with meat platters, mashed potatoes, and Wagyu Burger. Indoor and outdoor seating is available, including an outdoor terrace with a stunning view of the Dubai Fountain. It's very expensive as the total bill could exceed 1000 AED with salad, 2 meals, 1 dessert, 2 coffees, and 1 shisha.
Couple Dinning Price: 450 AED | Location: Shop 092- Lower Ground Floor  | Timing: 9 am to 1 am | Contact:  +971 4 394 6394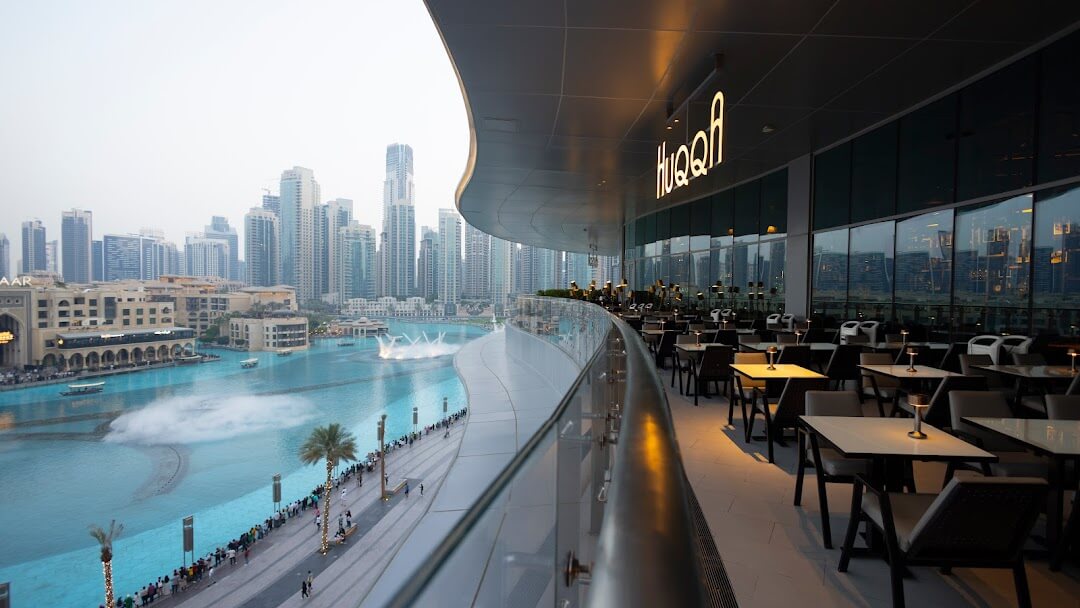 Karma Kafe
I can't think of a restaurant in the Dubai Mall with views of the fountains that does not serve fresh East Asian cuisine. Located in Soul Al Bahar, Karma Kafe provides Asian dishes, including sushi, sweet potatoes, and popcorn shrimp. It is just one of the restaurant's standout specialties, but it offers both vegetarian and non-vegetarian dishes as well. Dining is exceptionally relaxing and aesthetically pleasing, even down to the lighting. It is worthwhile to note that while Karma Kafe is not cheap compared to other highly regarded Asian restaurants in Dubai, the fountain view makes it worthwhile. Additionally, the food portions are very small for a large gathering.
 Location: Souk Al Bahar  | Timing: 5 pm to 1 am | Contact:  +971 4 423 8306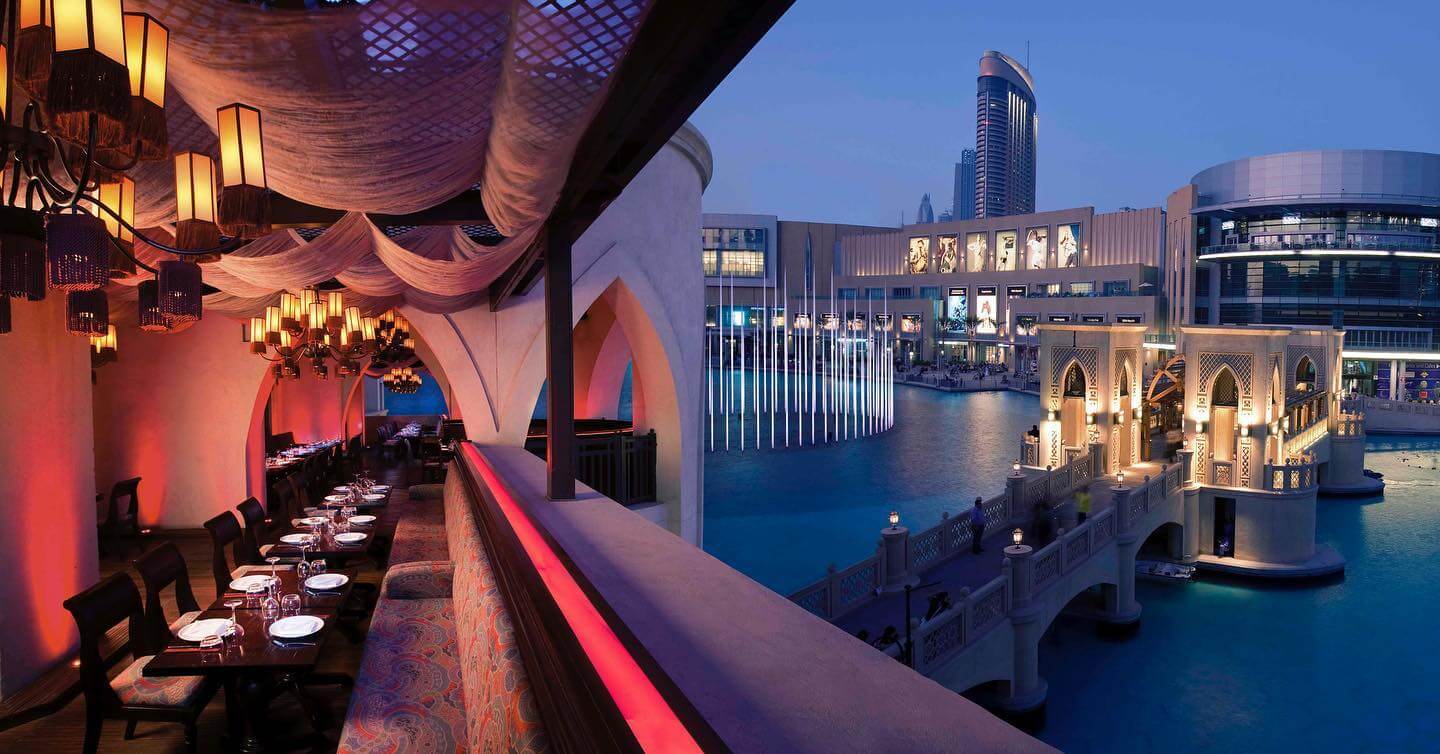 Amal Restaurant
Since one third of the UAE population is Indian, you cannot avoid eating Indian food while visiting Dubai. On the third floor of the Ammani Hotel is an Indian restaurant with a panoramic view of the Dubai fountains. It is a pleasant place to sit and watch the activity below and around the fountains. In addition, it has some of the most delicious Indian food in Dubai. There is a large outdoor seating area that overlooks the fountains below, and there is a lot to choose from there. Sitting outside on the balcony with a wonderful view of the Dubai Mall fountain is stunning. Included in the recommended menu are a mixed platter, naan, ras malai, and gulab jamun. In addition to the Burj Khalifa view above and the Fountain show in front, the ambiance of the dining room is enhanced by the view of the Burj Khalifa.
 Location: 3rd-Floor, Burj Khalifa  | Timing: 6.30 pm to 11.30 pm | Contact:  +971 4 888 3010