My First Dhow Cruise Dubai Experience with Dinner at Deira Creek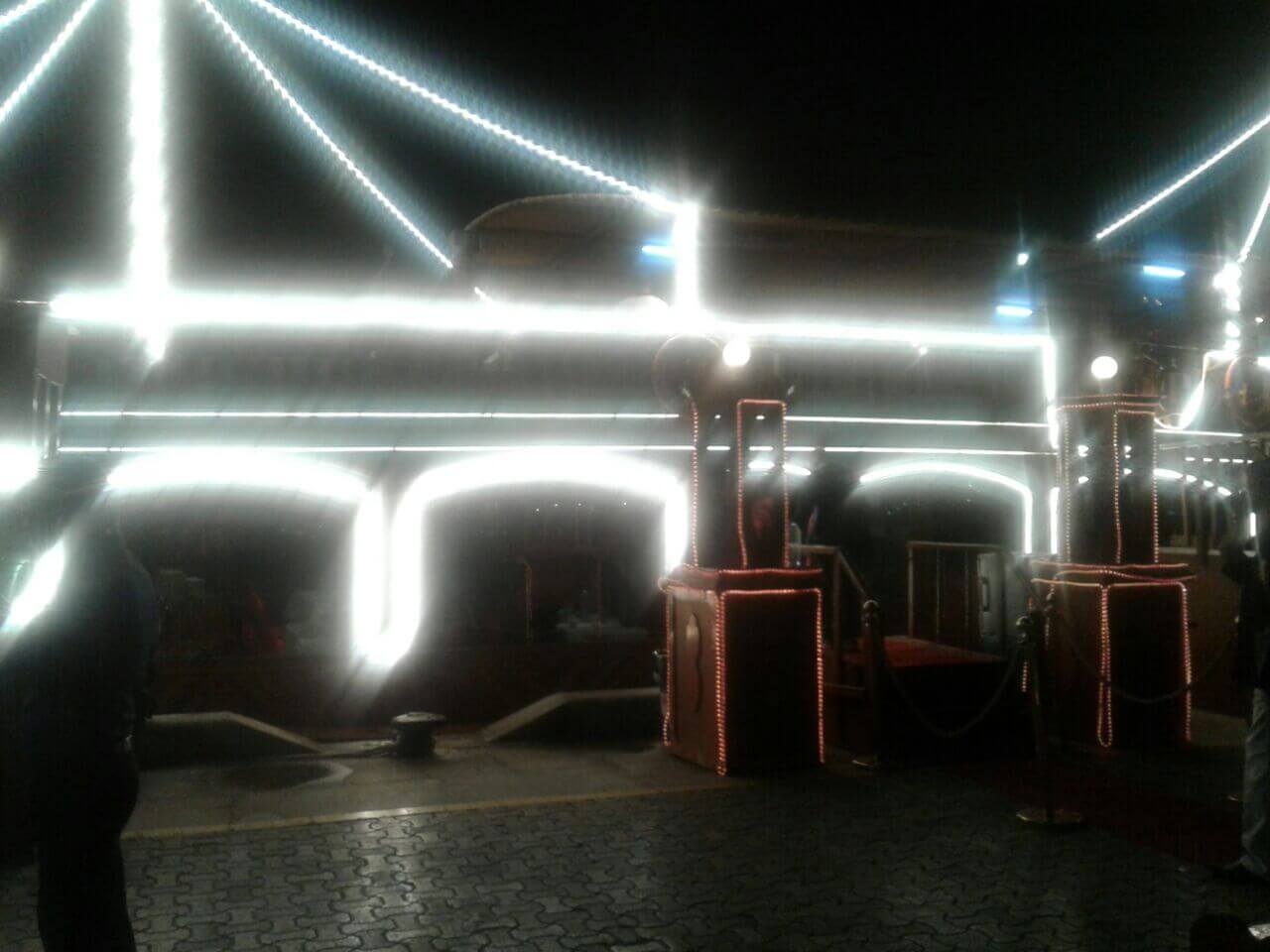 Note: I went to Dhow Cruise Deira Creek in January 2018, and this post was supposed to publish at that time. But for some reason, I couldn't release at that time. 
Before I dig into the meat of this piece and share my Dhow cruise Dubai creek experience with you, I have a question. How many of you know the exact meaning of Dhow? I am pretty much sure most of you have never heard this term to date as this term is mostly used in the Middle East. Let me improve your knowledge.
A dhow is a lateen-rigged ship with one or two masts, used chiefly in the Arabian region and cruise.
My First Dhow Cruise Experience in Dubai
Unluckily, Within my two years stays in Dubai, I never got an opportunity to have dinner at traditional dhow cruise in Dubai. A month ago, A few friends of mine attended dhow cruise creek and advised me to go there. I looked at a few videos on youtube to get an idea what can I get on this tour and right after viewing a few videos I got very excited about this trip and could not wait for a long time. So the next day, I decided to go through the Dhow cruise Deira creek myself. Even though I had the option of Dhow cruise Dubai Marina, I opted to go dhow cruise Deira Dubai as it was close to my accommodation and also cheap than Marina cruise.
There is one main difference between Dhow cruise Dubai Creek & Dhow cruise Marina, and that is Sights and Sceneries. Deira Creek express an old Dubai, a place where the Arabs settled when they relocated to the city from villages in the desert and Marina represent the new side of the Dubai. During Deira creek, you wouldn't notice many tallest buildings as you see in Dubai Marina which is a human-made artificial canal.
Where to Book?
I booked my trip online here. My trip was scheduled between 8:30 – 10:30 PM. The good thing was, It was a rainy day, and Since I was staying at Naif Road, Deira and cruise location wasn't too far from my accommodation, so I made up my mind to go there on my own by walking. When I arrived there, I noticed several cruises and could notice mine as I didn't save my cruise name, but after a few minutes of lookup, I identified my journey (had to make a call at the reservation for assistance). I reached there at 7:40 and fortunately there was no rush at the reservation counter. Booking was effortless. The staff asked me for my Full Name only.  The girl at the desk took Two minutes for verification and then allowed me to get on the cruise. It was a well decorated, big and double deck traditional Arabic cruise.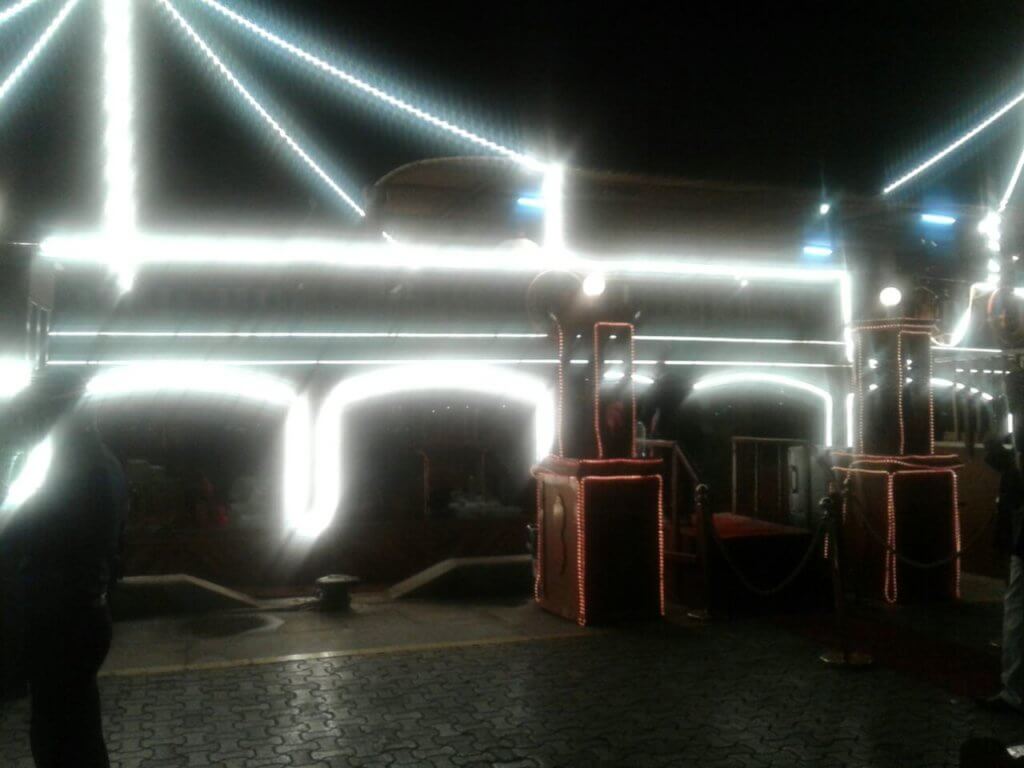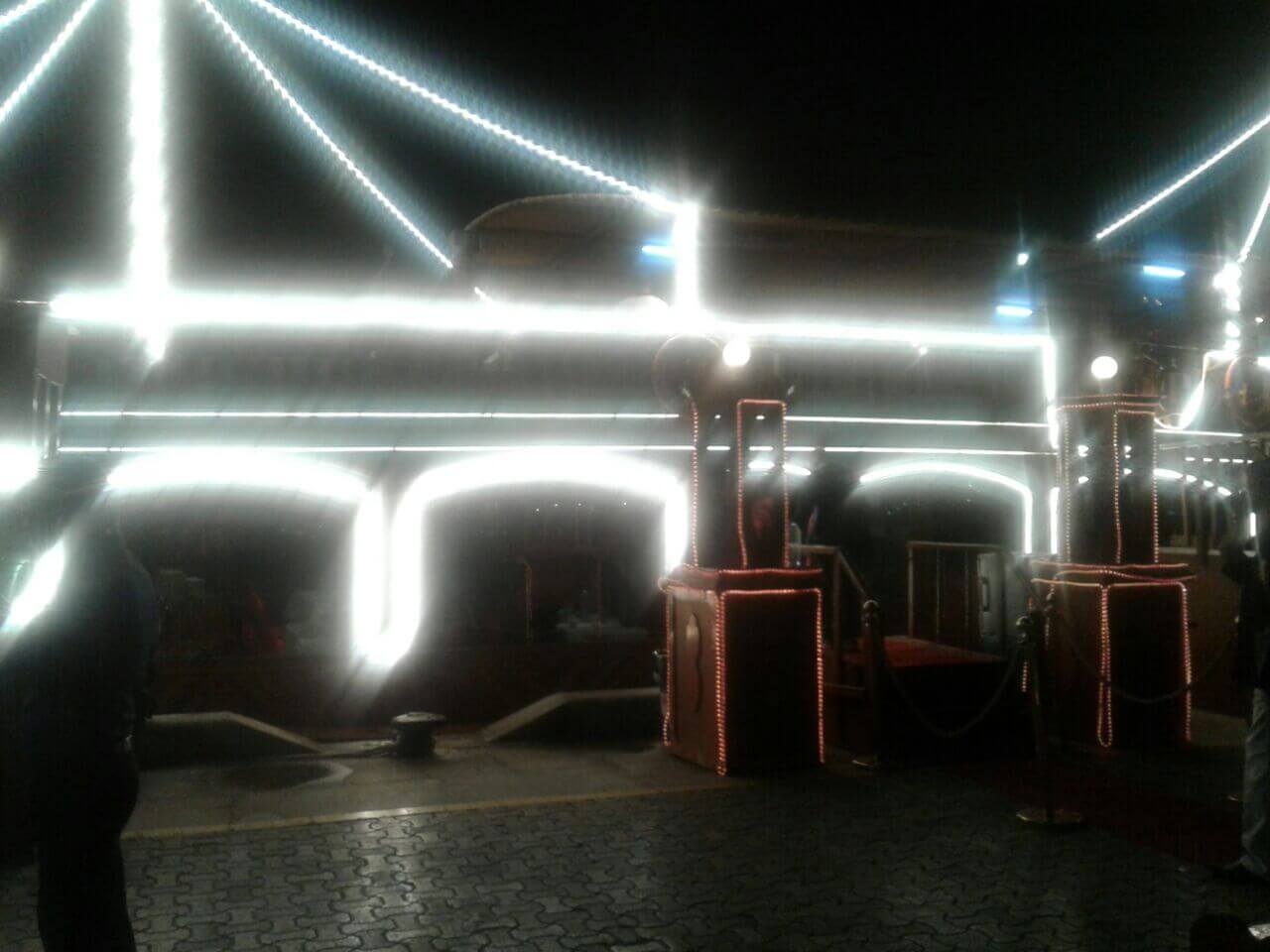 Upper Or Bottom Deck
My cruise was a large and double deck. Each deck could accommodate 50 plus persons. Bottom deck was air-conditioned. Even though few tables were still empty on the bottom floor, I decided not to set there. I preferred upper deck so I can breathe in fresh air and can see skyscrapers closely. It was a right decision as skyscrapers from the upper deck looked more attractive than the bottom deck and fresh air kept me active. I chose a table for myself and as I sat there after a few minutes a Filipino guy offered me welcome drinks.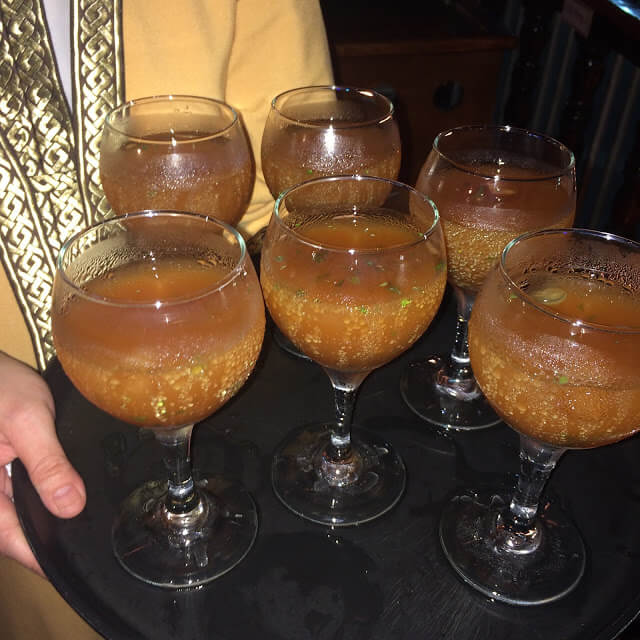 The guy also asked me, do I have a girlfriend if so why I didn't bring her. I put off his inquiry with a smile (He asked because most guests came with families and single guys with girlfriends). The Staff was very friendly and attentive. The manager came to me twice and asked me if I need anything else.
At 8:30 our cruise headed toward bur Dubai. On the way, I noticed some beautiful skyscrapers views. While I was capturing the beauty of old Dubai, I saw a guy next to me was speak URDU (Pakistani's Native Language) I met with him and his friends who were tour guide's and came there with a group of travelers. After a  few minutes of conversation, we become friends. We asked the photographer to take our pictures.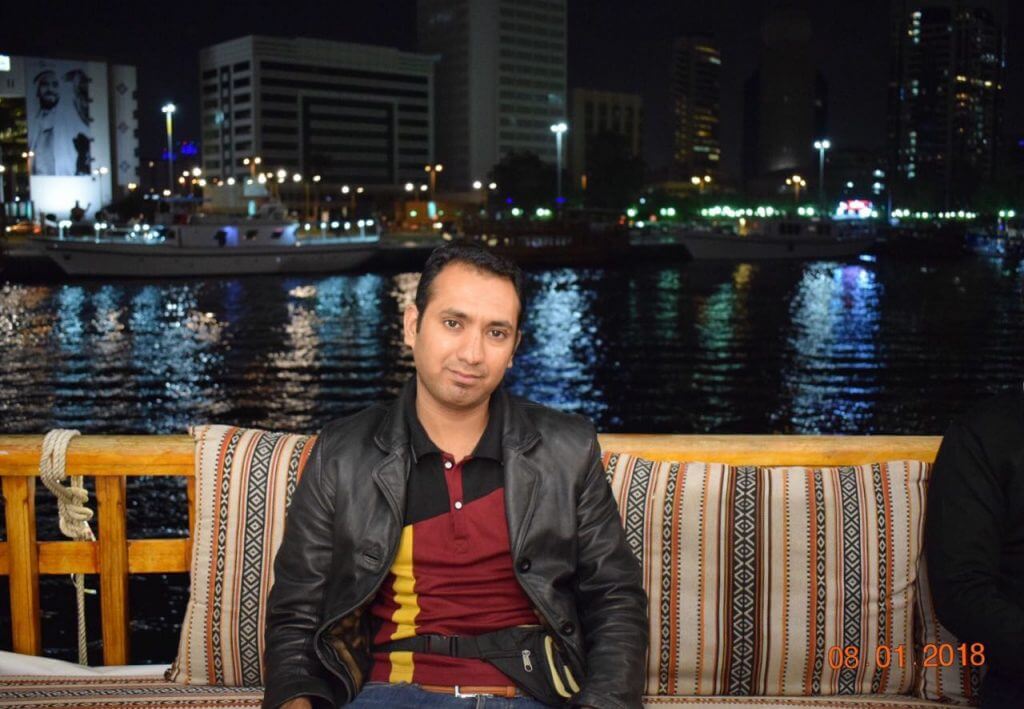 Dhow Cruise Dinner Menu
There were several kinds of foods available including vegetable and non-veg. Here is the 4-star dhow cruise Dubai creek dinner menu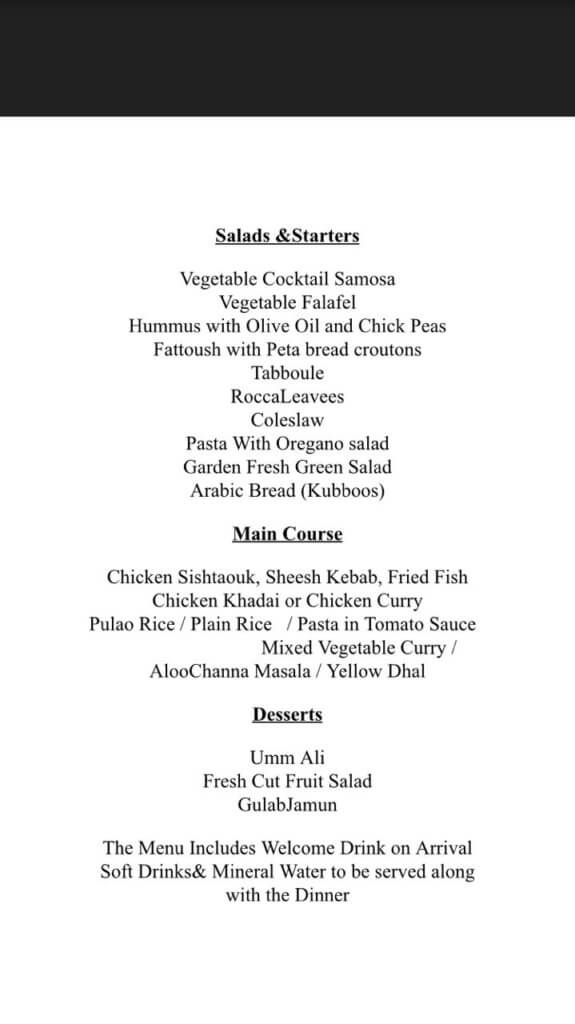 I had never been to any dhow cruise in Dubai, so In the middle of the water in the fading light of the stars and moon, I enjoyed my first international standard traditional Arabic dinner on an Arabian dhow cruise. Besides sheesh Kebab, I found pulao rice and fried fish delicious and spices. In desserts, Umm Ali a famous Egyptian dessert brought water into my mouth. There was no limit on food  I could eat whatever and as much as I wanted to intake.
Entertainment Programs
Tanoura Show
If you have been to desert safari Dubai, you already watched this show. It's a traditionally an Egyptian dance. Tanoura means skirt in English and tanoura dance developed from Sufi dance where the dancer wears a multicolored dress and dance. In many Islamic counties, it's used as an entertainment tool. The show lasted for 15 minutes, and the dancer from Egypt did a great job.
Dhow Cruise Tips:
Although there is no official guideline for the dress code for dhow cruise, it suggested wear formal and modest dress. It's a family entertainment, so please be gentle.
Some companies offer Wheelchair option. It's a good idea you asked them before booking.
Make sure, 3-4 days before the trip day you made the reservation and during peak session or on specials days confirm your booking 2-3 weeks ago.
Don't focus on price only as some companies have both single and double dick dhow cruise so ask them which cruise you will get. If you are looking for cheap dhow cruise Dubai 55 Aed deal, you will get a Single deck cruise without transportation as double deck cruise charge at least AED 75 with no transportation as per my research (I had dhow cruise Dubai creek deal and paid 75 AED).
Prior booking is suggested either you go there directly or with the company transportation.
Should You go there directly?
If you're a tourist or don't live near the creek area, I WOULD NOT RECOMMEND you tO go there directly.  It's much better you book dhow cruise Dubai creek tour with either my recommended tour operator (Here is the link) or your favorite tour operator with the TRANSPORTATION. The company which booked my trip operator was charging AED 110 per adult with 4×4 transportation from anywhere in the Dubai.
Dhow cruise Dubai Creek location
Those who have own transportation or can hire a taxi, check it our the creek location map below.
Address: Deira Creek Opposit to Radisson Blue Hotel, Deira – Dubai – United Arab Emirates