Originally posted 2019-10-29 02:01:36.
Publicly opened on November 04, 2008; currently, Dubai Mall is the WORLD LARGEST shopping mall with an area of 1,124,000 m2. That number pushes you to take another look at your school textbook and count the mentioned number beginning with units, tens, hundreds… …all the way up to millions.
The Dubai Mall holds 1200 shops, 22 cinemas, and 120 restaurants and cafes. In addition to Candylicious, the largest sweet shop, Rolex's Biggest watch store is also in the Dubai Mall. The mall attracts 75 million visitors per year and is, therefore, the busiest shopping mall in the world.
Fly Emirates A380 Airbus
Did you know anyone can fly Emirates airbus A380 Airbus? Emirates A380 Flight Simulator at Dubai mall allows you to experience Biggest Airbus A380. It is a unique activity that you can do in Dubai mall. You can pick from one of 12 busy airports and use the aid of an instructor to receive points for your navigation skills. The staff will give a complete tutorial to you before the flight so it's also an excellent way to learn about the world biggest airbus.
Off-peak sessions lasting Half-hour 

begins

 at AED 325 and peak 

session

price AED 375.
The Simulator Open Sun-Wed from 10:00 am to 10:00 pm, and Thu – Sat from 10:00 am to 12:00 midnight.
VR Park
VR Park is a first-of-its-kind attraction in the Middle East. It's a Virtual Reality with several distinctive augmented reality experiences. However, many rides are there for kids, quite a few designed for adults. However, Loads of arcade game options are there which even an adult can try. As Soon As I sat in Dubai Drone & Burj Drop, My heart stopped beating for a few moments due to the fact I had no clue what to prepare for. Read a detailed guide on VR Pakr over here.
Rates commence at AED 35 for individual activities, while an adult day pass fees AED 150
The VR Park Dubai Mall is accessible on weekdays from 10:00 am to 12:00 am and on the weekends from 10:00 am to 01:00 am.
Dubai Aquarium
The world's most prominent shopping center has the WORLD biggest indoor aquarium with the capacity to hold 10 million liters of water. It is also one of the aquariums that let you dive with sharks. The Aquarium split into three zones: Living Ocean, Rainforest, and Rocky Shore. It's among the best places in Dubai, where the adults can have fun.  You can also view the aquarium at no cost from the outside. Dubai Aquarium and Underwater Zoo come (inside the aquarium) is the home of more than 33,000 aquatic animals & 140 species of sea life.  Various kinds of ticket options are out there. Depending on your taste you can buy tickets online. For some activities, On weekday tickets are cheaper than weekends like King Croc Encounter on Weekday (Sun-Wed) cost is 255 and on weekends Weekends (Thu-Sat) & Holidays AED 295.
Falling Man Waterfall
The busiest selfie point in the Dubai mall falling human waterfall is Designed by Singapore-based DPA Architects. The waterfall consists of two cylindrical structures, 30 meters in dimension and 24 meters. What I love about this imaginary waterfall is it portrays human movement and when you see it for the first time you would think people are actually moving forward falling down.  The waterfall is surrounded by several coffee shops where one can sit and chill out.
Hysteria
Dubai Mall seriously isn't all about shopping. If you think you're fearless and not a faint-hearted person, or if you love scary movies, I invite you to visit it. 10 minutes cost is 100 AED which could be extravagant for numerous peoples. It's an adult adventure, so I give you advice if you have If you think you're fearless and not a faint-hearted person, or if you love scary movies, I invite you to visit it. children Under 15 years, don't take them there. It is possible to record your experience, but with a GoPro camera as Mobile phones are not permitted because you may drop.
Kidzania
If you have children who love being a  policeman, chef & firefighter, then spend the upcoming weekend with your kids in Kidzania. It's a Children's amusement center in Dubai mall which offer over 50 entertaining activities for kids. It would be a memorable & healthy experience for your kid. In case you are planning to check it out on the weekend, visit in the morning because By afternoon it gets jam-packed. You would most likely need 4 or 5 hours inside to pass all the games so ensure that you have got sufficient time.
The ticket price is AED 185 for kids + AED 75 for adults. If book online in advance = AED 129.50 for kids + AED 52.50 for adult.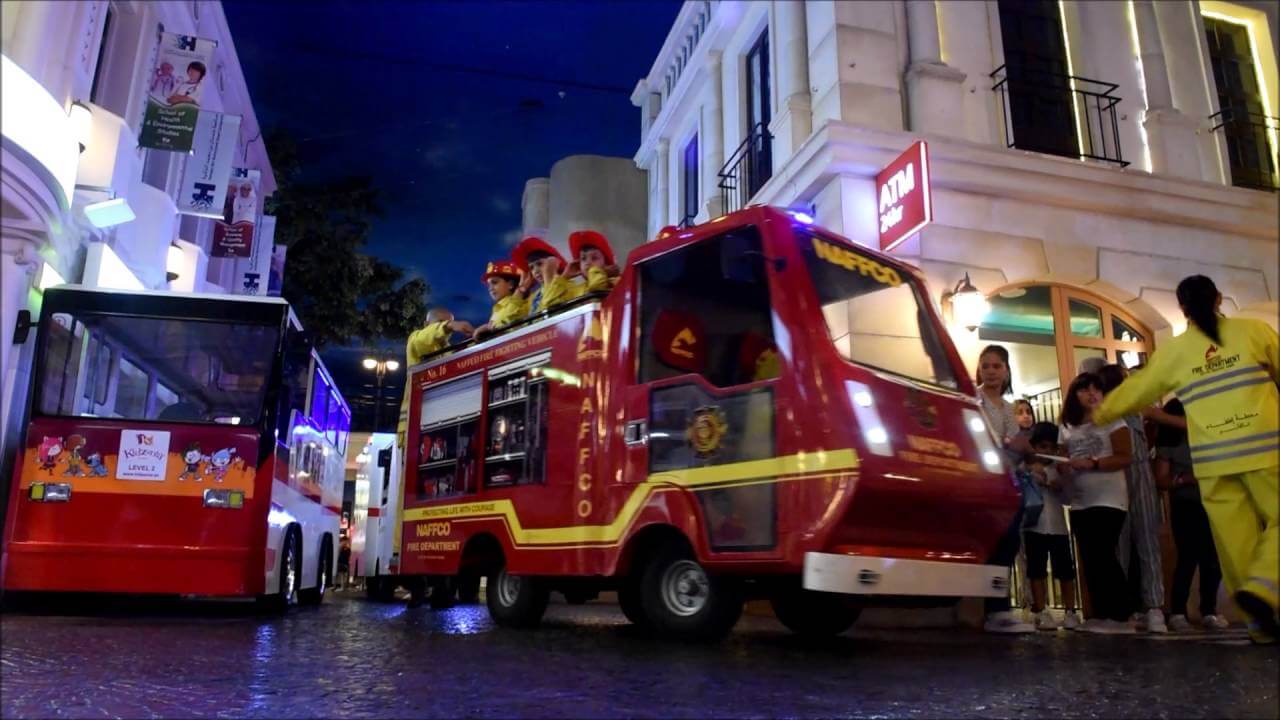 DUBAI DINO
I want to state this is undoubtedly one of the best selfie spots in the Dubai mall. It's an almost 155-million-year-old dinosaur skeleton discovered in Wyoming in 2008. The DINO is 7.6m tall and measures 24.4m long. Previously, it was at the entrance, but recently it moved to the Souq area off of the mall.
 DUBAI ICE RINK
With the capacity of hosting up to 2,000 attendees, Dubai Ice Rink is an Olympic-sized, largest, and most popular Ice Skating in the desert city.  The Dubai ice rink located on the ground floor alongside The Souk.  Anyone can try skating even if you're a beginner; you can try it. The staff is very supportive and knowledgeable who would guide you and would happy to make you comfortable for your first skating.  Dubai Ice Rink Ticket Price: AED 150.
Drive an F1 Car
Do you want to drive an F1 car? Go to the Ferrari Store on Level 1 (just beside the waterfall Hidden inside).
Play football on a FIFA-certified pitch
If you're a football enthusiast, Dubai Mall is an ideal place for you to accomplish your dreams by playing a football match on FIFA-qualified turf. Dubai Mall does have a FIFA-qualified turf where kids between 5 to 15 years old can be involved in a real professional football match. A one-day package will set you back Dhs200 with seven Days options available at Dhs800.  Activities will run from 9 am until 3 pm.
Reel Cinemas
Dubai Mall won't stop shocking you with many different things to do. Operated by Emaar Entertainment; Reel Cinemas invites you to watch the most recently released movies on one of 26 screens. Besides the big screen with quality sound, the Cinemas presents a wide range of food and drinks.
The Dubai Fountain
Located behind the Dubai mall at & Burj Khalifa Lake, The Dubai Fountain is the world's largest choreographed fountain system. The Dubai Fountain can spray 22,000 gallons (83,000 liters) of water in the air at any moment. It's a most jam-packed tourist spot downtown after Burj Khalifa & the Dubai mall. Fountain shows organized regularly. In day time, at 1:00 and 1:30 (Friday at 1:30 & 2:00 PM) shows are presented. The first Evening shows start at 6:00 pm and keep going on after every thirty minutes (30 minutes) till 11:00 pm. The performance lasts for five (5) minutes. There is no ENTRY fee for it.