Originally posted 2021-01-05 06:52:59.
The famous city of Dubai is full of interesting attractions and mind-blowing experiences that will continue to amaze you and amaze you even more the more time you spend exploring this fascinating city. However, if you are done exploring the city and feel that you have seen everything there is to see, Abu Dhabi is the next best thing to add to your list of things to do while you are in the region. A day trip to Abu Dhabi from Dubai is an exciting adventure filled with exciting adventures and unforgettable sights that will make for a journey that you will never forget.
I have prepared for you the most marvelous five day trips to Abu Dhabi from Dubai, packed with mesmerizing tourist attractions, beautiful architecture filled with history, as well as so many other extraordinary experiences.
#1 Day Trip to Ferrari World:
First and foremost, Ferrari World is a spot you can't miss. One day trip to Abu Dhabi from Dubai with Ferrari World should be on the list. It's all in the name; Ferrari World is an amusement park that has everything you want related to luxury sports cars. Not only is it the first Ferrari-branded theme park ever built, but Ferrari World also holds the world's fastest rollercoaster "Formula Rossa" so you can live out all your dreams of experiencing the most thrilling and exhilarating ride ever made.
However, that's not the only rollercoaster available there as the whole theme park is packed with crazy rides and attractions. One of these attractions is the world-famous Galleria Ferrari which is an exhibition in collaboration with Museo Ferrari Maranello Italy that showcases the most luxury and high-end sports cars from the manufacturer that'll leave you dazzled and starstruck. Still, it doesn't end there. Ferrari World also lets you explore the 1920s Italian cinema "Cinema Maranello" which takes you through Enzo Ferrari's motivating and captivating journey with "Coppa di Sicilia".
Moreover, the Ferrari-branded theme park also offers the opportunity to watch the Tyre Change Show, which takes you through a fascinating journey of two mechanics who have held lifelong dreams of working for Scuderia Ferrari as pit crew members for the company. This crazy and captivating adventure park will take up your whole day exploring it if you want the full experience, so make sure to set your alarm for early in the morning!
#2 Day Trip To Louver Museum:
Whenever you're visiting a new country, its museum will tell you a lot about the place's culture, history, and art, which is why visiting the Louver Museum while in Abu Dhabi is a must. The art and civilization museum bridges the gap between Western and Eastern art in an elegant, internationally admired way. The first thing you'll notice is the uniquely mesmerizing architecture of the building. However, inside the museum you will be able to immerse yourself in a wealth of rich and immersive experiences that you won't find anywhere else.
A few highlights from the collection available at the Louver feature the Dancing Shiva, Diptych with scenes from Christ's life, Bodhisattva, Bodhidharma, painting of "Bezique Game", Basin of Bonifilius, painting of "Esther Fainting Before Ahasuerus", Pentateuch and its binding, and so much more. The museum is filled with art and history so striking and captivating that it will leave you mesmerized. The Louver trip only takes a few hours, so you can spend the rest of the day eating at the best Abu Dhabi restaurant locations for the rest of the day after the Louver trip.
#3 Day Trip to Sheikh Zayad Grand Mosque:
Among the best Indo-Islamic architectures in Abu Dhabi is the Sheikh Zayad Grand Mosque. If you are looking to do Eid prayer or any other prayer during your stay in Abu Dhabi, the mosque is the best place to be. But even if you are not a Muslim, the mosque is a great place to regain your peace of mind, something that can often be lost in the hustle and bustle of Abu Dhabi when you are there. You can admire the mosque's detail and historic architecture and capture its beauty in some memorable pictures. The Sheikh Zayad Mosque, too, is a trip that'll only take a few hours of your day. This is so you can explore other parts of the city. You can read more about the Sheikh Zayad mosque here.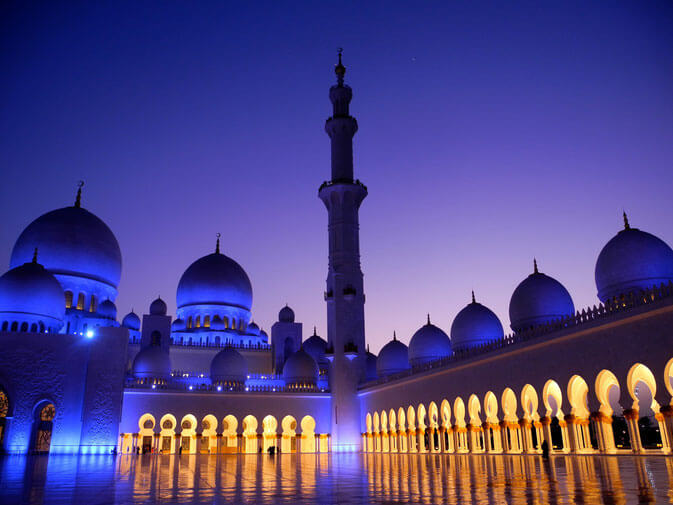 Credit: Melanie from mafambani.com
#4 Day Trip to Saadiyat Island:
If you are looking for a place to stay in Abu Dhabi that is close to the beach and offers you a beautiful view that you will not forget, then Saadiyat Island in Abu Dhabi is what you are looking for. Including the Louver, which we mentioned earlier, the island holds many different attractions and experiences to make your stay even more exciting. Spaces like Manarat Al Saadiyat, the Saadiyat Beach Club, and so much more keep you entertained throughout your stay. The experience isn't limited to just entertainment either, since Saadiyat Island also holds New York University Abu Dhabi, which is a research university and liberal arts and science college, and Berklee College of Music.
The island also offers some luxurious and comfortable hotels to stay at, such as the Park Hyatt Abu Dhabi hotel and the Rixos Premium. The mesmerizing view of the ocean tops all the luxury off with perfection.
#5 Day Trip to Yas Island:
Aside from the endless luxurious accommodations and exciting entertainment spots on Yas Island, another one of the ideal beachy places to stay while visiting Abu Dhabi is Yas Island. Furthermore, we also mentioned earlier that the island is home to Ferrari World, as well as Warner Bros World, a theme park where you will have the opportunity to experience even more crazy rides and exhibitions. There are also many things to explore on the island, such as the Yas Marina Circuit, Yas Waterworld, Yas Kartzone, Clymb, and so much more.The best part about the island is the luxury accommodations, such as the Al Raha Beach Hotel, Marriot Hotel, Crowne Plaza, and so many more. Other than the hotels, the island's entertainment sights will take about a day to fully explore.
There are a lot of places to visit when you come from Dubai to Abu Dhabi and these 5 places are among the most popular spots to visit and will give you an unforgettable trip. Plus, some of these places have perfect accommodations for tourists and visitors with absolutely no compromise made on the quality of the accommodations. Better you make a combined trip to Sheikh Zayda mosque and Louver Museum and for the rest three, you should plan an exclusive day trip for each one. 
You can find many companies that offer trips such as Abu Dhabi to Dubai, and just in case you prefer to travel by public transportation, you can check out the Dubai to Abu Dhabi bus guide by clicking here. You will find this guide to be an ultimate resource that can help you figure out how to make your one-day excursion to Abu Dhabi the cheapest possible.