Originally posted 2017-11-04 04:02:45.
What To Wear In Dubai?
Curious to know what to wear in Dubai during your trip? Unfortunately, several misunderstandings exist among tourists regarding the Dubai Dress Code for tourists. Today I'll tell you what should you wear in Dubai on your trip. The government and culture of Dubai exercise the set dress code especially religious places like Jumeirah Mosque. Violating this dress code or even arguing upon it with locals could get you in trouble, as the Dubai Police is very responsive to the complaints of citizens. Therefore the best practice is to wear proper dresses in different places, and if fail, don't boast or argue, simply apologize or consider buying something properly. To avoid a meeting with Dubai Police, here are some suggestions, which will help you explore Dubai without any problem.
Dubai Dress Code for Female Tourists
In Dubai, women cannot dress freely as they normally use, in Western countries. There is a strict dress code which, if not followed could get you penalized. As such, women do not have to cover their heads, faces, and hairs while visiting public places, but they do need to cover their shoulders, belly, arms, and legs, up to knees in most cases. In some areas, half sleeves are also okay for women, if their shoulders are properly covered.
Ladies Dress Code at Bars
Foreigner women in Dubai can wear mini skirts if they are going the bar which is very usual in Dubai. There are no restrictions for women if they are going to a bar, but they should keep in mind that bars are usually closed in the month of Ramadan. Apart from the month of Ramadan, women can go the bars and wear miniskirts or anything they like to. But they should keep in mind that they need to cover themselves up a little when they come out of the bar and go back to their destination.
Ladies Dress Code Beaches
Women can wear bikinis on the beaches in Dubai since beaches are not regulated by the authorities. It has often been seen women in Dubai taking the sunbath half naked which is very common. They can wear bikinis and miniskirts on the beaches and can even hang around and swim as well in the sea. There are no restrictions on the beaches, but they just cannot go out of the beach and on the mainland in a bikini or very little miniskirts. The life at beaches for the women in Dubai is very easy and thus foreigner women have a higher-inclination towards the beaches in Dubai.
Dubai Dress Code for Male Tourists
Male tourists can wear long shorts or trousers in public places, such that their chest, shoulders, and knees are covered. Any combination of T-shirts with jeans is okay for men. As we know that Dubai is an Islamic state and thus there are some Islamic principles, rules and regulations followed there. Men and women are advised on certain specific clothing and thus they have to follow them. Interestingly, foreigners are not advised on a broader scale about what to wear and how to wear in Dubai.If you are travelling to Dubai then it is advised that you need to do a little study before flying to the Gulf region so that you have at least an idea about the festivals and rituals there.
These are advisory notes for men who are travelling Dubai during their vacations or for work and thus they should be respected as Dubai is an Islamic territory and there are certain norms and principles which have to be followed in order to gain respect from the locals.
Dubai Dress Code for Children
Well, normally, kids dress informally and they prefer mischievous clothing, which is definitely not prohibited in Dubai, but parents need to take care that their shirt prints do not show offence to any religious and cultural practice. The rules are the same as that of men. If caught, abusing a culture, parents can be arrested and fined.
Kids have not many restrictions on the dress code policies in Dubai since they have nothing to do with the norms or societal principles. Kids are allowed to wear anything their parents want them to wear and thus they are excluded from the dress code policies. However, the parents are advised to keep their kids from the severe scorching heat in Dubai especially in summer and thus kids should wear proper dresses in order to save themselves from the sun. It is advised for kids to wear hats in the summer or wear jackets or sweaters in winter.
Dress Code for visiting at  Souk's
Any dress for women, covering their shoulders bellies and knees is just perfect to wear anywhere in Souks and streets of Dubai. Same is the case with men. You only need to be weather oriented at the souks, as here, there is walking and walking so a well warm dress will cost you nothing, but some unnecessary sweat, consider carrying a shawl with you in winter or use cardigans in the summer to serve as a cover for you.
Related Post: Gold Souq Dubai Guide & Tips
What To Wear For Desert Safari Dubai?
I've seen lots of female tourists are worried about what should they wear on the desert safari trip. Desert Safari Dubai is one of the activities in Dubai which does not have any special requirements for the dress. You can wear what you feel comfortable. However, I'd strongly suggest you wear anything loose.  In winter bring a jacket on the desert trip because the temperature goes down at night in the desert. Use tops with jeans, shorts by keeping in mind that nights are a little bit cold here. Don't make a mistake of wearing Short sleeve while visiting Safari, or Mountain Adventure. Use proper sports dresses in the event of particular sports. Also, never mistake wearing shorts at Desert, in the evening. You can read my desert safari Dubai experience here.
Only at beaches, vests are fine for men, with shorts but definitely not for women, they have to wear the same code as in public places, shoulders covering shirt and knee covering short. The beach life is different. There is no law in Dubai, which regulates the beach life and thus foreigners do not have to worry about their dressing if they are travelling to the beach. However, it is advised that they should try to have entertainment on the beaches only in the holy month of Ramadan because of Muslims in Dubai fast during the month of Ramadan and thus it is not fair for foreign men to look half nude on the beaches in Ramadan. Apart from the whole month of Ramadan, foreigners should not worry about the dressing on the beaches and thus they can wear shorts or underwear if they are going to swim in the sea. They can even barbeque or lie on the beach to take sunbath which usually Europeans do when they visit the beaches in Dubai as the scorching sun seems valuable to turn them.
Jumeirah Mosque Dress Code
For women, they must have to cover their heads, hairs, and the whole body except their faces. Although there can be seen some women hiding their faces as well. You cannot enter a mosque.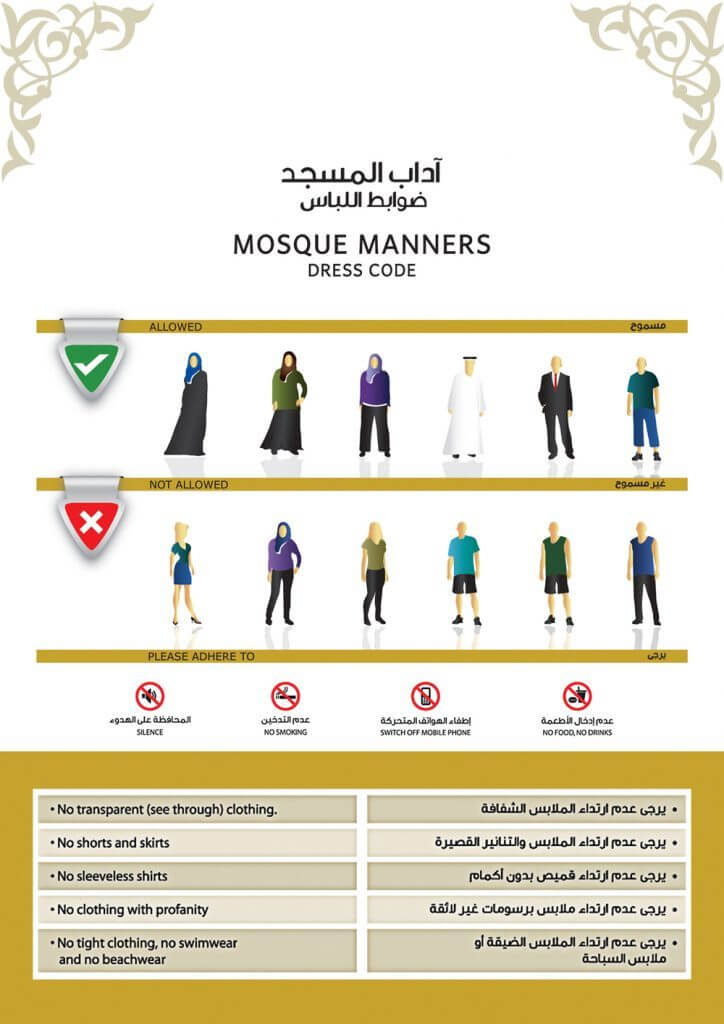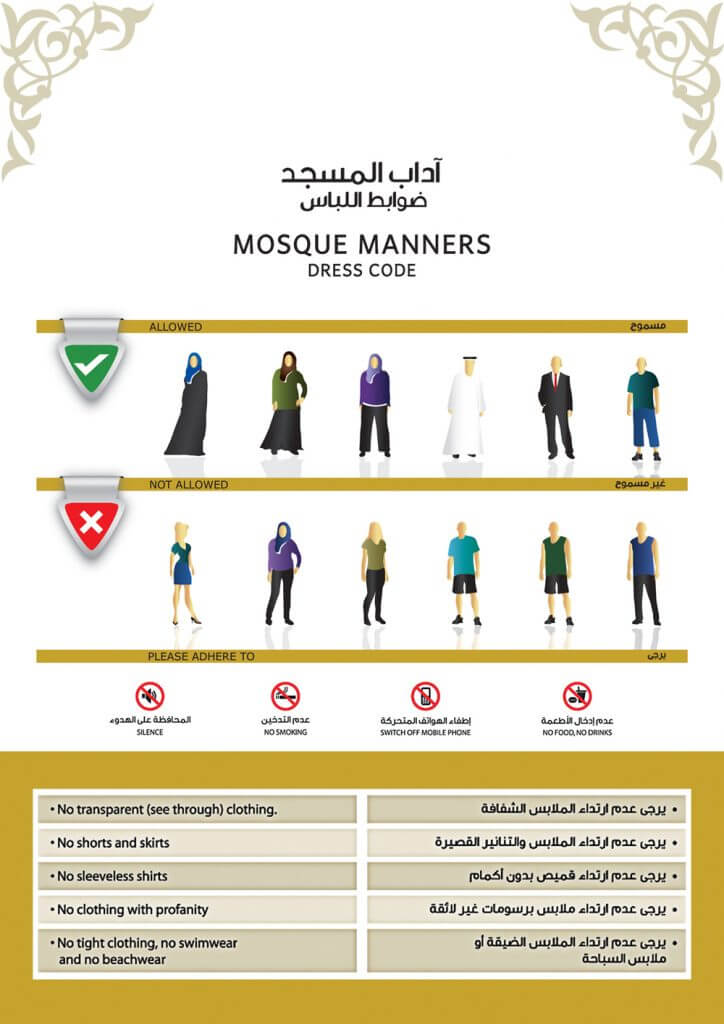 There is not much to worry about the dress code if it's not offensive to culture or religion. However, every issue with the locals can be managed with few words of acceptance and thought expressed to them, that you will consider changing your attire, the next time you wish to wander out of your hotel.
Final Words
As has been discussed above that Dubai is an Islamic state and thus there are some principles and regulations which are followed by the dressing and people have to abide by them. There are millions of tourists who visit Dubai each year and they are mostly from America, Australia, and Europe and thus women might face a little difficult while roaming in Dubai because Dubai is a bit different from the Western world. If we talk about the dressing code and this is the reason foreign women should have a little idea about the Dubai dressing code for females before flying to the UAE. Here is also another article on Wikihow about Dubai dress code.
Are you coming to Dubai on a trip? That's great. Do let me know in the comment what you're planning to wear on your Dubai trip?
Updated on 16 Oct 2020.