Originally posted 2019-10-25 02:56:55.
With the height of 150 m, Dubai Frame is the world biggest picture frame on the earth. With 93 meter bridge at the top of the edge connect the two towers. It's an up to date tourist attraction in Dubai that already attracted millions of visitors since opening.  The frame made up of aluminium, glass, steel and reinforced concrete. Above all, over 15000 square meter gold cladding used to cover the Dubai frame exterior frame. Dubai frame divided into two parts, where one side shows the "new and modern Dubai" and the other side, the "old and historical form of Dubai".  At the modern side, you can see Burj Khalifa, Emirates Towers, Dubai Mall, and Dubai Fountain and many others and the opposite side you can look Deira, Karama, Bur Dubai even you can view Sharjah Skyscrapers and so on.
How to Get there?
I went by metro to the nearest stop, Al Jafaliya station. After leaving the metro station, I continued down the main road in the direction the metro was going, turning right when I arrived at Zabeel Park. After that, I went to Go to Gate #4 in Zabeel Park, which is the main entrance gate of the Dubai frame.
Dubai Frame Ticket & Timing
The frame opens at 9:00 am, and the final entry is at 8:00 pm. A token locker facility for luggage is also available. Much better to see in both before and after sunset. The Dubai Frame entry fee is AED 50 for an adult & child 20 Aed. Infant (up to 3 years) and disabilities person entry are free. The E-ticket can be bought at Dubai frame official websites.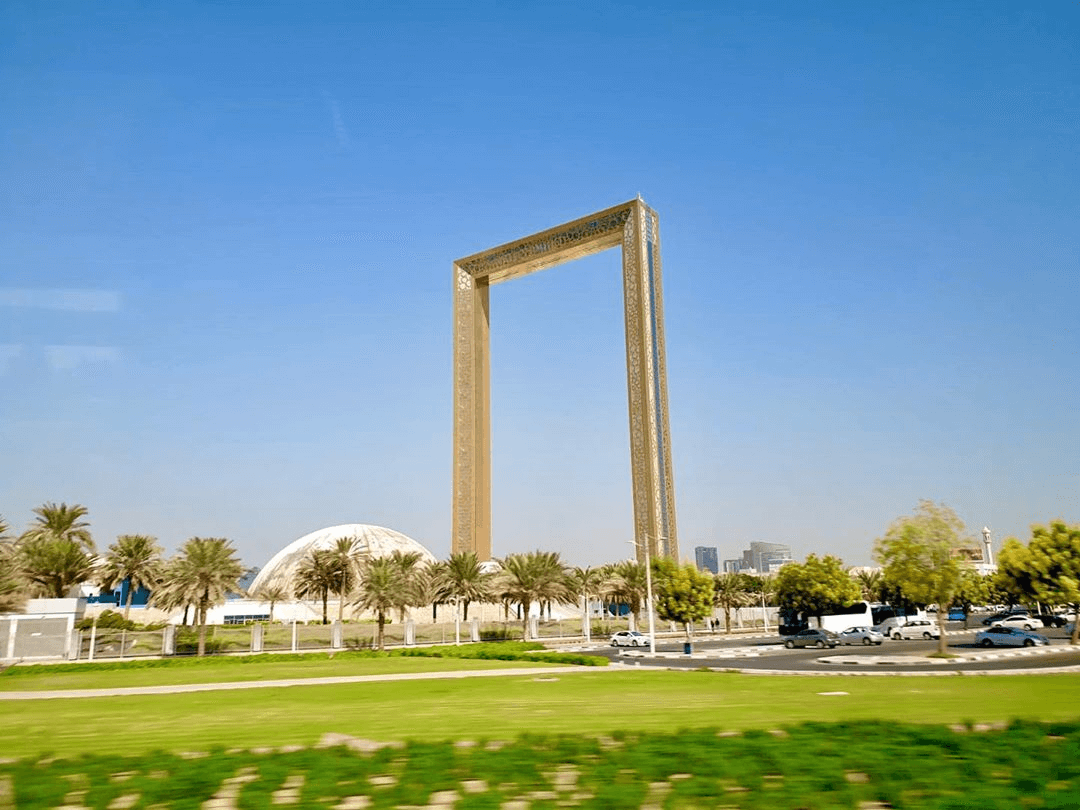 What to expect?
Upon getting to the base, you have to line up there for sometimes because Dubai frame can host maximum 2oo peoples per hour. I was lucky enough as I didn't have to wait for a long time. I stayed in the queue for about 10 minutes. After passing through security screening gates, you can explore the export lobby, which is itself a great piece of art. There are also souvenir shops on the first floor where you can purchase souvenirs. If you are curious to see Dubai old days or history you can visit the museum, which is situated just before the elevator gate. It's just a necessary museum where you can view the documentary on old Dubai. You will also notice quotes from His Highness Sheikh Mohammed bin Rashid Al Maktoum on the wall in Arabic & English. 
Dubai Frame has about 49 floors, and luckily there is a fast elevator (At first floor) which can reach at the top in just a few minutes. When I went to the elevator, I zipped up 150 meters quick enough for my ears to pop. There is an inverted pyramid projector screen –  where you'll be able to write your name or doodle, and it will display on the screen. If you would like to be part of the Dubai moment, take a selfie with selfies machines which are there. At the moment, you can't print out your selfies that would be in the record for future and who knows when you get featured in the Dubai moment documentary.
Probably the most insane part of the Dubai flame is walkable glass. First time I stepped onto transparent glass so as expected I was terrified and my heart started beating so quickly for a minute as soon as I looked down through the glass. If you are faint, refrain from the glass.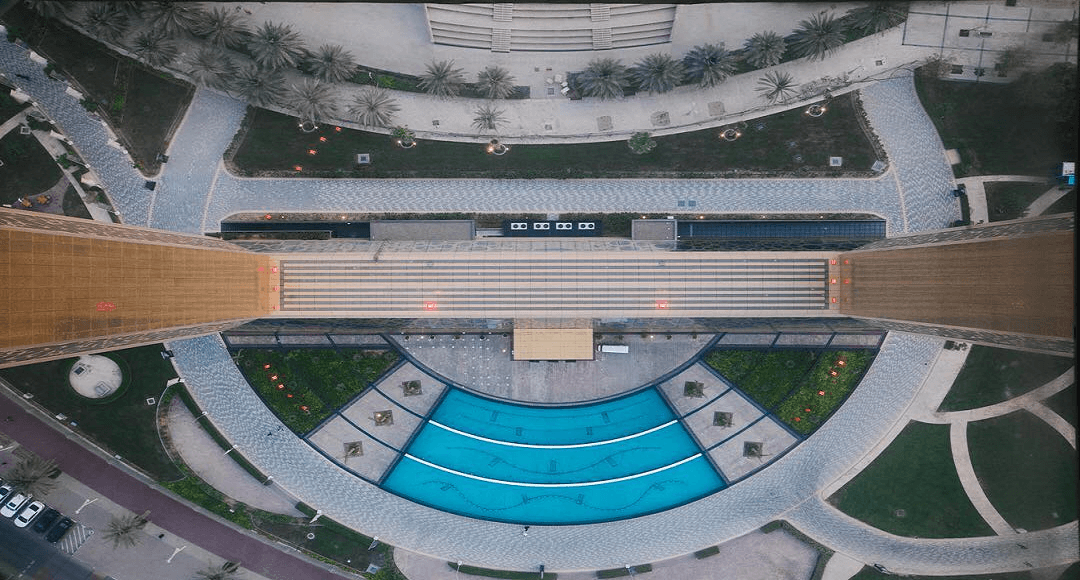 When you come down to make sure you visit the future zone where I found a Video on Dubai Future (next 50 years) which will show you how Dubai will look in future. Documentary shows, robots, drive-less cars & flying taxi which blew me away.
The Dubai frame remains open throughout the year. You can visit it any month.  Morning and sunset are the best time to see it. As far as the days are concerned,  better to go on WORKING days as on the weekend it gets jam-packed particularly on Friday and in this case, you will end up with a long queue.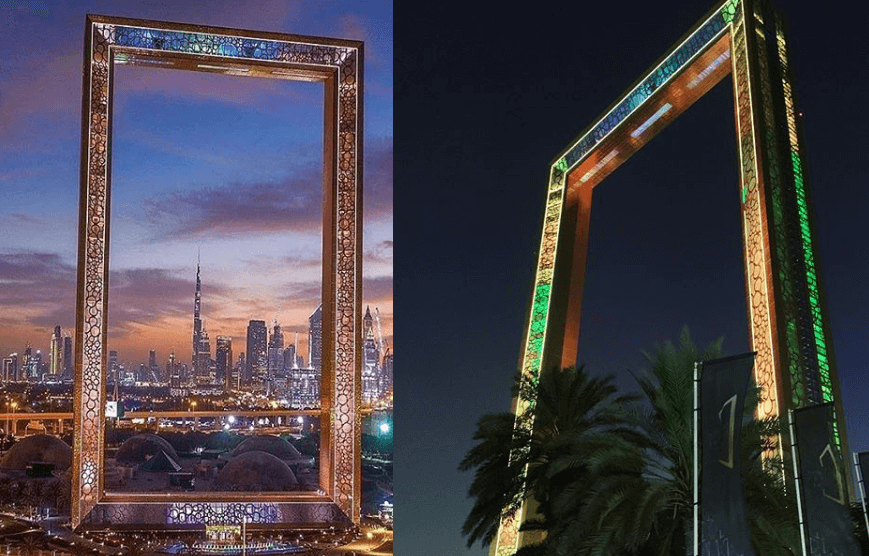 Dubai Frame Facts
Dubai frame constructed by EMAR PROPERTIES (same developer which developed Burj Khalifa) and the frame cost 230 million AED.
Dubai Frame designed by a Mexican architect – Fernando Donis. He is the same Architect who designed Dubai Renaissance Tower and Porsche Design Towers.
Dubai Frame has welcomed more than ONE MILLON visitors in the first year.
The frame has  2,900 square metres of laminated glass.
Updated on 5 October 2020.