Originally posted 2022-03-20 19:40:36.
When it comes to theme parks and water parks in Dubai, there's no doubt that they're filled with an abundance of attractions and water fountains that make them one of the most amazing places to visit in the whole world for those seeking adventure and excitement. You will be able to experience leading global theme park brands in Dubai, each with its own unique rides and incredible slides, making it a perfect destination for those looking for entertainment.
Dubai is now home to some of the most renowned theme park chains in the world, from IMG to Legoland and amusement parks like Kidzania to VR Park.Aside from that, being a family-friendly destination, most of Dubai's water parks and theme parks are designed and constructed in a way that offers an abundance of fun and games by offering a variety of recreational activities regardless of gender and age.
No matter what you're looking for in terms of theme parks in Dubai for thrilling action rides, or water parks in Dubai for exciting water slides, or some other kind of adventure activity, these parks in Dubai will have everything you're looking for to suit your taste. A few of the best entertainment parks in Dubai include the IMG World of Adventure, the Wild Wadi Park, Legoland, MOTIONGATE, and Atlantis water park. In addition to these, you'll find many others.
This comprehensive list of the top 15 entertainment parks in Dubai has been compiled to save you valuable time. Browse through all of them so you can see which one fits your needs the best.
Note: The difference between this guide and other theme parks guides is that I have categorize water parks and theme parks into two different sections. Besides this, the last section of the post also contains two amusement parks.
5 Best Theme Parks in Dubai
IMG Worlds of Adventure
In Dubai, there are several theme parks, and one of the most popular is the Img World of Adventure. This park has something for everyone, making it a popular attraction in Dubai. While it is usually a theme park that offers a variety of thrilling rides for all ages, IMG World is not solely a theme park dedicated to thrills. IMG World is not just a playground with 1.5 million square feet of space, it is also the world's largest indoor theme park and amusement park, located in Dubai.
There are four impressive zones at IMG: Marvel Comics, Cartoon Network, Lost Valley Dinosaur Adventure, and IMG Boulevard. In addition to these four zones, 17 themed rides are segregated between these four zones. There are a few rides that stimulate you, such as the haunted and the Velocirapto, while others, such as Ben and Rook, keep you cool and calm.
At peak hours, IMG Worlds is the most crowded theme park in Dubai due to its popularity as the most popular theme park in Dubai. On holidays and weekends, you might be required to wait in line to get a turn on some of the most popular rides, especially during holidays and weekends. However, in most cases you won't hold out for a long period.
Unfortunately, food from outside is not permitted at IMG. On the other hand, if you are hungry after riding at IMG, there are many restaurants and cafes that offer many different cuisines to choose from.
It is highly recommended that UAE residents purchase an Annual Pass which is priced at 1295 AED per year. Otherwise, the standard ticket price for IMG World is 335 AED per year.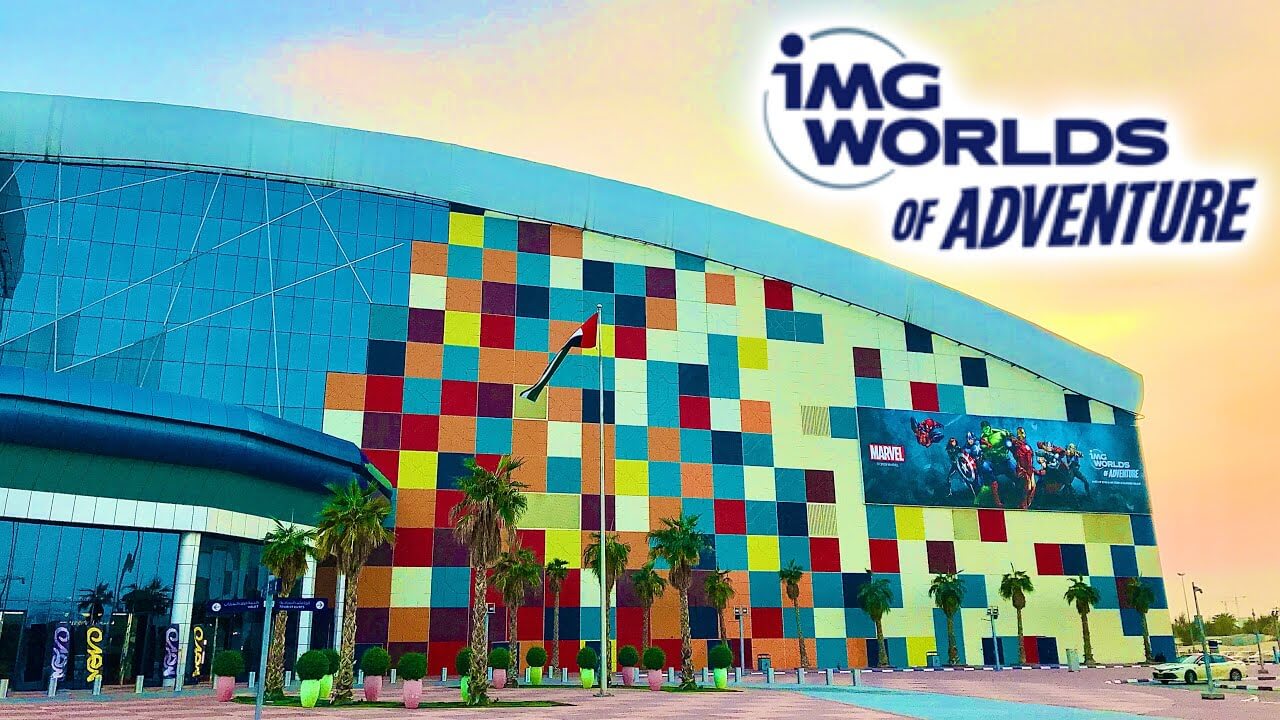 Legoland
Dubai Legoland has 40 entertaining rides, shows and attractions in addition to some 15,000 Lego models made of 60 million Lego bricks. Though most rides at Legoland Dubai are designed for kids ages 2-12, the park attracts visitors of every age group. However, If you're touring Legoland Dubai with kids older than 12, prefer taking them to IMG World of adventure, particularly if they're excitement hunters. Otherwise, they should try a roller coaster that seems perfect for adults.
In contrast to IMG, Legoland is divided into 6 main areas, Lego city, kingdoms, adventure, factor and miniland. If you're visiting Legoland Dubai, don't forget to check out the miniland area. It's the most in-demand and interesting area in Legoland Dubai that features a variety of Dubai's renowned landmarks like Burj al Arab, Gold Souq, Burj Khalifa and many more. In terms of rides, the submarine that comes with a variety of fish can catch the attention of your little ones.
There is no outside food allowed at Legoland Dubai, as is the case with most other theme parks near Dubai. However, upon request you may be permitted to carry diet conscious food. Legoland Dubai has several in-house restaurants. LEGOLAND Dubai remains open all year round.
Opening hours are Monday to Thursday: 10:00 am to 6:00 pm and Friday to Sunday: 10:00 am to 7:00 pm.
Visitors seeking reduced Legoland tickets and avoiding long queues should buy tickets online. Legoland Dubai ticket price is 345 Aed devoid of water park entry.
Motiongate Park
If Hollywood excites you, Motiongate is the most appropriate theme to enjoy amusement activities. Dreamworks Animation, Columbia Pictures, Lionsgate, and the Smurfs are among the attractions in this Hollywood-inspired theme park. This world-renowned and adults friendly theme park in Dubai has 6 unique zones and 30 rides and attractions. Out of these 30 rides, capital bullet train, Madagascar mad pursuit, dragon gliders, the green hornet and zombieland blast off are must-try rides at Motiongate Dubai.
While backlot crew,kung fu panda academy, fountain of dreams and step up Dubai are most well-known shows at Motiongate Dubai. If your visit to Motiongate is all about thrilling rides, at no cost overlook madagascar mad pursuit and built train roller as both of them have speeds more than 80kph. Though motiongate has both indoor and outdoor activities, if you wish to shell out several hours with your little-one, it is best to visit during the winter months to have the most enjoyable rides.
The most impressive thing about Motiongate is that, if you've a valid UAE residency visa, you can benefit from Motiongate's irresistible 175 AED offer. On the flip side, the same day pass for UAE tourists is 245 AED if you purchase the ticket on-spot. Yet, UAE visitors can still save a lot and get 195 AED deals if they buy Motiongate tickets online.
Bollywood Park
We've discussed Hollywood and western style theme parks. If you enjoy Bollywood movies and are looking for an ideal Bollywood style theme park in Dubai for your family, you should visit Bollywood Park. Since this is an exclusive Bollywood devoted park, there are many references and music related to Bollywood. So if you're familiar with Bollywood, here you could find something different from various other theme parks due to emphasizing Indian cultural heritage. For that reason, this theme park is more famous among Indians than others.
In addition, the Bollywood park has 16 rides and attractions to pick from. It also has 5 entertainment zones named as- Bollywood Boulevard, Rustic Ravine, Mumbai Chowk, Bollywood Film Studios, and Royal Plaza. Bollywood park's rides are mostly VR, as opposed to Dubai's earlier reviewed parks. Therefore please ensure that you're comfortable wearing 3D glasses.
As an Indian themed theme park, Bollywood park has Indian traditional dishes at every restaurant. Several traditional Indian foods are available to satisfy your appetite including mouthwatering Mughlai cuisine, Biryani, or simply a glass of Sugar-cane or Lemon soda.
Bollywood Parks opening hours are from 1 pm to 9 pm while ticket price of the one day is 195 Aed.
Please Note: As of June 2023, Bollywood parks has been permanently closed. 
4 Best Water Parks in Dubai
Irrespective of season, visiting water parks in Dubai is extremely enjoyable and fascinating. Because of that, I have chosen the listed water parks in Dubai on my list. In Dubai, the following water parks are open year-round.
Wild Wadi Waterpark
Thrilling water slides, one-of-a-kind rides, and soothing streams, that is what Wild Wadi Waterpark delivers to its visitors. The water park is designed around Juha, a well-known Arabian folklore character. Operating near the famous Burj Al Arab, the Wild Wadi water park contains 30 attractions. Jumeirah Sceirah, tantrum alley, Burj Surj, master blasters, master blasters, and breakers bay are the best rides at wild wadi waterpark. Juha's dhow and lagoon ride are designed for under 1.1 kids. Don't worry about your kids' safety as Wild Wadi has several lifeguards, making this a perfectly-safe recreational spot for families.
Apart from joyful action rides, Wild Wadi also has a waterfall that goes every 15 minutes. Being the most famous and oldest water park in Dubai, Wild Wadi draws Dubai residents and visitors throughout the year. Due to its prime location and complimentary access, it is particularly popular among Jumeirah Beach Hotel guests.
UAE residents are eligible to receive discounted rates of 179 AED on weekdays and AED 199 on weekends. Ticket prices are also dependent on height. Those on a visit visa and higher than 43 inches (1.1 meters) have to pay AED 336 while those under 43 inches (1.1 meters) can get an AED 284 deal. Please note, these rates are main gate rates. If you wish to get discounted rates, I recommend buying online.
Kids up to 2 years old are free to enter Wild Wadi. As mentioned previously, Jumeirah beach hotel guests can enjoy complimentary access to Wild Wadi Waterpark for their entire stay.
Atlantis Aquaventure Waterpark
As the name suggests Aquaventure is also a leading water park in Dubai. By its dimensions, it is the biggest water park not only in the Middle East but throughout Europe. This globally-recognized Dubai-based water park is undoubtedly a full package by itself. Aquaventure takes much pride in its world-famous 20+ water slides. It has a decent combination of rides. The most notable activities here include Zoomerango, aquaconda, storm coaster, and shark attack ride. It also comes with an entire mini park for little ones called splashers. This park contains 14 slides for children as well as an action area and a lazy river. Aquaventure also takes the protection of children very seriously. For that reason, lifeguards are every 50m across the park.
Atlantis' aquaaventure waterpark doesn't limit you to activities, it also has a private beach where you can unwind after thrilling rides. If you're feeling hungry, make your way to one of the 15 restaurants accessible to you. Aquaventure provides free access to Atlantis guests, so if you want to avoid waiting in line at rides, go early before hotel guests show up.
Atlantis Aquaaventure Waterpark offers 100% FREE tickets on your birthday for six days. Aside from that, Acquaaventure Waterpark occasionally has a promotion on MasterCard that saves 25% off the ticket. Otherwise, tickets usually cost over 300 AED.
Also, for those who're traveling with luggage, no need to stress. Aquaventure has a storage area where you can store your precious possessions. Small locker costs 45 AED and larger one costs 75 AED.
Laguna Waterpark
Another beachfront waterpark in Dubai that has achieved success in a short span with a range of remarkable rides. Laguna Waterpark isn't an average water park . There's loads to dine and shop right on the fringes of this seaside. It's actually a part of the Laguna theme park that we've already discussed early on. Therefore If you combine Laguna Waterpark and theme park trip, most likely you'll have to postpone your other plans of that day as together they're going to keep you engaged the entire day with their rides.
Splash N Party
If you've already visited the previously discussed water parks and are looking for another one, then a visit to Splash N Party should definitely be on your list. This relatively newly opened water park in Dubai is a great choice for those with a limited budget. It's 100% dedicated to water activities. From splash pads to inflatable water slides, your kids can do so much at the waterpark.
Splash 'n' Party also has branches in Dubai. What's more, Splash 'n' Party offers diverse kids birthday party hosting packages in all Dubai branches at a reasonable price and with distinctive themes for boys and girls.
There are different tickets available for weekdays and weekends at Splash 'n' Party. Weekdays are priced at 100 while Weekends charge AED 150 (Children One adult is free with the kid ticket. If more than one adult accompanies the child, an additional charge of AED 50 per adult will be incurred.
Best Amusement Parks in Dubai
Kidzania
If your kids desire to replicate adult tasks, which let's be realistic, who doesn't, you need to take them to Kidzania. It lets kids play different roles in adult jobs. Kidzania is an institute where kids can turn their fantasies into reality.
As KidZania Dubai focuses on replicating real world careers, these activities can enable your children to consider the sort of career they wish to pursue when they're adults.
KidZania Dubai economy ticket cost is AED 195 (4-12 years) while the Premium ticket cost is AED 265. (4 -12 years) . Children under 2 years old are free and the over 17 years entrance fee is 80 AED.
VR Park
Finally Dubai secured an exclusive VR park. It's no less than like fantasy becoming a reality for all VR fans in Dubai. Till date, it is the only dedicated virtual reality park in the UAE. Irrespective of the age, the VR park has plenty of rides to do including old arcade games. However, if you suffer from motion sickness, be prepared to get off on some rides as there are certainly minimal games for you. Dubai drone and Burj Khalifa drop are the most popular rides out of 14 activities. It's located in the Dubai Mall.
VR park entry costs nothing as it practices pay as you play business model. More about VR park, you're read my this detailed guide. 
Updated on 15 Sept 2023