Originally posted 2018-11-10 17:13:25.
With over 1.5 million square feet of space, IMG Worlds of Adventure is one of the world's largest indoor amusement parks and is open all year round. Located in the heart of Dubai, the park is accessible to visitors all year round.
IMG Boulevard & The Haunted Hotel
The first thing to mention is the one place that excites many park visitors. The haunted hotel has been praised by many who have visited it. Only 15-year-olds and above are allowed (which is understandable). The Haunted Hotel presents mazes and changing scenarios. The different environments also have different characters, which appeal to guests.
Moving on to the plethora of rides and attractions available at Worlds of Adventure.
Ride and Roll
Let us explore the many creative flavors of exciting adrenaline-fuelled rides and attractions offered at IMG Worlds. IMG has labelled its various rides as "For Kids", "Family Ride" (adults required) or "Big Thrill" (for slightly older children). Hopefully, you can find one that suits your quirks and desires. First off, we'll mention those from the MARVEL universe.
1)

   

Be "marvelled" by the Superheroes
These rides are all dedicated to the famous and ultra-successful franchise of movies hitting cinemas these years, namely, the Avengers. The whole environment specially caters for people, mainly teenagers, kids and young adults who are die-hard Marvel fans
·

        

Avengers Battle of Ultron
 This one is open to children as well as families. Height range is between 1.3 m and 2.08., but if a child is accompanied by an adult, heights as low as 1.05 m can be accepted as well.
·

        

Spider-Man Doc Ock's Revenge
This one is labelled as a "Big Thrill" by the IMG World. You can expect a much more extreme momentum in these kinds of rides. Minimum height required is 1.2 m without an adult, but 1.05 m with an adult.
·

        

Hulk Epsilon Base 3D
Another "Big Thrill" attraction, in which you can sit in a highly momentous 3-dimensional cinema dome building, watching a huge realistic Hulk fighting off his nemeses and actually feel the motion penetrate through you. The 360 o view is absolutely out of this world; children and adults alike leave the dome, feeling dazed and wishing it hadn't ended. Height range is 1 m to 1.95 m max.
·

        

Thor Thunder Spin
This one is similar to the Hulk Epsilon Base, the main difference being that it is Thor stars instead of the Hulk. Oh, and yes, there is a lot more lightning and flashes this time too. So if you prefer Thor over the Green Guy, you might as well just visit this one. Height restrictions are from 1.4 m to 1.95 m.
·

        

Avengers Flight of the Quinjets
The Avengers Flight ride is quite different from the previous ones and is open for all age ranges, not just kids. But this is especially fun for the younger audience I dare say. You can get into a small quintet, in pairs or individually, and then participate in an awesome race on the Avengers Battlefield in those peculiar Quinjets. Height restrictions here are 1.3 m without an adult, and 1.05 m with an adult.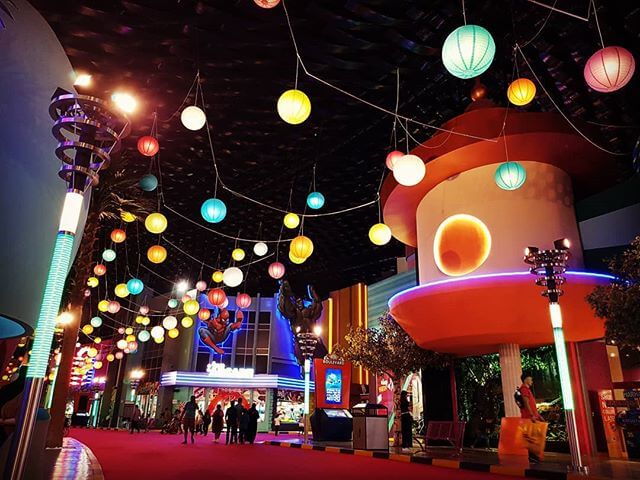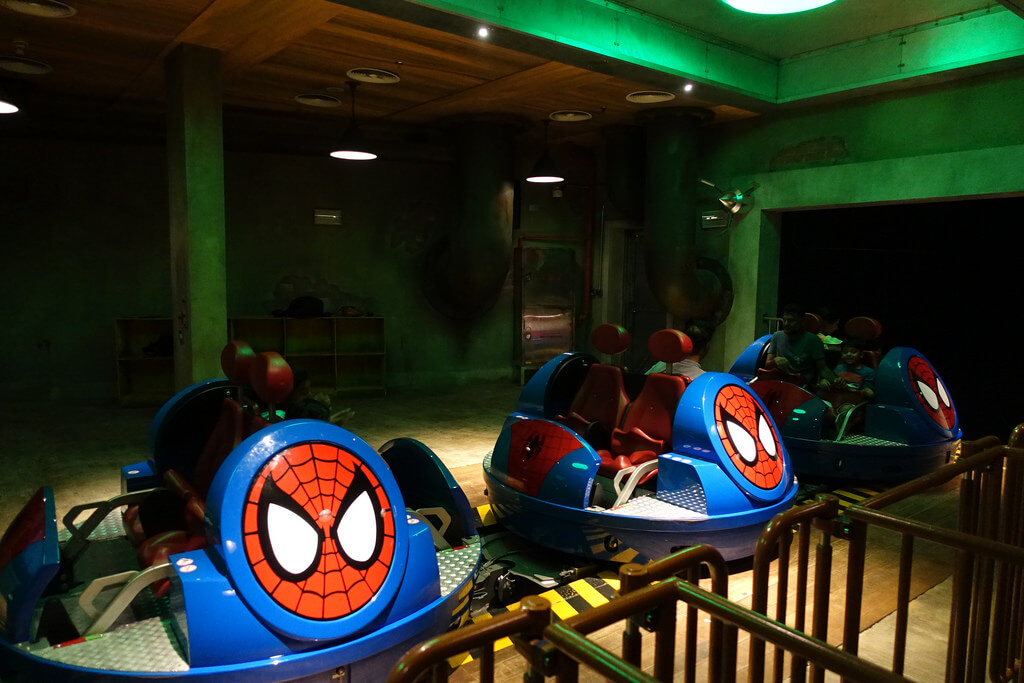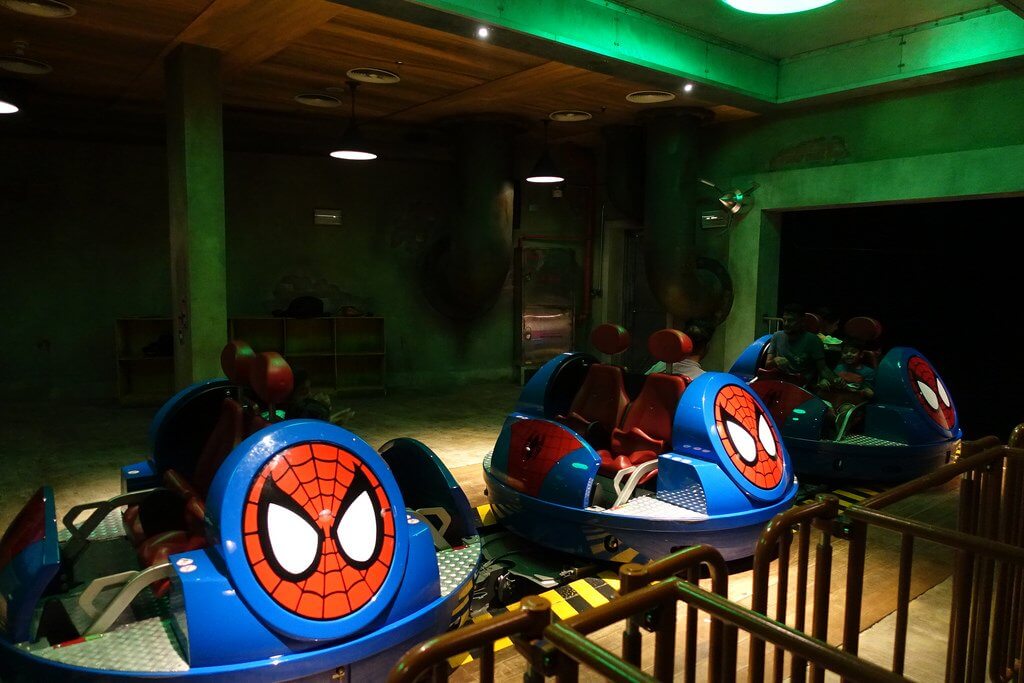 2)

   

The Lost Valley
Hanging out with popular superheroes is cool and all, but do you want to know what's even more super? How about spending some time with terrifying monsters? Yup, if you are excited by the prospect of walking along with giant dinosaurs of the lost world, the following bunch of rides may be for you.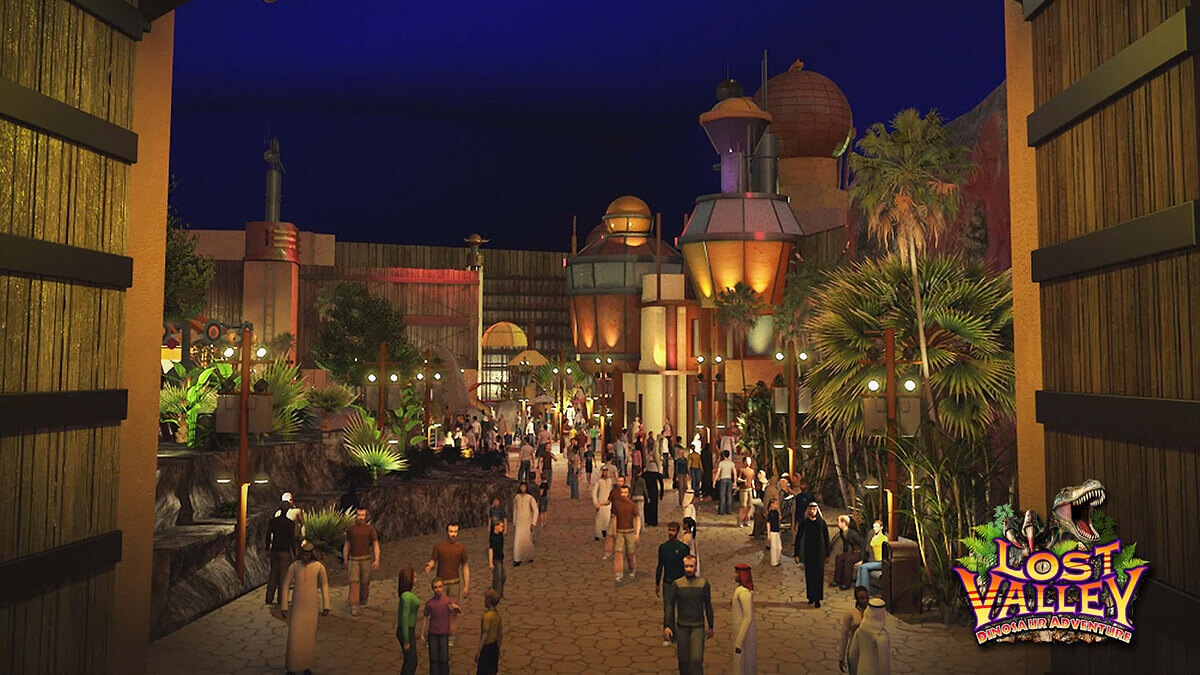 ·

        

The Velociraptor
This one is an extreme "Big Thrill", so beware. It is not recommended for very young children and certainly not for those with the slightest degree of "Dino-phobia". It can get scary, but looking at it from another perspective, it can become extremely awesome and thrilling for you. Height range allowed is 1.3 m to 2.08 m. With an adult, as low as 1.05 m allowed.
·

        

Predator
The predator is also a "Big Thrill". It's a bit of a monster mania, with mainly carnivorous species of dinosaurs with terrifying long fangs ravaging at you. Just a little forewarning for the weak hearted though. Height must be more than 1.25 m.
·

        

Forbidden Territory
This one is for family, and the height range is 1.3 m to 2.08 m. With an adult, 1.05 m acceptable as well. Enjoy the full extent of holograms and augmented reality as you immerse into the Dark Forbidden Lands of Old. The scare factor exists here as well, though, to some extent.
·

        

Dino Carousal
Especially for Kids, this huge Dino-themed merry-go-round features less scary and more friendly dinosaurs. Children can enjoy rides on the backs of T-Rex dinosaurs (if they find one friendly enough though). Minimum height required is still 1.05 m though.
·

        

Adventure Fortress
Let your children stand on their feet and learn the skills of protecting a village from a dinosaur attack. Children will get to enjoy quite a lot, with ladders, tunnels, bridges, etc. Minimum heights are 1.25 m and 0.95 m without and with adult respectively.
3)

   

Cartoon Network
Lastly, the major set of rides for children primarily is the Cartoon Network zone. The following rides are offered here.
·

        

The Power-puff Girls – Mojo Jojo's Robot Revenge
This is the only one of the CN rides that has been labelled as a "Big Thrill". Kids taller than 1.35 m can enter without adult supervision, but those between 1.25 m and 1.35 m need an adult. Bad news for those even shorter though. The little ones can enjoy a thrilling adventure with Blossom, Buttercup and Bubbles fight Mojo Jojo and his accomplices.
·

        

Ben 10 5D Hero Time
A "Family" attraction, accepting all children with adults, but only taller than 1.3 m without them. This one offers you the action-filled adventure with Ben and Rook, learning to be a Plumber at the Plumber Headquarters, but with the looming threat of Khyber the Huntsman. So be on your guard!
·

        

 Adventure Time –  The Ride OOO with Finn and Jake
Travel through the great kingdoms, meeting with the Ice King and princesses along with many other characters come to life. If kids want to enter without adult supervision, they'll need to be at least 1.3 m in height.
·

        

The Amazing Ride of Gumball
Enter the town of Elmore and help Gumball and Doctor Darwin regain control that they have lost to the strange zombie-like creatures that have come to life and are plaguing the town like wildfire. Without adults, the minimum height requirement is 1.2 m here.
·

        

Lazy Town
This one is quite a bit of a fun-loaded adventure land in and of itself. Children can let their inner wild-lings escape into the Lazy Town, climbing, jumping and running to accomplish tasks. Whether they want to learn a few dance steps at Stephanie's Dance School or want to enter the secret lair of Robbie Rotten, it is up to them. In the lazy town, the tickets for Pirates Adventure can be difficult to get through, and it requires an additional AED 25 per person.  The height restrictions for the various parts are as follows:
Lazy Town Tree House: 1.20 m
Min Height if accompanied by an Adult (18+): 1.05 m
Lazy Town Robbie's Lair: 0.90 m
Lazy Town Stephanie's Dance Academy: 1.2 m
Lazy Town Play: Max Height 1.6 m
Lazy Town Pirate Adventure: 1.40 m (Please note a proper (sporty) shoes is required to enter)
Min Height if accompanied by an Adult (18+): 1.25 m
(You can confirm accurate rates and restrictions from their official website)
Shopping, Dining and Movies
There is a lot more to the park than just the rides. Each zone has its own themed set of shopping malls as well as restaurants. Be sure to check out those on their website as well. The Nova Cinemas offer all the blockbuster movies in a capacious hall.
IMG Location Map
Location: E311 Sheikh Mohammad Bin Zayed Road, Dubai, UAE
Owned by the Ilyas and Mustafa Galardi Group, this massive in-door park has won the Certificate of Excellence from the tourism agency TripAdvisor and has a very high reviewing audience. For reviews, you can go to the end of this blog. Before going into details about the various exciting attractions here, first of all, let us get away with the essential details of tickets and timing. To confirm updated values, visit the ticket information section on their official website https://www.imgworlds.com
IMG Worlds of Adventure Timings
Sunday: to Thursday 11 am to 8 pm
Friday &  Saturday 11 am to 10 pm
IMG Worlds of Adventure Tickets Information:
Of course, the ticket rates change over time and it is best to check up on their official website. They also have a helpline if you are unable to book your tickets if they are all out. Further, you can get an annual pass at a discounted rate too (AED 383) if you plan to visit there frequently throughout the year.
Get one ticket and enjoy the park all day long (although it is recommended that you spend only about 3-5 hours there).
Regular Tourists:
Park admission: AED285*
Junior admission (under 1.2 m in height): AED 255*
Senior Citizens (over the age of 60): AED 175*
Guest with Disabilities:
Above 1.2 m in height: AED 168*
Under 1.2 m in height: AED 115*
You should also know that if you book online, you can get bundled discounts which involve the Ultimate Fast Track, whereby you are given preference in queues over regular ticket holders.
* All the prices listed above are inclusive of 5% VAT
* The ticket is not valid for special events that require a separate admission charge.
IMG Review
As you might have expected, generally the reviews of IMG Worlds of Adventure are astoundingly positive, with a few subtleties to consider of course. People usually enjoy when the park is moderately crowded. If it is excessively crowded, then chances are you might have to wait in queues for quite long, while those with a UFT ticket get preference. On the other hand, if you happen to visit during a low holiday season time of the year, you might not see a lot of hustle around. The emptiness would then disappoint you. Plus, some rides require a minimum count of guests before they can operate. Thus, it would be judicious to plan your visit with these factors in mind.
Since the Worlds of Adventure are internally controlled with regards to temperature, visitors love to go there during the peak summers of Dubai, as there are limited options for tourism during that time. Another thing worth mentioning here is the delight expressed by disabled citizens for the extra and appropriate facilitation presents for them as well (including the cheaper tickets of course). However, be aware that some people have given negative reports regarding the behavior of the staff at the theme park.