Originally posted 2018-06-20 16:05:51.
Sheikh Zayed Grand Mosque Abu Dhabi
Sheikh Zayed Grand Mosque needs no introduction when it comes to most beautiful mosques in the world. It's the biggest and most visited mosque in the UAE. Especially on Friday and on Eid days this place turns into a very crowded place because Muslims all around the UAE come here to offer Jumah(Friday & Eid Prayers) and this is the reason the mosque does not accept tourist on Friday in morning time (till 4:00 PM). The mosque is located at Sheikh Rashid Bin Saeed Street -between Musaffah Bridge and Maqta Bridge- New Abu Dhabi. The interior design of the grand mosque Abu Dhabi is spectacular and eye-catching. Swimming pools a huge garden and seven huge chandeliers also exist in the mosque that makes hard to believe that its a mosque. The mosque was constructed from 1996 to 2007 and Architecture work done by Yusef Abdelki.
The good thing is non-Muslims can go anywhere inside of the mosque. At night White marble, golden and blue lights give impressions of a palace. There is NO ENTRY fee, and FREE parking is also available. 
Grand Mosque Abu Dhabi Dress Code
Sheikh Zayed Grand Mosque Abu Dhabi dress code is a little bit different than Jumeirah Mosque dress code. You must follow the specific dress code to go inside. Woman are not allowed to go inside of the mosque without wearing Abaya (they will give you free for visit purpose). Both genders must have to cover shoulders and knees. You will have to take off your shoes at the entry gate. Men and women neither can walk very close nor touch each other. If you do guards will politely warn you.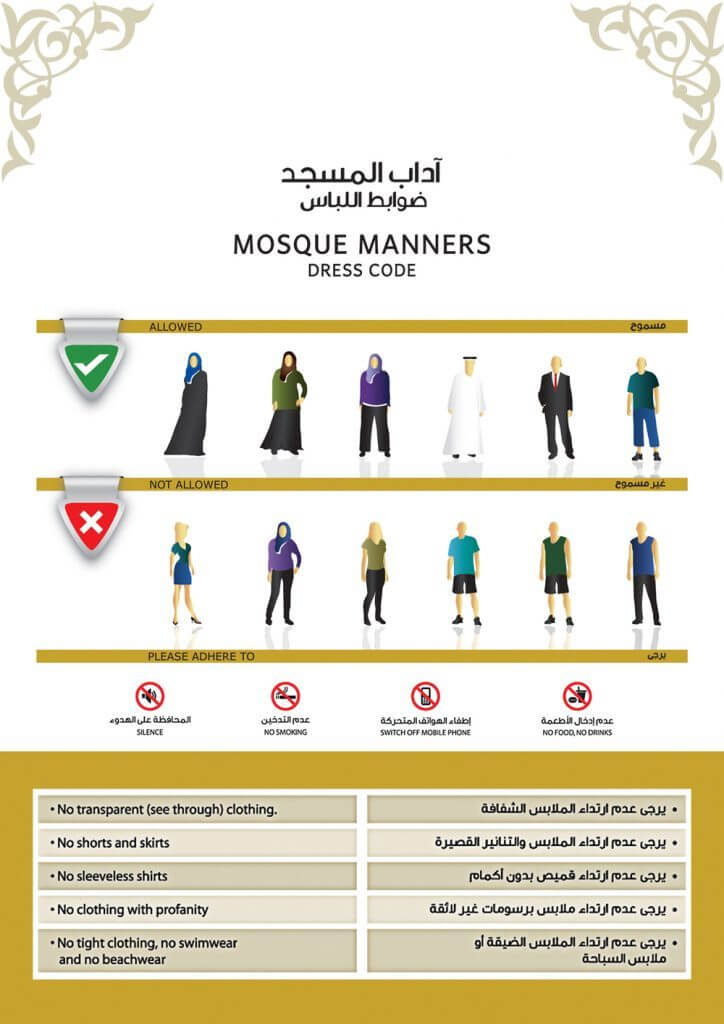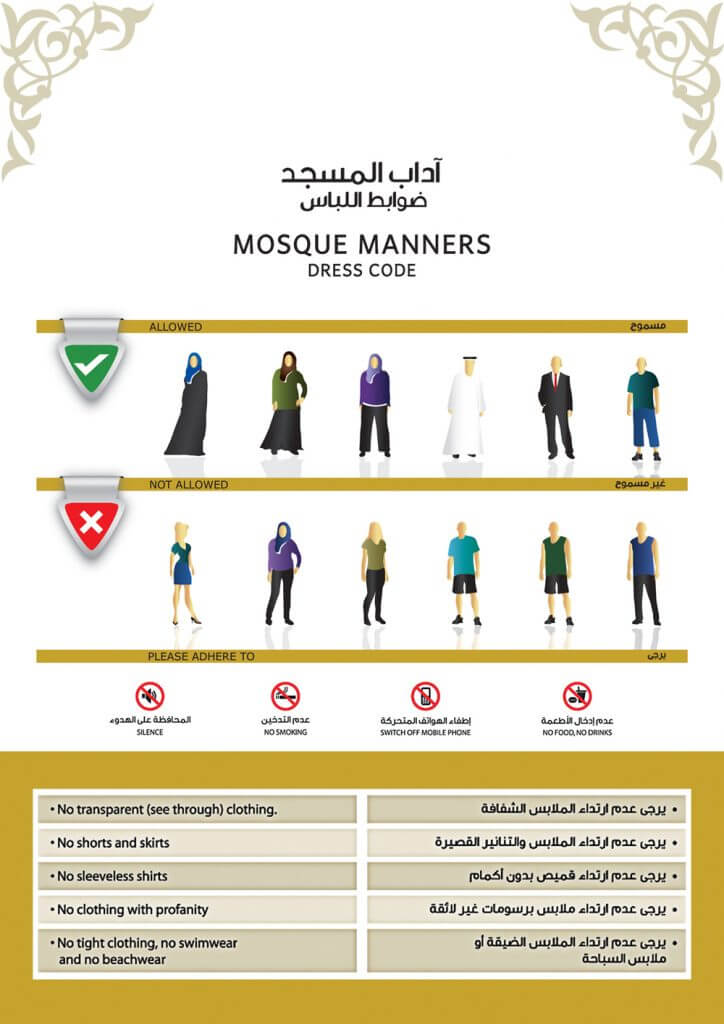 Grand Mosque Abu Dhabi Timing
Sheikh Zayed mosque visiting hours start from 9 am to 10 pm (last entry at 9:30 pm) – Saturday to Thursday and 4:30 pm to 10 pm on Friday. Even though its a huge mosque and accommodate up to 41,000 thousand worshippers, I suggest you go in the morning time as at that time you wouldn't notice many tourists there. However, If you want to get the best view of it, go in the evening, preferably at sunset time. Guided tours are organized by the Abu Dhabi Tourism and Culture Authority (TCA).
Sheikh Zayed Grand Mosque Facts & Cost
The mosque work started by late Sheikh Zayed bin Sultan Al Nahyan in 1996. He is buried in the garden of the mosque.
It's among world largest mosque with the length of 

420 m (1,380 ft), and height 115 m.

In Ramadan, the mosque host the biggest iftar party of the UAE for FREE. According to officials, 25,000 – 30,000 persons come here for Iftar on the daily base, and they get the meal for FREE.
The development of the Sheikh Zayed mosque cost AED 2.5 billion ($700 Million). The construction of the mosque took almost12 years. More than 3000 workers and 38 contracting from all around the world participated in the development of the Sheik Zayed Mosque. Construction materials outsourced from Pakistan, Morocco, Iran, Germany and a few more countries.
Up to 41,000 worshippers can pray at the same time in a mosque, and the main hall can host 7000+ worshippers.
Sheikh Zayed mosque carpet is the largest hand-knotted carpet in the world, and it took two years in the completion and transportation (2-months) of the carpet from Iran. It has been hand-knotted by about 1,300 Iranian craftsmen, and its estimated value is about 30 million.
The mosque is held by 96 primary powerful pillars and more than 1000  supporting column.
How to get there?
Many tour companies in Dubai provide Abu Dhabi city tour from Dubai. If you are okay with sharing based transportation, don't have much budget you can book Abu Dhabi tour that comes with Grand Mosque Abu Dhabi visit. In case you have a good budget and travelling from Dubai, the best way to get there is to rent a car for a day from any reputable car rental company in Dubai. It would not only allow spending as much as time you want in Dubai, but you can cover other Abu Dhabi attractions as well. The mosque is situated between Musaffah Bridge and Maqta Bridge at Sheikh Rashid Bin Saeed Street.
For any question, get in touch with officials.
Tel. No.: +971 2 4191919
info@szgmc.ae
Updated on 16 Oct 2020.