Originally posted 2017-11-02 20:07:59.
Jumeirah Mosque Guide
So you have scheduled your Dubai trip and wanted to know about the Jumeirah Mosque Dress code.
You're NOT alone who is searching for Dubai Jumeirah mosque dress guide. No worry, In this post, I will share Jumeirah mosque dress code guidelines and the best way to get there.
Jumeirah Mosque is one of the biggest and most photographed mosques in Dubai. Due to its innovative interior design and beauty, daily hundreds of peoples head over to see this an iconic mosque. The mosque is located at Jumeirah Beach Road, Jumeirah 1 area which is itself a bustling area because of its famous beach. Unlike other mosques, this mosque welcomes tourists of all religions. In fact, this is a more well known as a tourist place than a mosque. You can visit it any day of the week, and the best part is you do not need to get any special permission to go inside the Jumeirah Mosque. However, since this is an Islamic place so like other religious places, Dubai culture department has set some rules which you MUST follow to avoid any trouble. The rules are pretty straightforward and simple to follow—no racism, no castism, and no time duration limit at all.  You can view this mosque as long as you follow the authority rules.
Jumeirah Mosque Dress Code
Here is the Jumeirah Mosque dress code for males & females.
Men are requested to cover their knees and shoulders. Men are not allowed to wear shorts or skirts which fall above the ankle. Further, you should wear a loose dress, not a tight dress. If you've no such dress, the staff of the mosque will give you for visiting purpose.
The main difference between male and female dress code is the headscarf. Females must have to wear a headscarf and cover the entire head before going inside. However, a veil will be provided to them upon entry.
For better understanding, see the following picture.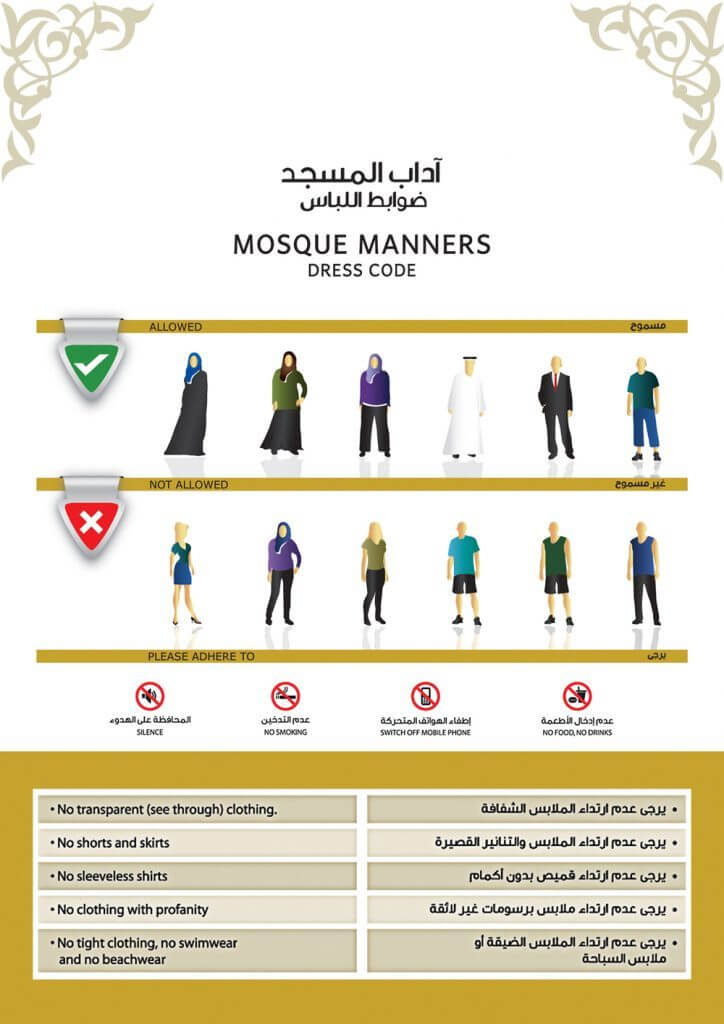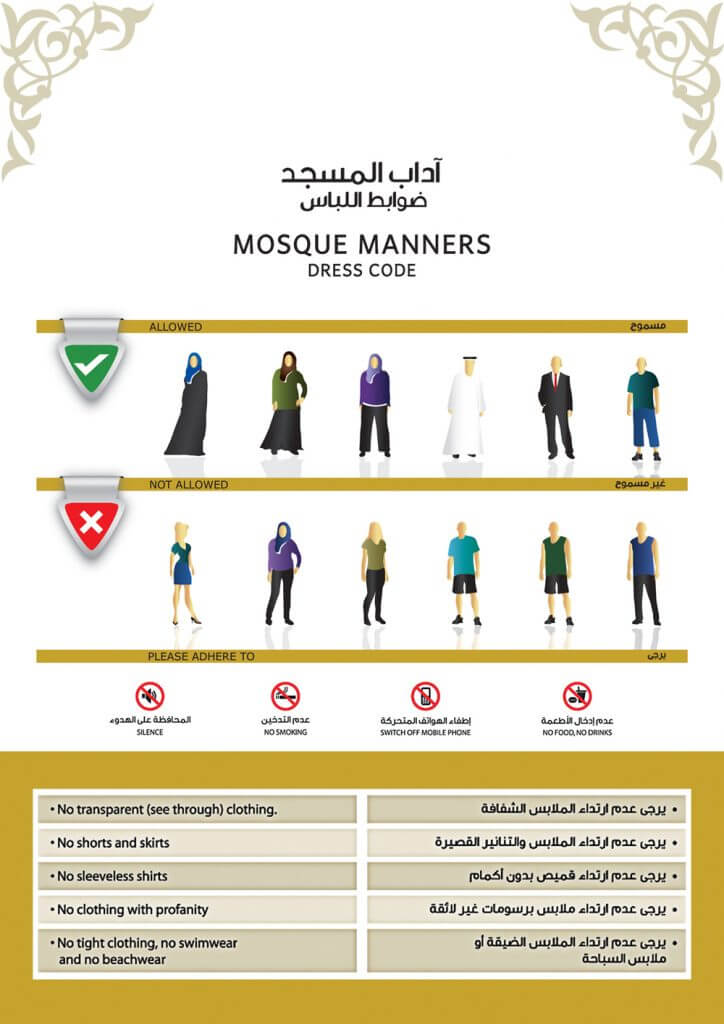 Jumeirah Mosque Dress Code
How to Go to Jumeirah Mosque by Metro?
Unfortunately, there is no metro station available at a walkable distance. The mosque is located in Jumeirah 1 on the Jumeirah road near to a beach. The nearest metro station is an Al Jafiliya metro station, which is also fair. I would suggest you go to Al Jafiliya metro station by metro and book a taxi from there to get Jumeirah Mosque and save you money. Tip: Most tour operators include the Jumeirah Mosque in Dubai city itinerary. So, you can book a Dubai city tour to go there.
Updated on 16 Oct 2020.