Tucked away on the east coast of the UAE, just an hour and a half from the bustling city of Dubai, lies a hidden gem waiting to be explored. Khor Fakkan, set against the dramatic backdrop of the Hajar Mountains and overlooking the serene Gulf of Oman, blends natural beauty with rich cultural heritage. The town lies between Sharjah and Fujeirah, facing the coast of Oman and surrounded by the Hajar mountains. Although Khor Fakkan harbor is one of the nation's best-known deep-water ports, many parts of the town remain unexplored since it was not previously known as a tourist destination. However, this town has recently undergone significant redevelopment, and a multitude of new tourist attractions have been built.
Khor Fakkan offers a whole new experience compared to Dubai's skyscrapers and is the perfect summer destination for Dubai residents looking for something new to explore. It's a place where history intertwines with modern leisure, offering an array of activities from water sports to serene park visits. It doesn't matter whether you're visiting Khor Fakkan as a single, a couple, or a family with kids, you should definitely be there. The town is particularly family-friendly, boasting safe beaches, engaging cultural sites, and interactive activities for children.
Khor Fakkan has a golden sand beach, where you can participate in a number of sports activities, as well as a park where you can spend time with your kids, or if you are a hiker, Khor Fakkan has a hiking route as well, so it is worth taking a trip no matter what type of trip you prefer. The beach is a haven for water sports enthusiasts, offering everything from jet skiing to snorkeling, while the hiking routes appeal to nature lovers and adventure seekers.
In this comprehensive guide, I'll take you through the top attractions in Khor Fakkan, each offering a unique glimpse into the town's charm. From the bustling fish markets to the tranquil Al Suhub Rest House, prepare to embark on a journey that captures the essence of Khor Fakkan.
So find out the most popular places to visit in KhorFakkan and uncover the beauty of this coastal treasure in this post.
Places to Visit in Khorfakkan
Khor Fakkan offers more than enough attractions to make your visit there worthwhile. I have compiled a list of 15 places to visit in Khor Fakkan that are worth exploring when visiting this hidden gem.
Khor Fakkan Beach
With its 1.5 kilometer length, Khor Fakkan beach has recently been refurbished for tourists, and is famous for its tranquility, as well as the beautiful views of the Hajar Mountains and the Gulf of Oman beyond. The beach is an ideal spot for families and solo travelers alike, offering water sports and relaxation opportunities. The clear waters and gentle waves make it perfect for swimming and snorkeling, allowing visitors to explore the vibrant marine life.
Located 2.9 km from Khor Fakkan town, this beach is well-known for its white sand and abundance of water sports activities it offers, such as snorkeling, scuba diving, and boat rides. Additionally, the beach is lined with cafes and eateries, offering local and international cuisines, making it a perfect spot for a seaside meal.
This beach is also known for its shallow water, which makes it ideal for swimming, as it is the ideal place to be. On weekends, the beach becomes a lively spot with families and groups enjoying picnics and beach games.
Along with the beach itself, there are also two rocky cliffs that flank it on each side, and there is a number of islands just off the coast that you can explore as well. These islands are accessible by a short boat ride, offering a quick escape into nature.
In recent years there has been a lot of development at Khor Fakkan beach in terms of hotels so that you can have a nice overnight away from the crowds. These hotels range from luxurious resorts to budget-friendly options, catering to all types of travelers.
Khorfakkan Beach offers several amenities, such as bathroom facilities and changing facilities. In addition, there is free parking available at Khorfakkan Beach on Sundays, although it costs 2 AED per hour on weekdays.
Shees Park
It was recently developed in Khor Fakkan as part of an effort to promote tourism in the area and it is now one of the most popular places to visit in Khor Fakkan whether you are travelling with your kids, or you are simply looking for a BBQ place with your friends or family. Shees Park is a testament to Khor Fakkan's commitment to blending natural beauty with recreational facilities.This beautiful park is located in the Shees wadi, and it is surrounded by the Hajar mountains, so it enshrine the overall beauty of the park and stretches over an area of over 1100 meters.
There are tourist-friendly amenities in the Shees park, including a kid's play area, a man-made waterfall 25 meters high, and a 506 meter mountain walkway divided into three levels. The park also boasts an observation deck offering stunning views of the surrounding landscape, perfect for photography enthusiasts. It also offers an outdoor theater that can seat 70 people as well as five barbecue areas that are all free to use and can accommodate a large number of people.
For those interested in local flora and fauna, Shees Park is an ideal place to observe the region's natural beauty. The park's layout is designed to provide a serene experience, allowing visitors to unwind amidst nature.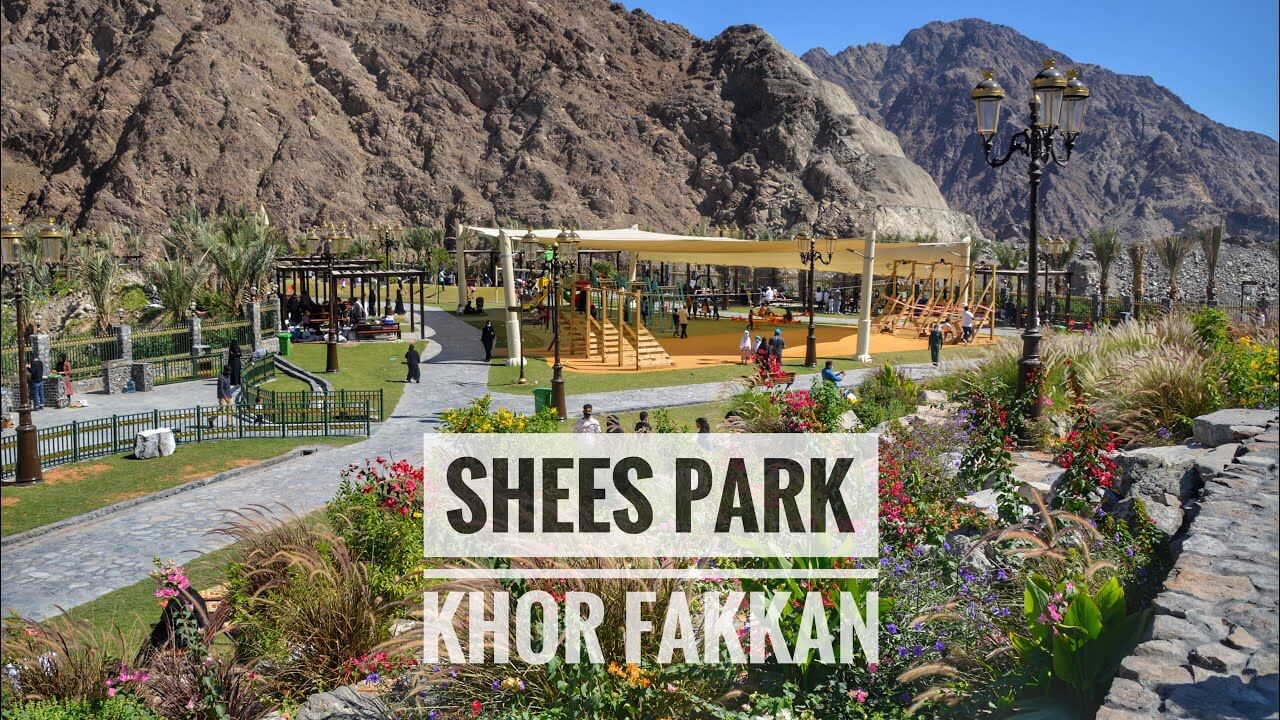 Al Rabi Tower
To defend Khor Fakkan from invaders, Sheikh Said, who ruled Sharjah between 1912 and 1951, built the Ar Rabi tower in 1915. This three-story, cylindrical building composed of stone and mortar has been repaired and is now accessible to the public. It serves as a symbol of the region's rich history and resilience. The tower offers a unique perspective of Khor Fakkan's past, making it a must-visit for history enthusiasts.
Visitors can climb to the top of the tower for a panoramic view of the city, the coastline, and the rugged mountain terrain. The climb, though steep, is rewarding with its breathtaking views. It is certainly one of the most spectacular spots to see a 360-degree view of Khor Fakkan that makes it one of the most popular tourist attractions in Khor Fakkan to visit. This hilltop location and the well-marked, easy-to-follow trail are the main reasons why this attraction attracts hikers.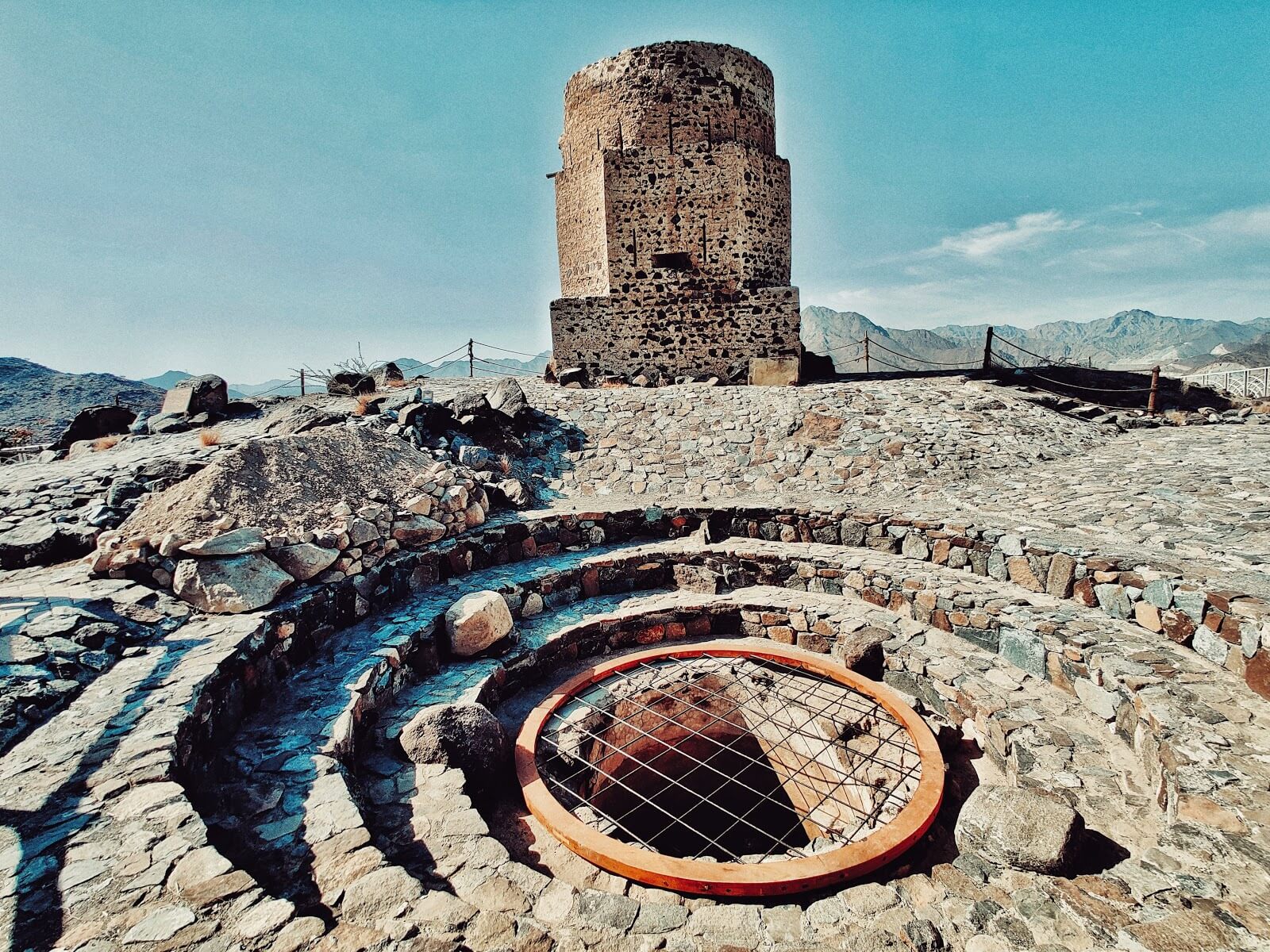 Al Suhub Rest House
After spending most of your day exploring Khor Fakkan town, you may feel hungry or want to rest. The Al Suhub Rest House, located at an elevated position, offers a scenic dining experience with its panoramic views of the city and the ocean. There are many restaurants in the Khor Fakkan region. However, if you want to enjoy the panoramic views of Khor Fakkan, I recommend Al Suhub rest house, located about 11 km from Khor Fakkan city center. The restaurant serves a variety of local and international dishes, catering to all tastes.
Enjoy amazing views of the surrounding environment while having delicious food at the rest house, which is situated 600 meters above sea level in the Khor Fakkan region. You can easily drive there and there is ample parking.
If you have no intention of eating at the restaurant, then it is still worth visiting it, but one of the advantages of taking a meal at the restaurant is that you will not be charged for parking if you order something from the restaurant, otherwise you will be charged 30 AED per hour.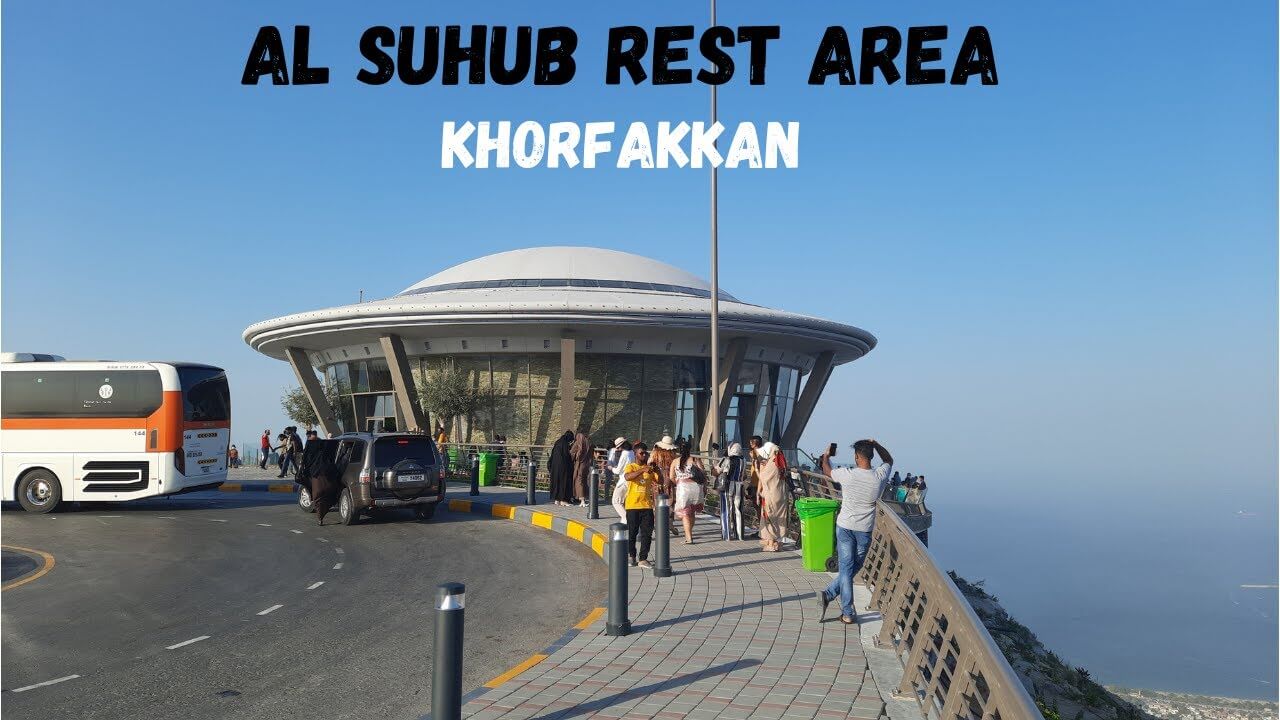 Khorfakkan Corniche/Waterfall
After taking a break and refueling, it is great to take a stroll along the 2.5km seaside corniche, as there are so many things to see, such as four spectacular fountains and a wide variety of flora. If you would like to add photos of Khor Fakkan to your Instagram feed, pose in front of the small man-made waterfall along the highway, which is becoming increasingly popular with tourists who want to take pictures and enjoy the cooling breeze. The seaside corniche is undoubtedly one of the best places to visit in Khorfakkan to capture the town's natural beauty and charming landscapes.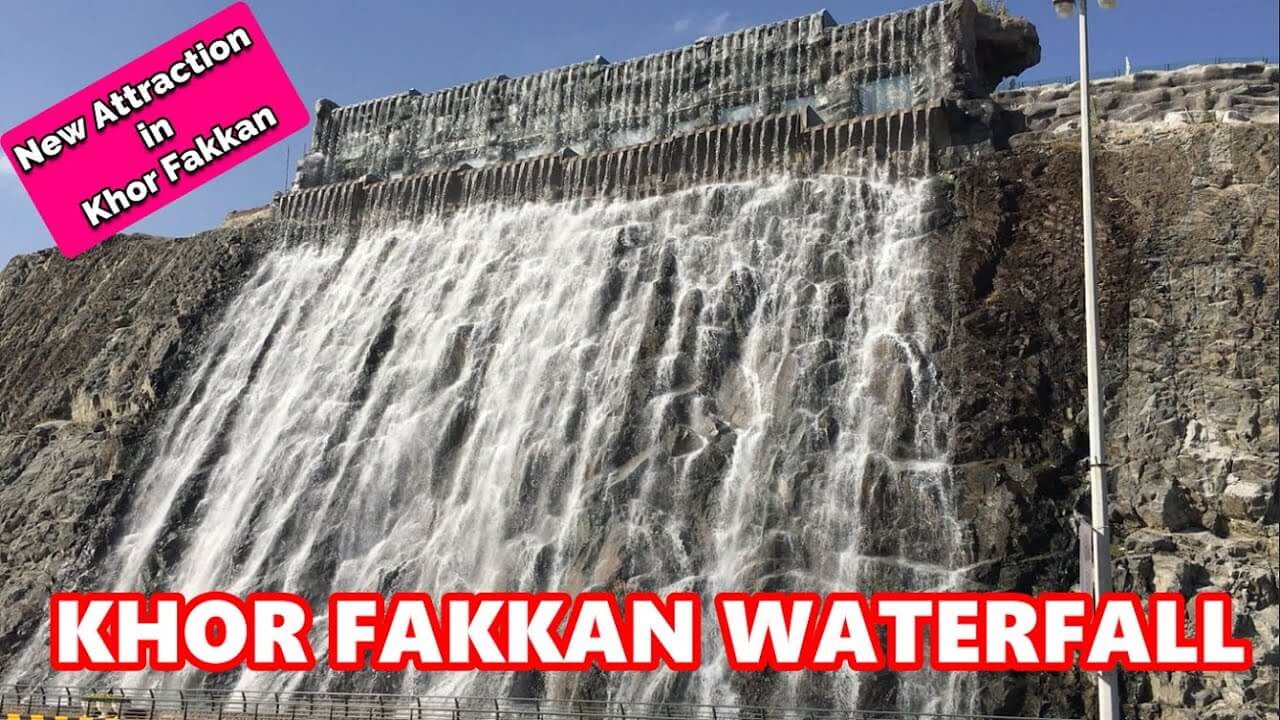 Khor Fakkan Amphitheatre
Up until now, I did not know that the UAE 10-dihram banknotes featured a picture of the Khorakkan amphitheater, added on April 21, 2022 to the UAE banknotes. This renovated amphitheater is 1700 square meters and can hold 3500 spectators. Sheikh Sultan bin Muhammad Al Qasimi opened it to the public on 14 December 2020. It is a tourist attraction and represents Sharjah's commitment to protecting its culture and heritage.
This building is 190,000 square feet, has 234 arches and 295 columns, a cooling system, and a lobby with six elevators divided between two entrances measuring 45 meters. Also near Amphither is an 11-meter-high, 45-meter-wide waterfall that adds to the beauty of the place.
Al Rafisah Dam
It is located in Wadi Shia area, about 4 kilometers away from the town of Khor Fakkan, and is surrounded by lush greenery, and the Hajar mountain range adds to the beauty of the area. With its depth of 13 meters and its width of 82,000 meters, this small dam not only offers the most amazing scenery in Khor Fakkan, but it also offers visitors the chance to experience wildlife such as SWAN and take part in water sports like kayaking. These features make it one of the best places to visit in Khorfakkan for those who seek both adventure and natural beauty. Among the facilities at Al Rafisah Dam are restrooms, changing rooms, and a snack bar.
Portuguese Fort
This ancient fort, a relic of Khor Fakkan's historical battles and strategic importance, offers a glimpse into the region's colonial past. The Portuguese Fort, with its rugged stone walls and strategic location, tells the story of a bygone era. Visitors can explore the fort's structure and enjoy scenic views of the surrounding landscapes. Interpretive signs provide historical context, making it a meaningful visit for those interested in the area's heritage.
This fort was constructed in the early 1620s and was recently added to the list of sites of UNESCO as a World Heritage Site. Its remarkable inclusion as one of the newest tourist attractions in Khorfakkan speaks to its historical significance. Geographic positioning and the fact that Khor Fakkain is a port town led to its capture and invasion by the Portuguese. Kids will enjoy exploring the site and learning about Emarati culture and life of that time.
Hisn Museum Khor Fakkan
Dive into the rich cultural and historical tapestry of Khor Fakkan at the Hisn Museum. This museum showcases artifacts, photographs, and exhibits that trace the city's evolution from a small fishing village to a bustling port. It's an ideal place for history buffs to learn about the local culture, traditional crafts, and the maritime history of the region. Providing a comprehensive look at Sharjah's East Coast history and Al-Qawasim's impact on the region through images, artifacts, digital models, innovative practices, and narratives, the Hisn Museum is a must-see in Sharjah Khorfakkan for history buffs.
Khorfakkan Fish Market
The bustling Khorfakkan Fish Market offers an authentic local experience. Here, visitors can witness the lively trade of fresh seafood, interact with local fishermen, and maybe even catch a glimpse of the day's freshest catch. This market is not just a place to buy seafood; it's a vibrant part of Khor Fakkan's community life.
Al Bidya Mosque
I should clarify that it does not fall within the territory of Khorfakkan, but since it's located about 11 minutes from the Khorfakkan waterfalls, it's very easy to get there. Another reason why you need to visit this mosque is that it is an historical mosque dating back to the 14th century, so it's a good idea to go visit it. The prayer hall is encircled by an open courtyard and a wall with towers at each corner. The mosque's minaret is distinctive in the area since it has four square levels that get smaller toward the top. Its unique design and serene surroundings make it a peaceful retreat for reflection.
Best Things to in Khor Fakkan
Khor Fakkan is not just about serene beaches and historical landmarks. For the thrill-seekers, the town offers a range of adventure activities. From snorkeling at Snoopy Island, which is known for its rich marine life, to parasailing in the Gulf of Oman, which provides an exhilarating experience with stunning views, there's something for every adventure enthusiast.  Listed below are just a few of the best activities that you will be able to enjoy during your stay in Khor Fakkan, so please take a look.
Snorkeling At Snoopy/Shark Island
While there are many snorkeling locations in the UAE, Khor Fakkan is among the most popular because it offers a snorkeling experience unlike any other in the country. One of Khor Fakkan's most popular snorkeling spots is Snoppy Island, located 22 kilometers from Khor Fakkan and within walking distance of the Sandy Beach Hotel and Al Aqah, a 120 m x 80 m island that is filled with Reef Fish, Turtles, Manta Rays, Blacktip Reef Sharks, and Stingrays. One of the most interesting facts about Snoppy Island is that its name is derived from the cartoon character it resembles. It's truly one of the adventure things to do in Khorfakkan for those seeking an underwater thrill.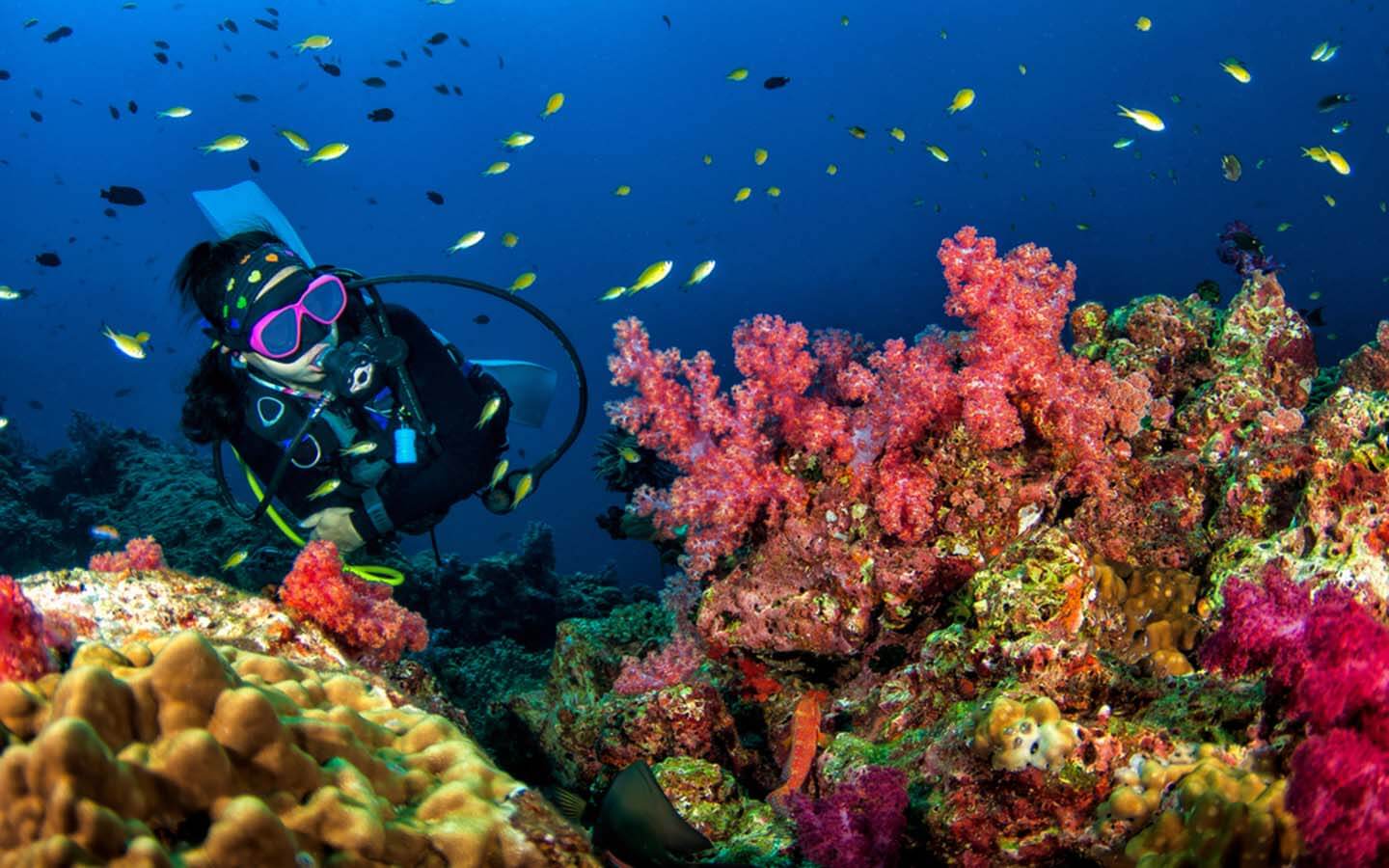 Shark Island is another option for experienced divers. While there have been no shark attacks reported here, blacktip reef sharks are frequently seen here, especially between November and April.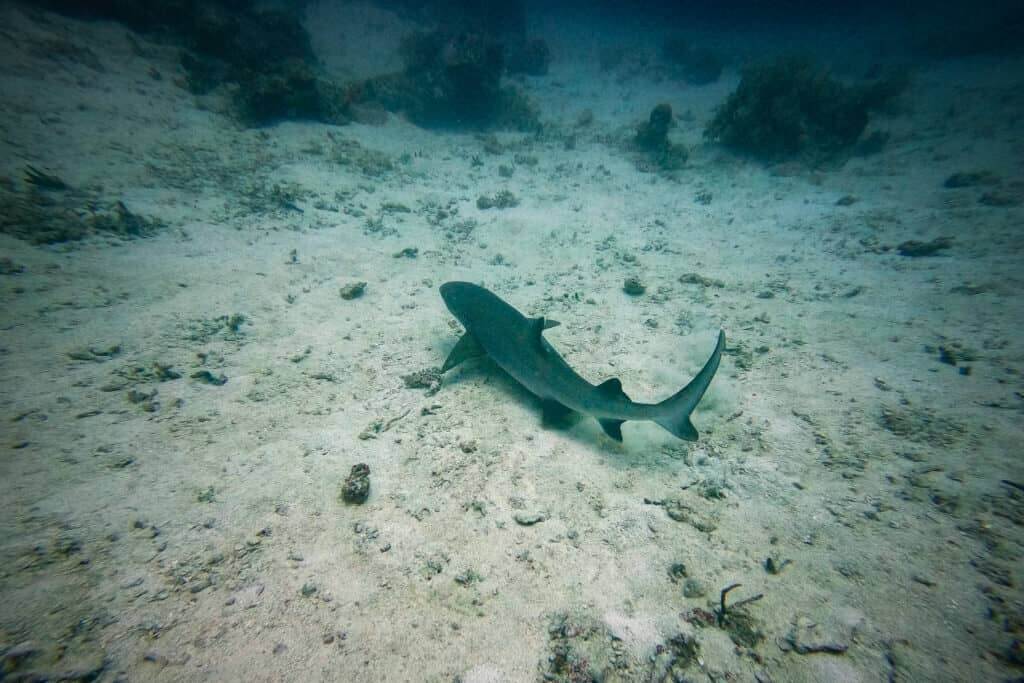 Scuba Diving
As the Persian Sea does, the Gulf of Oman also offers a variety of scuba diving locations, so if you are a diver with experience and enjoy traveling, you might be familiar with the diving spots in Musandam, North Beach, or even Dubai's deepest man-made scuba diving pool – Deep Dive Dubai. However, Khor Fakkan offers divers an exceptionally unique scuba diving experience. Snoopy Island diving offers wrecks, coral reefs, and an abundance of marine life. The water is warm throughout the year, making diving comfortable.
Parasailing In The Gulf Of Oman
Parasailing is a popular water activity that involves being released into the air, as opposed to other popular water sports. To put it another way, if you have ever dreamed of flying like a falcon for a few minutes, why don't you try parasailing? It would definitely be one of the most amazing experiences of your life to parasail over Khor Fakkan Beach from the air. Khor Fakkan, located near the Hajar Mountain range, offers a unique setting for parasailing, making it one of the top spots for this thrilling adventure. Don't you think it's one of the adventure things to do in Khorfakkan?
To know the packages You can contact the vendor over here.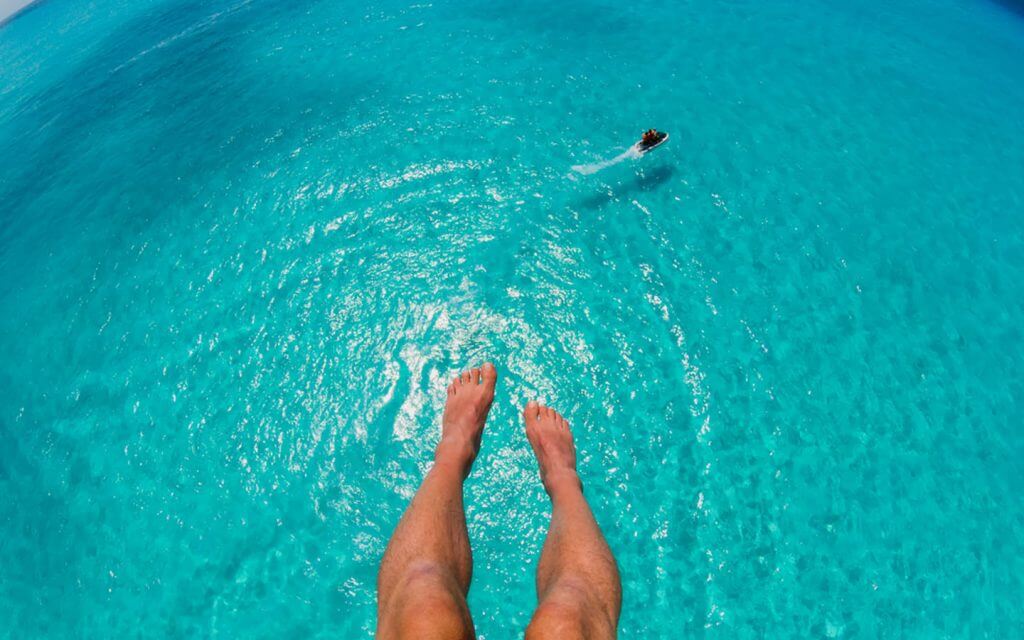 Enjoy breathtaking views while parasailing
Boat Trip To Shark Island
The stunning views of Shark Island and the beautiful white sand make it one of the best places to spend some time, even if you are not interested in snorkeling or scuba diving at all. Khorfakkan beach is a 10-minute ride to the island and the boat will cost you about 100 aed and remember that on the way to the island, you will have to present your passport as proof of your identity before you can continue, so it is important to have your passport with you.
Kayaking at Al Rafisah Dam
Kayaking and boating are great ways to experience the scenery of the Hajar Mountains surrounding Al Rafisah Dam and to get close to nature since the area is home to a variety of wildlife, such as ducks, gazelles, and fish, making these activities a great way to immerse yourself in nature. If you want to explore the dam for yourself, you can rent kayaks, donut boats and pedal boats from one of the many rental shops near the dam. This is a company like Al Khor Kayak that you can reach out to in order to get updated information. There are always lifeguard's on duty at the Dam.
Kayaking Costs
| TYPE OF ACTIVITY | DURATION | COST PER PERSON |
| --- | --- | --- |
| Pedal Boat Ride | 30 minutes | From AED 45 |
| Double Kayak Ride | 30 minutes | AED 30 |
| Doughnut Boat Ride | 30 minutes | AED 100 |
Al Rabi Hiking
While hiking options are limited in the western UAE, several are available on the eastern coast. In Khor Fakkan, the Al Rabi Trek is a well-maintained, well-made trek that would satisfy your trekking appetite if you need hiking needs. Since this trek is about 5.3 kilometers long and has 395 meters of elevation, you will likely need to hike for more or less 2 hours to reach the summit, depending on the level of your hiking skill, the weather, and the number of people on the trail. However, once you reach the top, you will be rewarded with some of the most breathtaking views of the Khor Fakkan town and Gulf of Oman.
It is a popular hiking destination for Khorfakkan residents and tourists from different parts of the UAE on weekends. It would be better if you planned your hike to Khor Fakkan around sunrise or sunset, so you could see the most stunning views.
Best Time to Visit Khor Fakkan
In spite of the fact that Khor Fakkan is located between mountains and close to the coastal area of Oman, the temperature can rise sometimes to 40 degrees during the summer months between June and August. Khor Fakkan is generally at its peak between October and March, when the weather is moderate and bearable, and it is the best time of year to visit for other outdoor activities such as hiking or sightseeing.
Here's a breakdown tailored to different activities:
1. Beach Activities (Swimming, Snorkeling, Sunbathing):
Ideal time: October to May

Reason: These months are ideal for enjoying the beach, as the weather is cooler and more pleasant. The sea temperature is also comfortable for swimming and snorkeling.
2. Hiking and Outdoor Adventures:
Ideal time: November to April

Reason: It is ideal to hike and explore the trails in Khorfakkan during the cooler winter months. The lower temperatures and milder weather conditions make outdoor activities more enjoyable.
3. Water Sports (Jet Skiing, Parasailing):
Ideal Time: October to May

Reason: The sea conditions are generally more favorable during this period, as well as comfortable temperatures.
4. Cultural Visits (Museums, Historic Sites):
Ideal Time: Year-round

Reason: Visiting cultural sites during less hot months is more comfortable since they are usually indoors.
5. Photography and Sightseeing:
Ideal Time: November to May

Reason: A clear sky and softer sunlight make these months the best time to photograph Khorfakkan's natural beauty, including its mountains and beaches.
Here's How to Get to Khor Fakkan
Reaching Khor Fakkan is an experience in itself, with a scenic drive through the mountains and along the coast. Whether you're driving from Dubai, Sharjah, or other nearby emirates, the journey offers picturesque views and a glimpse of the diverse landscapes of the UAE.
By Tour: From Dubai and Sharjah, there are a few companies that offer Khor Fakkan trips as well. Depending on the type of transport you opt for, it might cost you 100 to 150 Aed.
By Car: The new expressway Sharjah-Khor Fakkahn is the quickest way to reach Khor Fakkahn if you travel by car from Dubai. It offers breathtaking scenery along the way and is the easiest way to reach Khor Fakkahn.
By Bus: Taking the bus E700 from Union Square Station in Dubai to Fujairah will cost you 25 AED ($6 USD). From there, hire a cab for $75 AED ($20 USD) to Khor Fakkan.
End your visit to Khor Fakkan by exploring its local markets, where you can shop for traditional crafts, souvenirs, and fresh local produce. These markets offer an authentic experience of the town's vibrant culture and are a perfect way to conclude your journey.