Originally posted 2022-03-29 18:55:44.
While Sharjah shares a border with Dubai, most travelers don't pay much attention to it. I really feel sorry for Sharjah since it has many tourist places and it is also cheaper than Dubai, particularly in terms of food and accommodations. I can't say Sharjah is as rich in skyscrapers and luxury 5-star hotels as Dubai. As opposed to Dubai, Sharjah continues to hold traditional Islamic civilization and Arabic culture values. In addition to its beautiful mosques and awe-inspiring museums, it's also home to great natural beauty. Having said that, Sharjah doesn't revolve around art and history only. In the last few years, Sharjah tourism has boasted and added new tourist attractions to attract tourists.
As a result, there are now some places to visit in Sharjah that are a thousand times better than Dubai. Although some of these Sharjah tourist attractions cost nothing, others will hit you up for a small amount. Yet, before visiting Sharjah, you should know that Sharjah doesn't have lavish metro trains. However, Sharjah has secure and modern buses with comfortable seats. Anyway, the following 25 are the most popular places to visit in Sharjah.
8 Best Places to Visit in Sharjah
Al Qasba
Among Sharjah's most popular tourist attractions, Al Qasba is certainly the most well-known. This is largely due to its water canal and its availability of many family-friendly facilities and activities. Al Qasba is segregated from Al Majaz District by Al Khan Corniche Street. It has an impressive diversity of commercial and cuisine options in addition to waterside entertainment which boosts its attractiveness. It's similar to Dubai Marina. Aside, every weekend Al Qasba hosts musical fountain shows which begin at 05:00 pm and continue till 12:30 am. Maraya Art Center, Al Qasba Theater, and Eye of the Emirates Ferry Wheel are other tourist attractions in Al Qasba.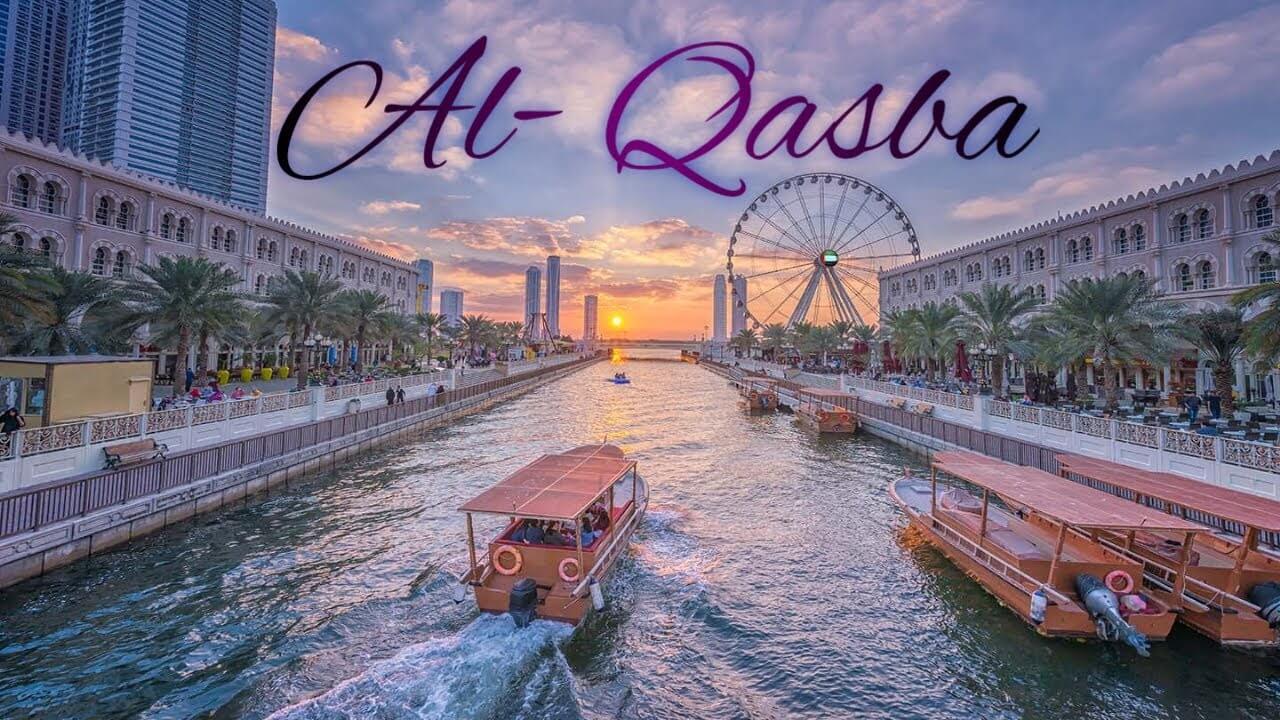 Al Noor Island 
 Lying in the Khalid Lagoon, Al Noor Island, is probably the most famous but small island covering about 3.5 km. Consisting of a butterfly house, modern art, a book pavilion, a cafe, and a playground, Al Noor Island is among the main family attractions in Sharjah. You don't need to hire a boat to reach Al Noor Island as it's easily accessible via a pedestrian bridge. It was constructed in December 2015 to boost Sharjah tourism and convert the Emirates into an entirely different world. Sharjah city's views from Al Noor Island are stunning. However, it's a paid island, and the entry fee is AED 35/adult and AED 20/child.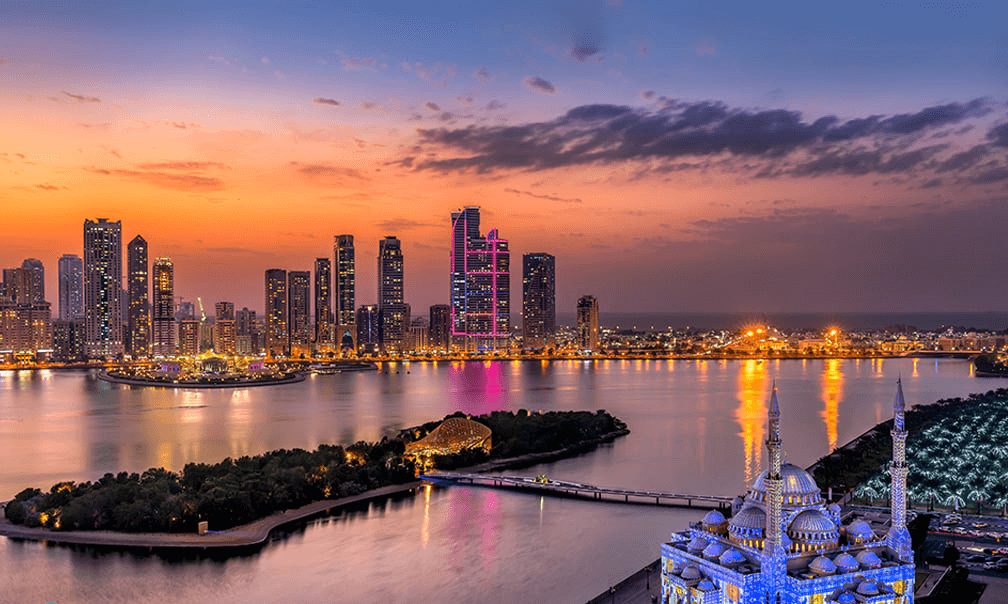 Sharjah Rain Room
Do you have 15 minutes to enjoy yourself in the middle of darkness and rain at one of the new attractions in Sharjah? Do you love silhouettes? Sharjah Rain Room is an excellent way to experience the silhouette effect while standing in the rain. What makes it unique is that no other Middle East country has this excursion. The Rain Room Sharjah is located inside Sharjah's art foundation and lets you feel the moisture uphill while hearing the sound of rain through a watery stream without getting wet. Indeed, the Rain Room Sharjah is wonderful for kids and photography lovers. The ticket price is 25 AED for an individual and 15 AED for students and teachers (must bring ID).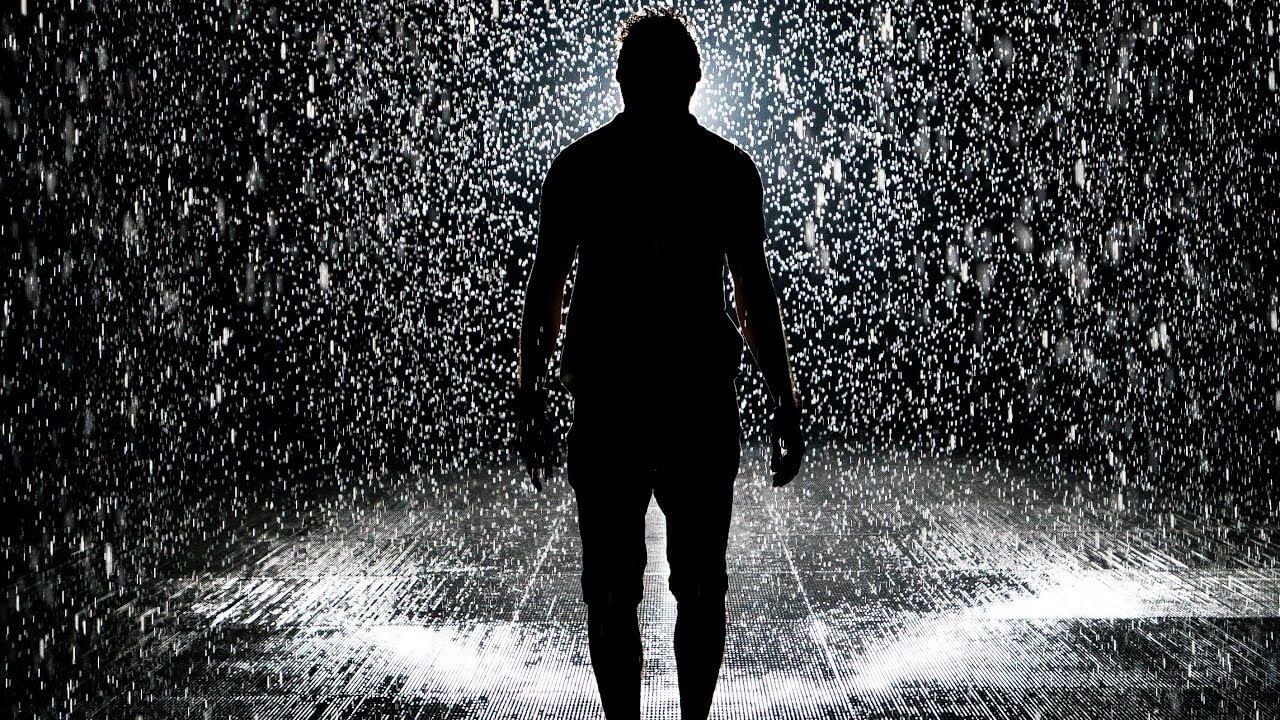 Adventureland
Spreading across 70,000 square feet, Adventureland is the biggest family amusement park in the Gulf countries and a fantastic place in Sharjah for kids. Based in the Sahara Centre, Adventureland features 17 superb rides as well as over 70 fun and thrilling games. It also comes with a motor coaster ride which sets it apart from the rest of the other parks in the region. Although there isn't much crowding as you would typically find at Dubai amusement parks, it is still better to get there early because the lines are shorter, and the weather is pleasant. Jungle explorers, safari raiders, and children's canopy rides are the most popular rides for kids. Teenagers can opt for snap traps, rocket cycles, air races, and other rides.
Adventureland Sharjah offers an exciting experience for families, with ticket prices at 60 AED on weekdays and AED 75 on weekends.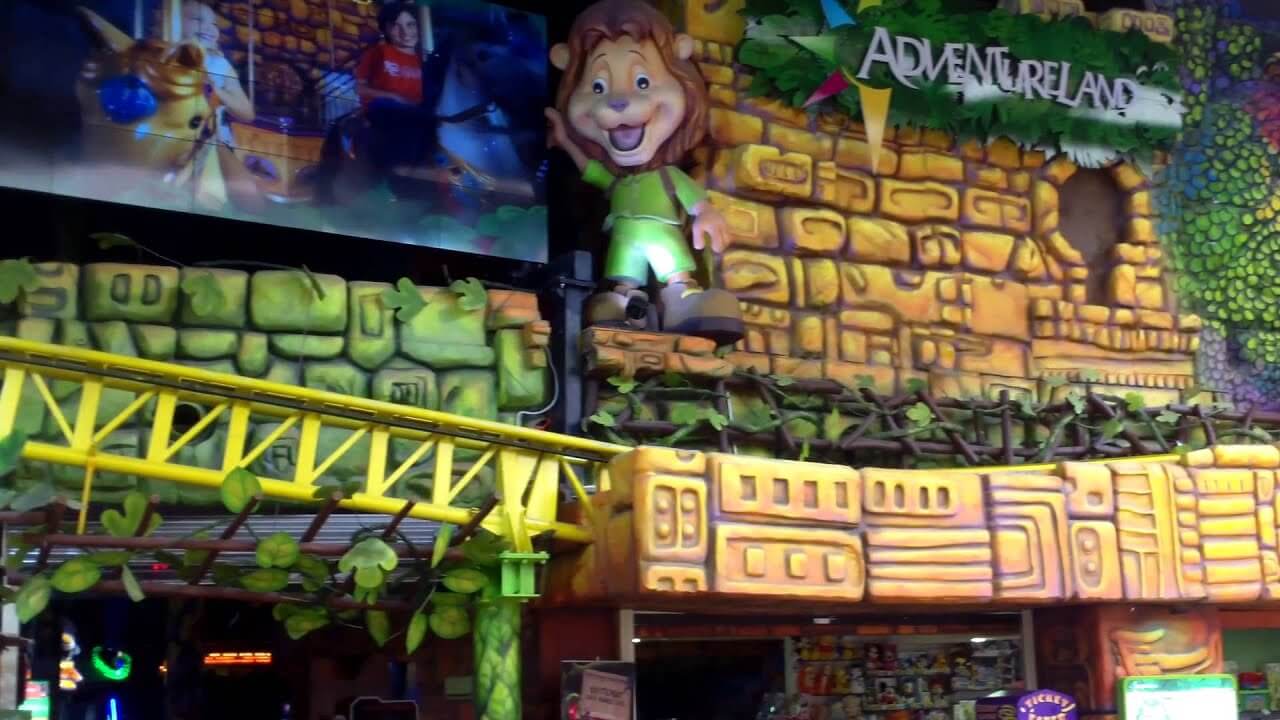 Sharjah Aquarium 
If you've been living in Dubai for a while, you have probably visited the Dubai Mall Aquarium. Though it's not 100% similar, Sharjah Aquarium, just like the Dubai Aquarium, offers an incredible aquatic experience. Sharjah Aquarium tickets are considerably less than Dubai Mall, so it is definitely worth exploring. Similar to other aquariums, it is carefully and magnificently designed with 20 tanks featuring over 250 species. These include marine animals like sea horses, sea snakes, sharks, eels, turtles, stingrays, coral reefs, and rock pools, lagoons, and mangroves, to name a few. Sharjah Aquarium is also accessible by ferry from Dubai. So, if you're heading from Dubai, don't overlook this option.
Its ticket cost is only 25 AED for adults and 15 AED for children (2 to 12 years). If you're traveling with at least 6 people, you can even get a further 10 AED per head discount.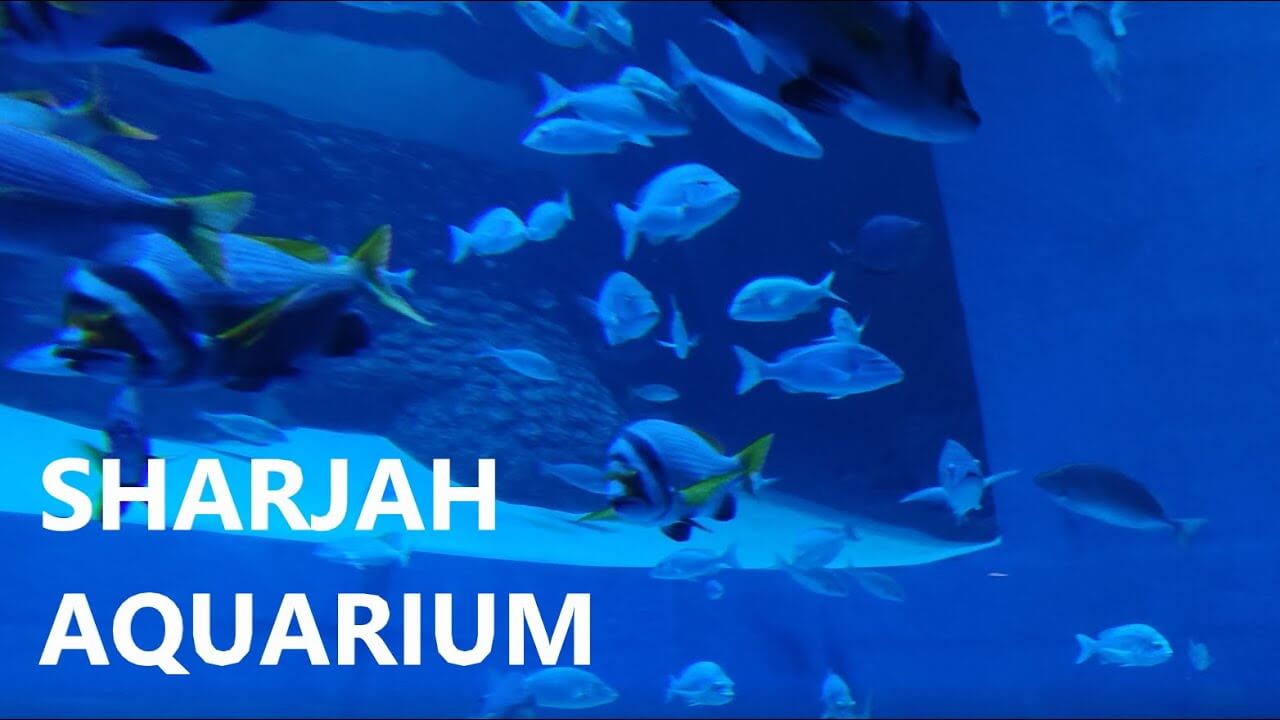 Khor Fakkan
Shees Park is among the captivating places to visit in Sharjah. This park offers a serene and picturesque setting, perfect for a family outing or a relaxing day in nature. The park is one of the best places to visit in Sharjah, where you can enjoy lush greenery and tranquil surroundings. It's an ideal spot for a free family outing in Sharjah, and it's also one of the top Sharjah attractions for those seeking some natural beauty. Whether you want to have a leisurely picnic, take a peaceful walk, or simply enjoy the beauty of nature, Shees Park is a beautiful place in Sharjah that you shouldn't miss
Apart from that, Shees park is now open to the public. It also has a stunning beach and dam. Reaching here from Dubai is not difficult since now some tour companies offer Khor Fakkan tours from Dubai. Moreover, It's encompassed by the Hajar mountains that goes to Oman territory.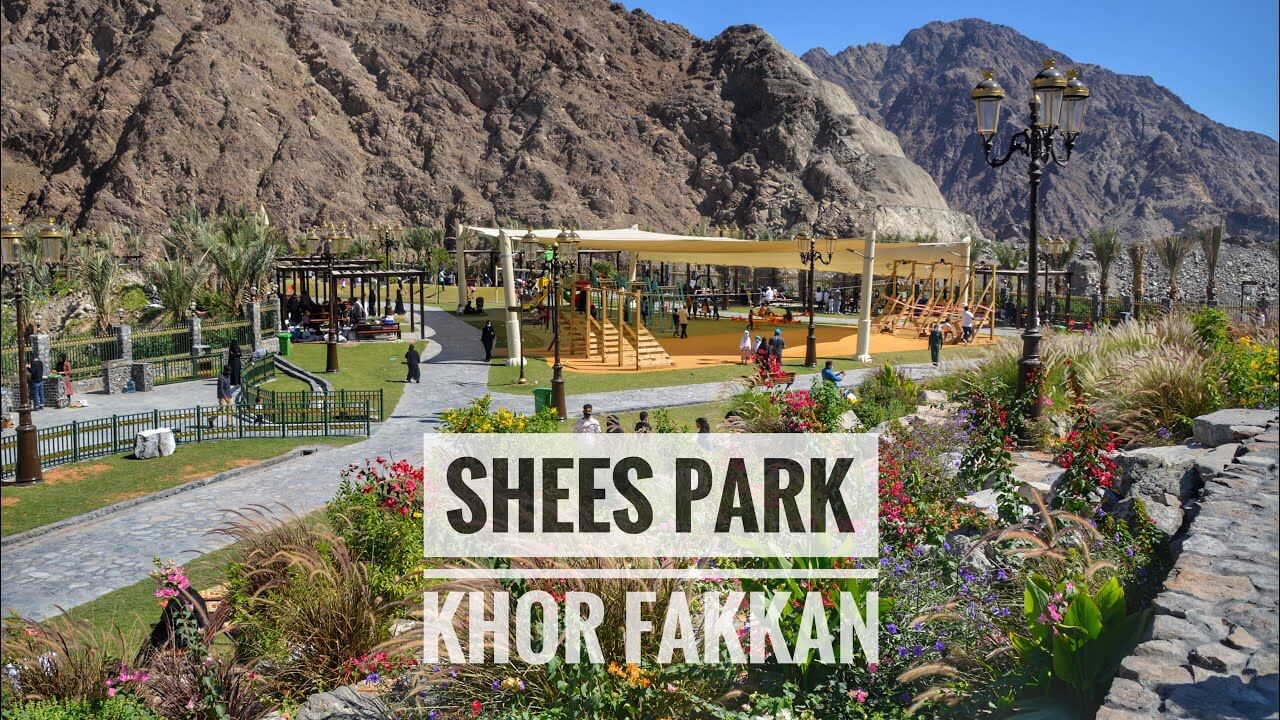 Sharjah Desert Park
It is one of the most amazing places in Sharjah for wildlife lovers. Stretching 16 square kilometers wide, it features over 100,000 African trees, making it a sprawling natural haven. Furthermore, at Sharjah Safari Park, there are a number of attractions to delight in for children.
It features natural history, a botanical museum, and a children's farm as well. Some of the most desired creatures at Sharjah Safari Park are Arabia's wildlife center and zoo with assorted reptiles, birds, animals, and insects. When you're in Sharjah, visiting Sharjah Safari Park is definitely worth visiting. If it's feasible, pick a non-sunny day to experience the best of Sharjah Safari Park.
Sharjah Safari Park tickets are sold in three versions, gold, silver, and bronze. The cheapest one is the Bronze ticket that lets you stay in the safari park for up to three hours, and it includes the 'Into Africa' experience. This ticket costs AED 30 for kids between 3-12 years and AED 40 for those over 12 years. It's undoubtedly one of the top attractions in Sharjah for nature and wildlife enthusiasts.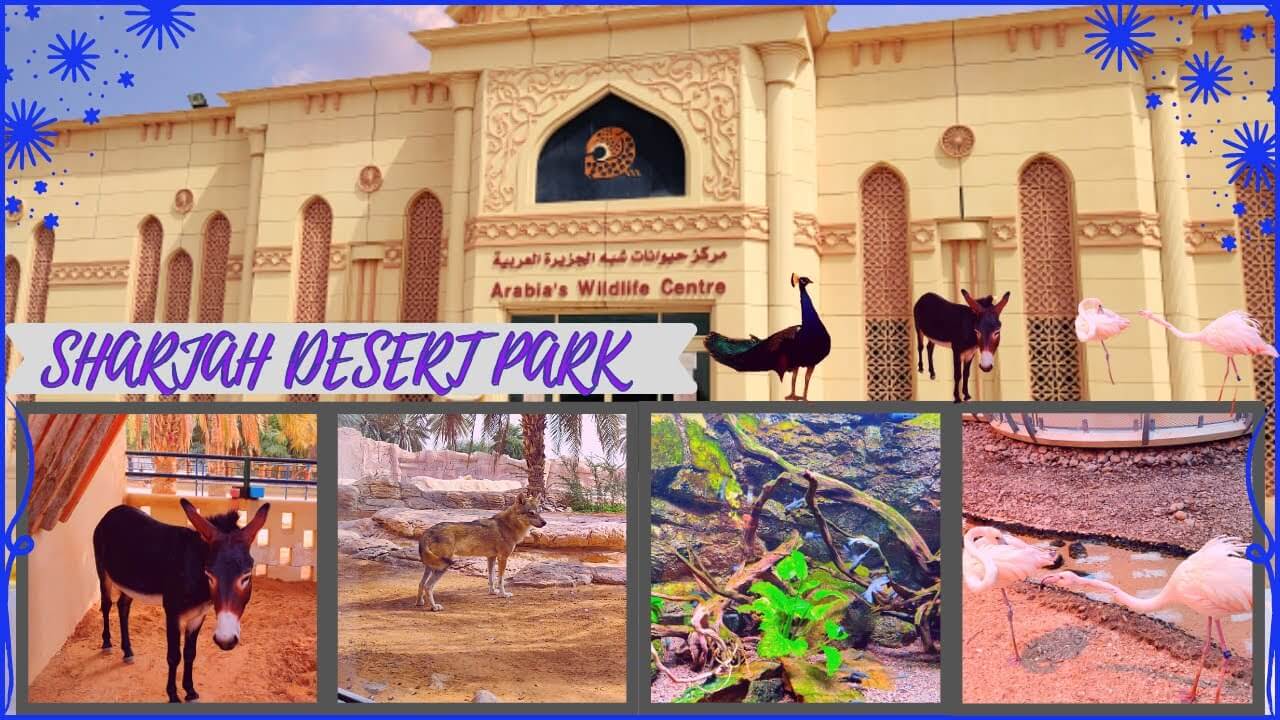 Al Majaz Waterfront
It is a perfect place to spend some quality time with your friends in Sharjah, making it one of Sharjah's most popular picnic spots. Apart from boating and cycling, there are also rides and other activities available for the kids. The waterfront's prime location allows you to admire Sharjah skyscrapers, the green gardens, the fountains, and the clear blue water creek while dining at any restaurant.
With its vast expanse of 231,000 square feet, the Al Majaz Waterfront Park was opened in 2010 and later underwent a complete reconstruction costing AED 100 million. As a result of the renovation, the park now boasts dozens of new slides as well as a 53,000 square foot parking lot that can accommodate up to 1000 cars. It's not only a delightful spot for picnics but also one of the most sought-after places to visit in Sharjah for friends looking for outdoor fun and scenic views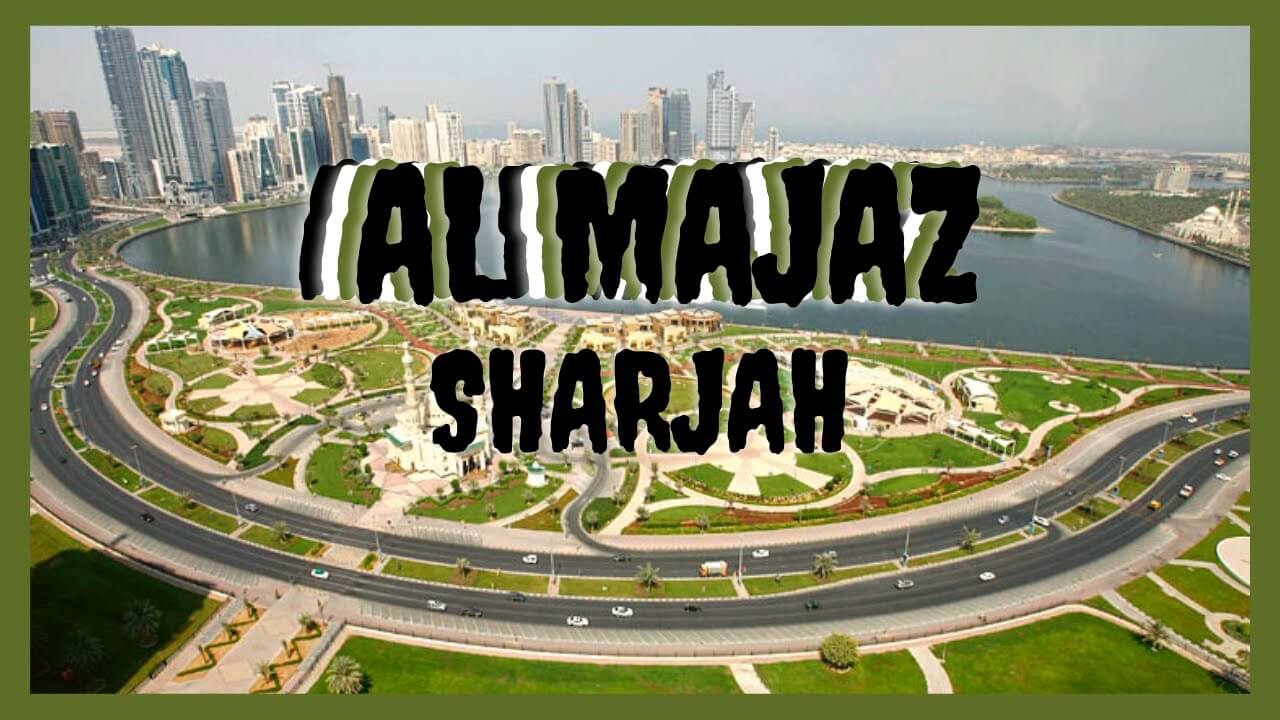 Culture Places to Visit in Sharjah
Note: According to some online information, It seems that since december 2021, all sharjah museums entry fee has been waived by the Sharjah Government. However, I couldn't validate it personally. Hence, I'll mention the price with each museum if applicable.  
Sharjah Science Museum
Sharjah has not only preserved its past but has also made significant strides in the fields of science and technology. The Science museum, opened in 1996, is a perfect learning platform for kids and a unique tourist destination in its own right. It offers numerous science illusions and experiments that captivate visitors of all ages. Multiple science-related recreational activities are available, including optical illusions, hot air balloons, forward motion, plasma, electrical energy creation, Mathematics magics, and a documentary on astronauts.
The Sharjah Science museum also allows you to create your own cartoons, solve puzzles related to the human body, and analyze body strength. If you're curious to visit this Science museum, I personally suggest you combine your trip with a visit to the Sharjah Archaeology museum as both are adjacent. This way, you can explore the rich cultural heritage and scientific wonders that Sharjah has to offer in one go.
Kids between 2 and 12 years of age pay 5 AED entry fee, while adults over 13 years of age pay 10 AED entry fee.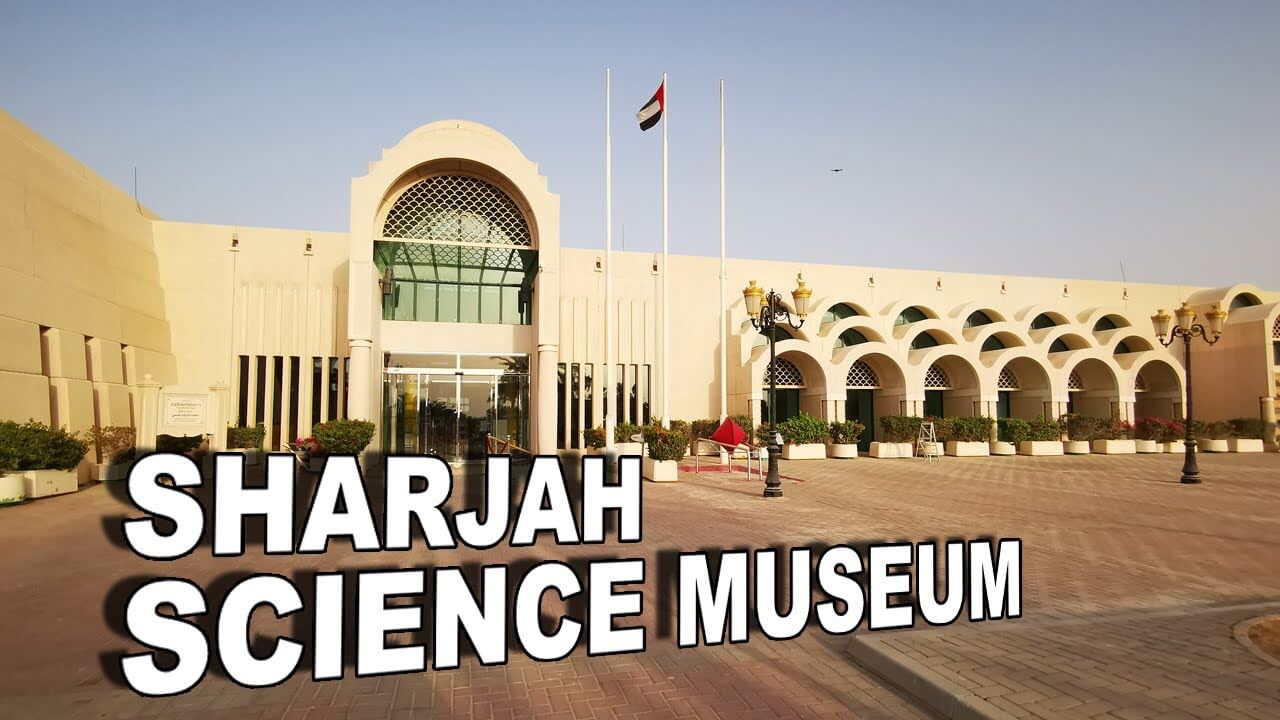 Sharjah National Museum
With its vast expanse spanning 630,000 square meters, the Sharjah National Museum undoubtedly deserves a place on your list if you wish to learn about the harmonious blend between traditional Arab architecture and modern European styles. While it is best suited for adults interested in delving into the rich history and culture, you can also take your kids to the Sharjah National Museum to introduce them to the captivating heritage of Sharjah. It's an educational and enlightening experience for visitors of all ages.
Sharjah Classic Cars Museum
You can fill your Instagram feed with IG-worthy picture backdrops of classic cars from the Sharjah Classic Cars Museum, making it a must-visit for vintage car enthusiasts. With an impressive collection of early 1900s cars, including the oldest car in the collection, a 1915 Dodge, it's a treasure trove of automotive history and an ideal place to capture timeless memories against the backdrop of these classic automobiles.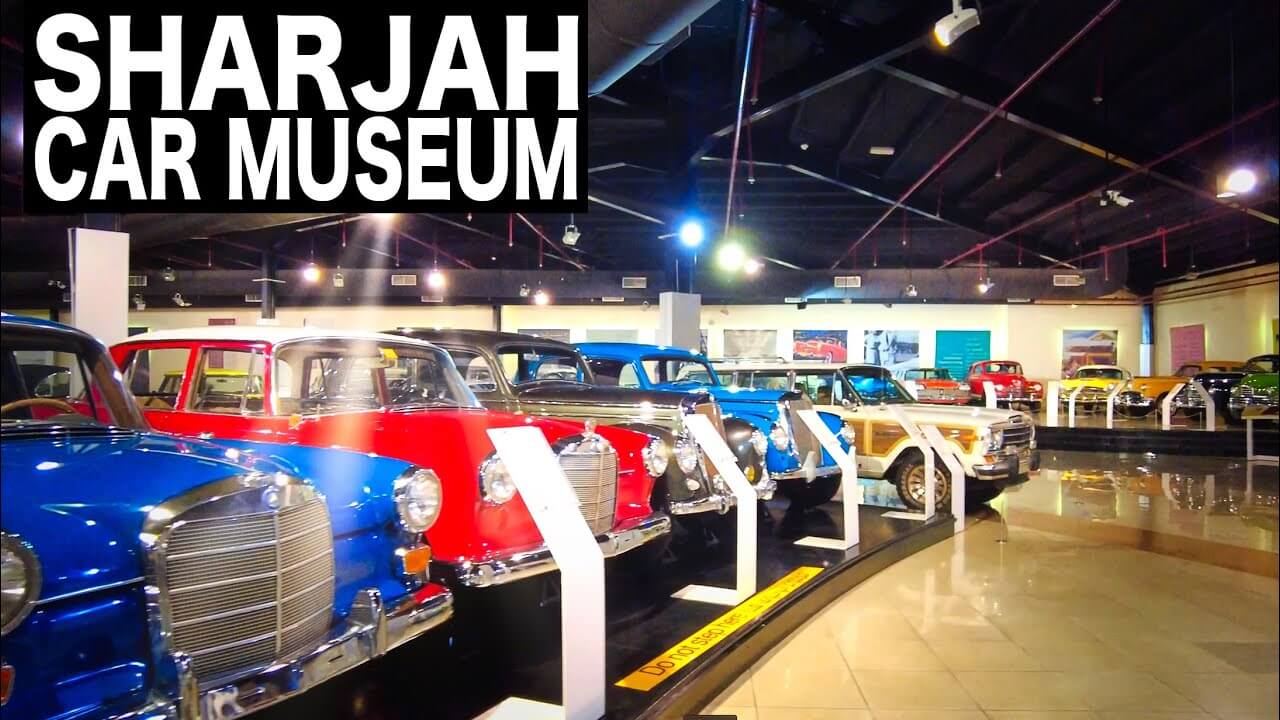 Sharjah Museum Of Islamic Civilization
If you are interested in learning about Islamic history and how it relates to the Middle East, this Sharjah Islamic Civilization Museum, one of the top places to visit in Sharjah, will not disappoint you. This spectacular two-story building is filled with 5000 artifacts of the Muslim world that document the development of Islamic culture and the progress of Islam. It retains centuries-old Abbasid and Umayyad times silver dinars and dirhams coin collection in addition to zodiac mosaics, providing a deep dive into the history and heritage of the region. Moreover, there is also free WiFi available in the vicinity of the Sharjah Islamic Civilization Museum, ensuring you can stay connected while exploring this fascinating place. This museum is a must-visit for those exploring the best places to visit in Sharjah and delving into the region's rich cultural heritage.
If you're coming from Dubai, it wouldn't take over 30-minutes by bus assuming that you will take the bus from Union Terminal.
Museum Entrance Fees:
Children under 2 years: Free
Children from 2 to 12 years: AED 5
Adults 13+ years: AED 10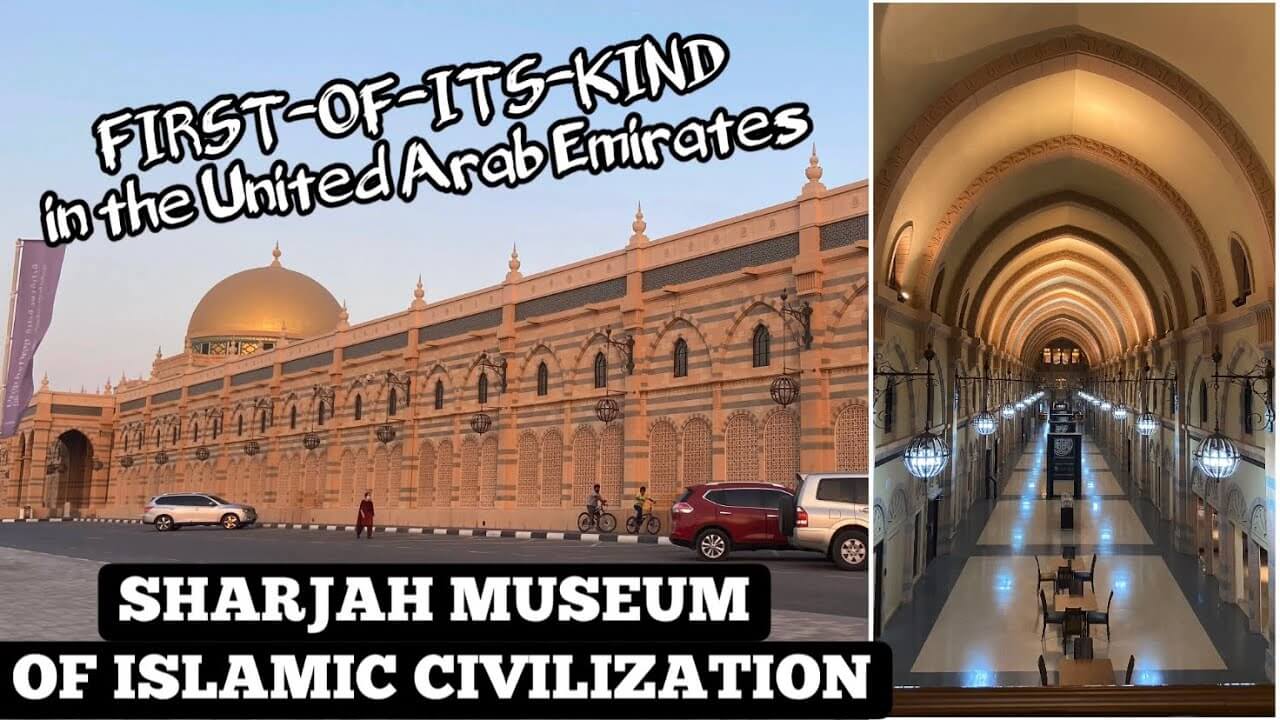 Sharjah Fort Museum 
If you still can't get enough of the previously mentioned historical museum, you might want to pay a visit to the Sharjah Fort. When compared with Al Fahidi fort in Dubai, Sharjah Fort has a more modern appearance. Even though there isn't any 100% verification regarding Sharjah Fort's construction date, it is widely assumed it was developed around 1820. This centuries-old traditional defense tower was restored in 2015 into its current shape. In addition to the prominent artifacts, it features an old Quran stand that belongs to the ruler Sheikh Khalid bin Sultan Al Qasimi. Sharjah Fort is another gem among the places to visit in Sharjah that showcases the historical richness of the region.
Sharjah Fort Entrance Fees:
Children under 2 years: Free
Children from 2 to 12 years: AED 5
Adults 13+ years: AED 10
Sharjah Heritage Museum 
Among the best cultural and historical places in Sharjah, Sharjah Heritage Area is definitely worth mentioning. Located close to the Corniche and in the heart of Sharjah, this museum comes with a significant amount of activities for history lovers. Sharjah Heritage Area is among those famous places in Sharjah where you will find every aspect of Emirati tradition, from spiritual traditions to surviving in the desert. It's a must-visit for those interested in delving into the rich cultural heritage of the region and exploring its historical treasures.
Ticket prices differ for children and adults. For children between the ages of 2 and 12 years old, the price is  AED 10 while above 13 years old, it is AED 10.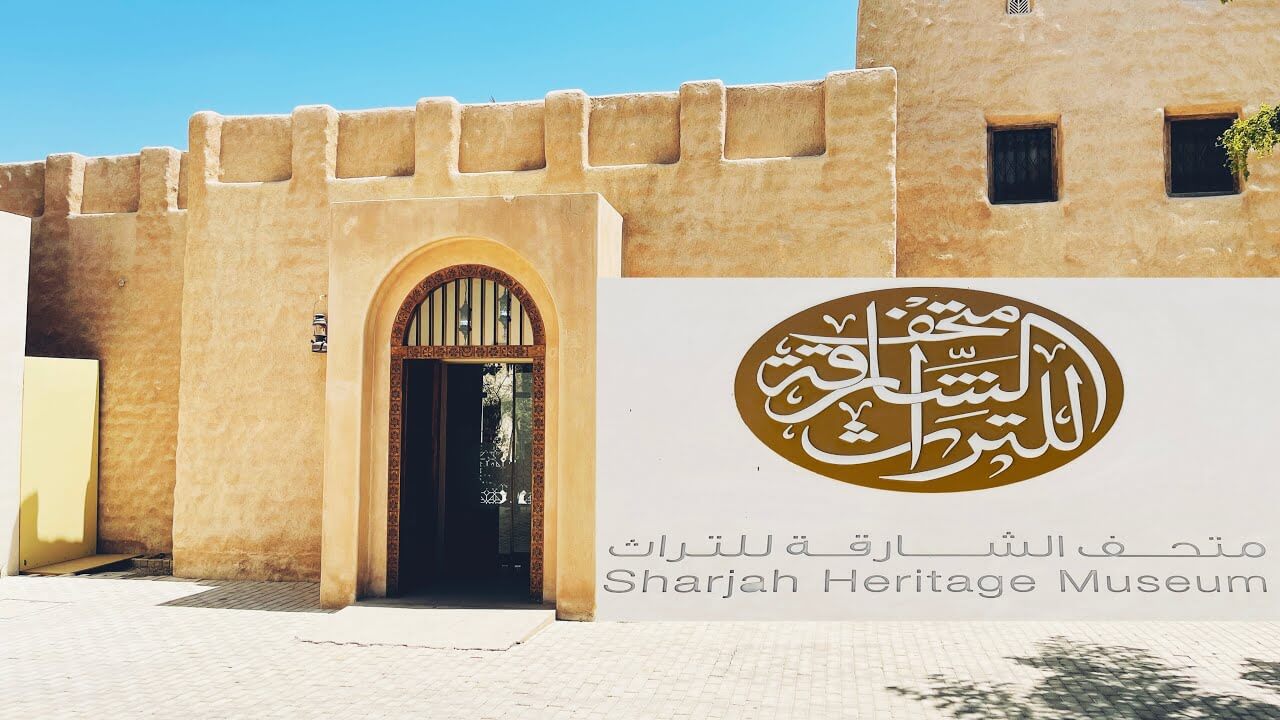 Sharjah Arts Museum
Sharjah is a central source of art in the UAE. When you're in Sharjah, there's no reason to miss the Sharjah Arts Museum. The Sharjah Art Museum was inaugurated in 1997 and was the first purpose-built art museum in the Gulf region. This three-story Sharjah Art Museum carries over 4000 titles printed in Arabic, English, and various other languages, in addition to an archive of graphic and audio materials. As you get onto the first floor, you'll see a collection of Arab artists' artworks. The museum features artworks of many Arab countries, most notably Syria, Palestine, Egypt, Morocco, Jordan, Sudan, and Yemen. It's a prominent cultural hub among the places to visit in Sharjah, showcasing the diverse and rich heritage of Arab art and culture.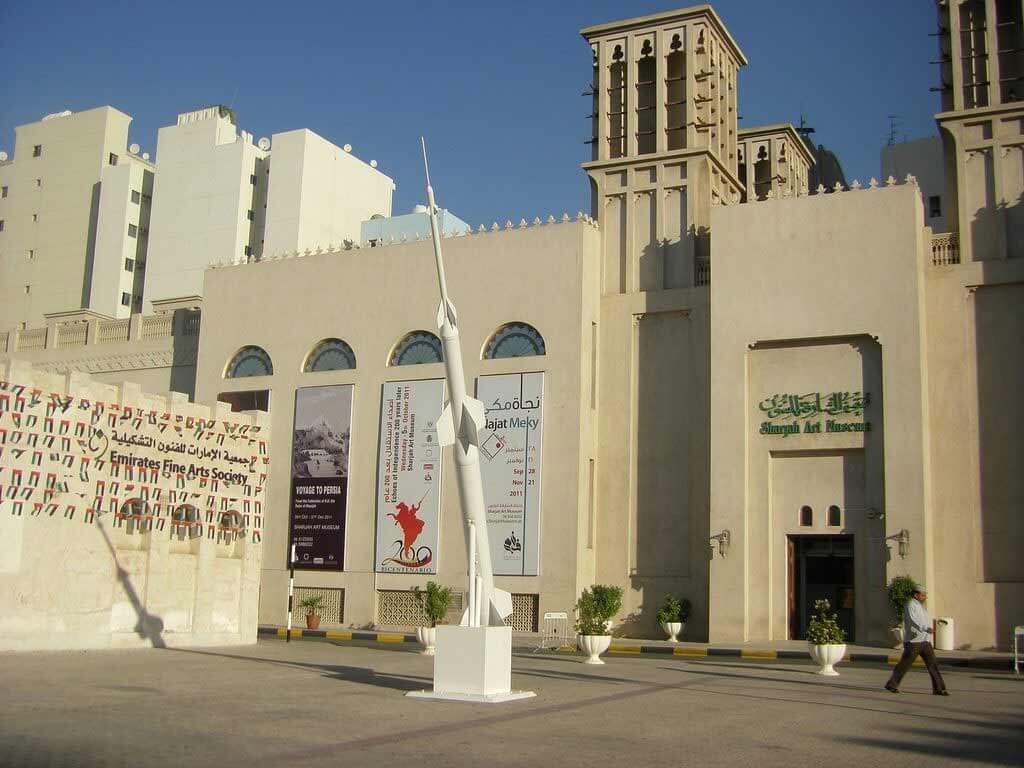 Sharjah Archaeology Museum
Perfectly placed behind the Sharjah television building, the Sharjah Archaeology Museum is a treasure for all art and culture buffs. It is an opportunity to boost their understanding of UAE historical art and culture. This museum exhibits the historical past of the UAE region, allowing visitors to delve into the rich heritage and history of the area. You'll find out about Arab civilizations and how Arabs, particularly UAE, progressed from the Stone Age to today through artifacts, coins, jewelry, pottery, and ancient weapons. Entry cost is only AED 10, making it accessible to all who wish to explore the cultural and historical treasures of Sharjah.
The Aviation Museum Sharjah
While I've already discussed a few Sharjah museums, it sometimes might be worth considering others as each museum has a different taste. It was constructed by the Sharjah ruler in 1932 after an agreement with the British. As the name suggests, this museum is dedicated to aviation. In addition, there are a variety of types of aircraft, so if you're interested in aircraft, this is the best option for you. It even displays jets dating back to the early 1900s.
Historical Places to Visit in Sharjah
Being a proudly cultural city, There are plenty of historical places in Sharjah. Listed below are few, so you enjoy the best of Sharjah. 
Heart of Sharjah
As a UNESCO-listed attraction, the Heart of Sharjah was officially recognized by UNESCO as part of the World Heritage list back in 2014. This prestigious UNESCO recognition places it among the most culturally significant places to visit in Sharjah. It is also interesting to mention that the Al Bait Hotel is located in the center of Sharjah, and it represents a traditional style of accommodation from the 1950s. Similar to the construction of the Al Bait Hotel in the 1950s, it was made of coral stones and mud. However, over the years, the facility has undergone renovations, and new facilities of the modern era have been installed, providing visitors with a blend of heritage and contemporary comfort, making it one of the top UNESCO recognized places to visit in Sharjah.
The Buried Village
Those looking for an escape from Sharjah's busy city should head over to this isolated village located deep in the desert, which is a palace surrounded by many myths and mysteries of the desert. It's also called the ghost village. Located east of Al Madam, The Buried Village is a town where all houses and a mosque went abandoned in the late 1970s. Tour activities like quad bikes, ATV, and buggies are also available for rent in the neighborhood camps, offering a thrilling desert adventure. Additionally, it is a pretty spot for sunset views, making it an ideal destination for nature enthusiasts and those seeking unique experiences. This spot is easily reachable from the main highway on E44 and E55 near the Al Lahbab roundabout, adding to its accessibility as one of the offbeat places to visit in Sharjah.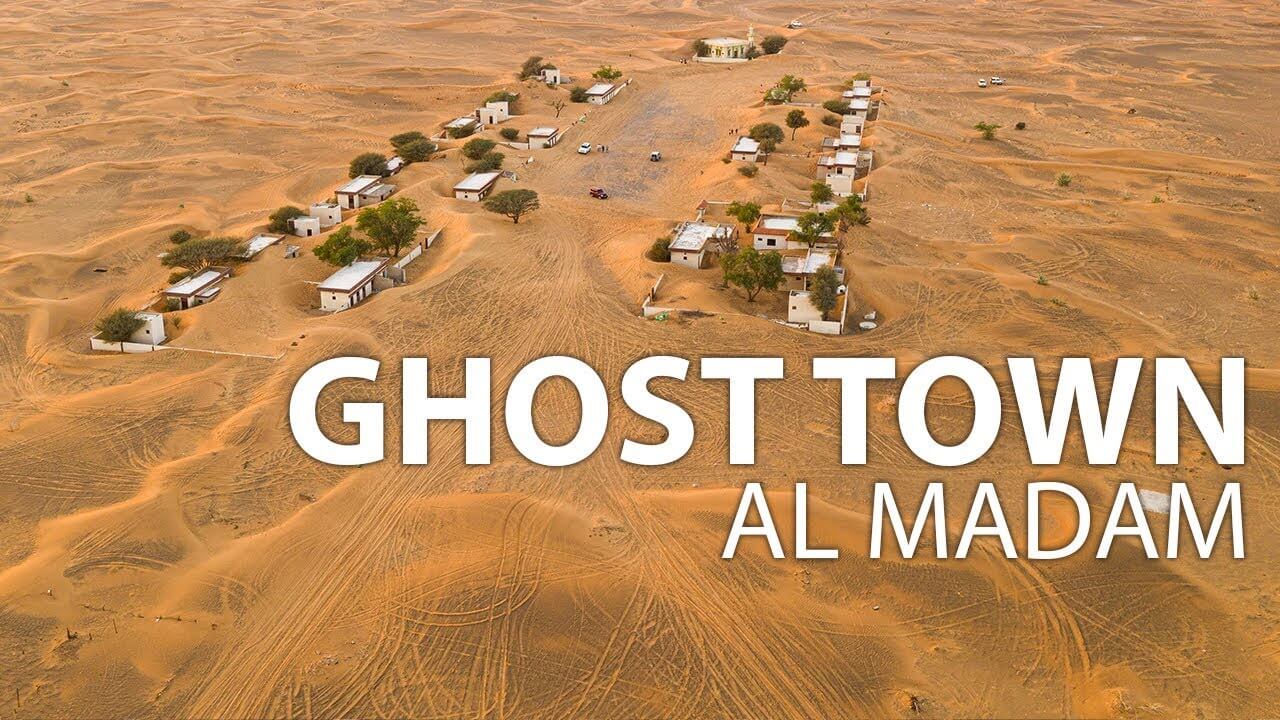 Blue Souk
There is a Blue Souk in Sharjah as well, just like the Deira market in Dubai, where you can find a wide variety of goods, including gold, textiles, perfume, spices, and more. It's very similar to the old souqs in Dubai. At the Blue Souk, you can purchase jewelry, perfumes, clothing like Abayas, footwear, and almost every daily routine item, making it a one-stop shopping destination. Apart from trading, it's also one of the most attractive places in Sharjah for taking pictures for Instagram, given that its exterior design is incredibly appealing, with its distinctive blue architecture and vibrant atmosphere. It's a bustling hub for both shopping and capturing stunning photographs, making it a popular choice for those looking shoping places to visit in Sharjah.
Al Badayer Oasis
If you've a modest understanding of geography, I'm confident you've already read about the Silk Road. Visiting the Al Badayer oasis will give you the same feelings as traveling along the Silk Road. Capturing 24,000 sq. In the desert, Al Badayer Osais is a scenic desert spot developed by Sharjah Investment and Development Authority to further improve the ec-tourism in Sharjah in a luxurious way.
Al Noor Mosque
Based on the design of the Sultan Ahmed Mosque in Turkey, Al Noor Mosque sits on Buhaira Corniche. Hence, visiting Al Noor Mosque in Sharjah makes you feel like you are in Turkey. It was built during the reign of the Ottoman Empire, and now, this mosque is a classic, legendary symbol of Sharjah. Al Noor Mosque's attractiveness and connection to the Ottoman Empire have caught the attention of tourists and Sharjah residents alike. The interior of the Al Noor Mosque is etched with intricate calligraphy of Holy Quran verses, adding to its cultural and artistic significance. It's a perfect alternative to the famous Jumeirah Mosque in Dubai and the iconic Sheikh Zayed Mosque in Abu Dhabi, making it one of the top places to visit in Sharjah for those interested in Islamic architecture and history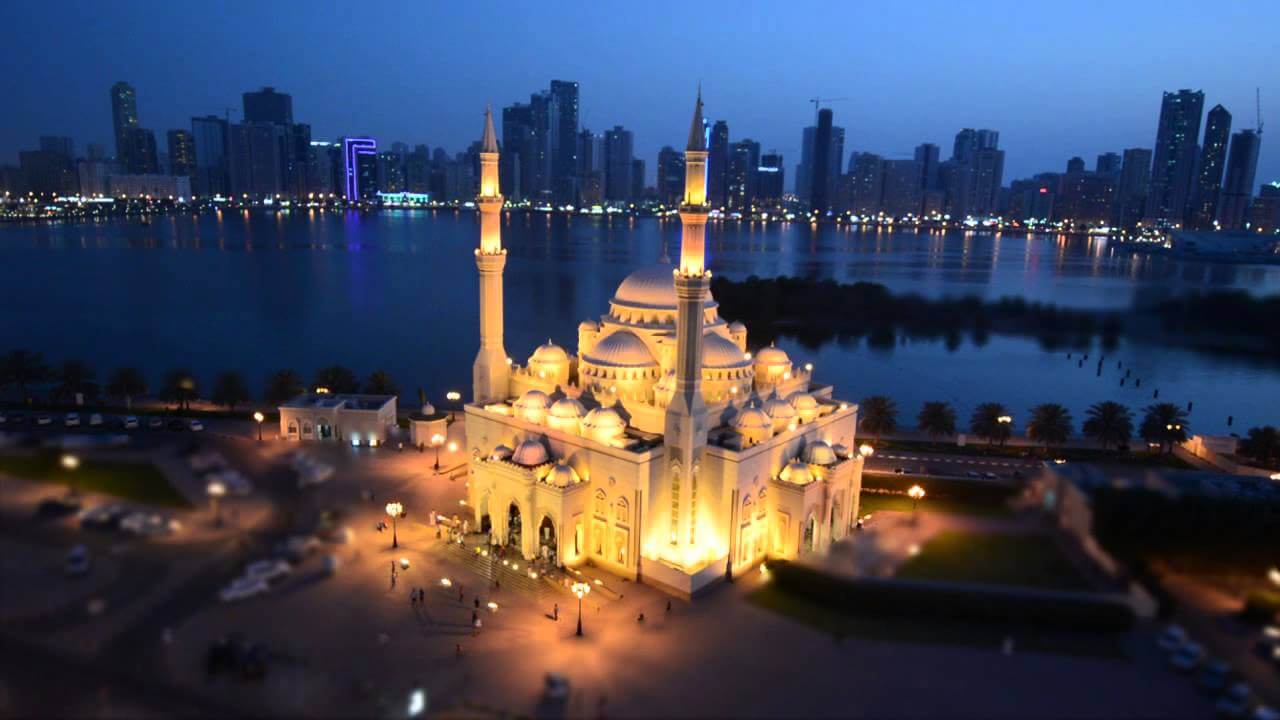 Random Places to Visit in Sharjah
Kalba
Located between Sharjah and Fujairah, Kalba is a small eco-tourism destination that offers a wide range of activities aside from scuba diving. It includes wildlife spotting while trekking and kayaking, making it a haven for nature enthusiasts. Most tourists visit Kalba to observe the Arabian oryx, the national animal of the United Arab Emirates, in its natural habitat, adding to the allure of this unique destination. It's a must-visit for those looking to explore the natural beauty and wildlife of the UAE and is a top choice among the places to visit in Sharjah and the surrounding region.
Buhaira Corniche
There is a 7km stretch of serene and picturesque Buhaira Corniche that runs along Khaled Lake, which has jogging trails and biking paths. It is flanked by some of Dubai's most gorgeous landmarks including the Al Majaz Waterfront as well as the nearby Al Noor Island.
Souq Al Jubail
Located just off the Sharjah corniche, one stop marketplace for vegetables, meat, fish. Of course it's not a must to visit or buy something but if you've spare time, you can visit Souq al Jubail.