Originally posted 2022-04-03 20:46:13.
So you're getting ready for a desert tour and not sure what to wear on the desert safari tour? Though Dubai is significantly tolerant about female outfits, in spite it's a part of Muslim country and also have some restrictions when it comes to outside. Regarding temperature, during the day time in the hot season (May-October), temperature in Dubai desert fluctuates between 35 C to 50 C while in summer it keeps rolling around 25 C. On the other hand, at night the climate in the desert becomes a bit chilly. Apart from that, desert safari tours are offered in three different versions, morning, an evening desert safari tour and overnight desert safari. Most likely you've booked an evening desert tour. So, the major part of this post is about the evening safari tour. Before going on a trip, go through my detailed post to figure out desert safari outfits.
Dubai Desert Outfit During Winter
Considering it as a desert city, most people think Dubai is ALWAYS hot. Frankly, it isn't accurate. During the winter season, the temperature in Dubai is usually pleasant. In fact in recent years, during winter rain has happened in Dubai. Therefore, you've to keep an eye out for weather if you go to the Dubai desert in winter. Occasionally, when you are travelling to the Dubai desert in the evening during winter months, you should definitely wear an extended pants/long skirt and also it's advisable to carry a light jacket since the desert temperature in the evening after sunset goes down.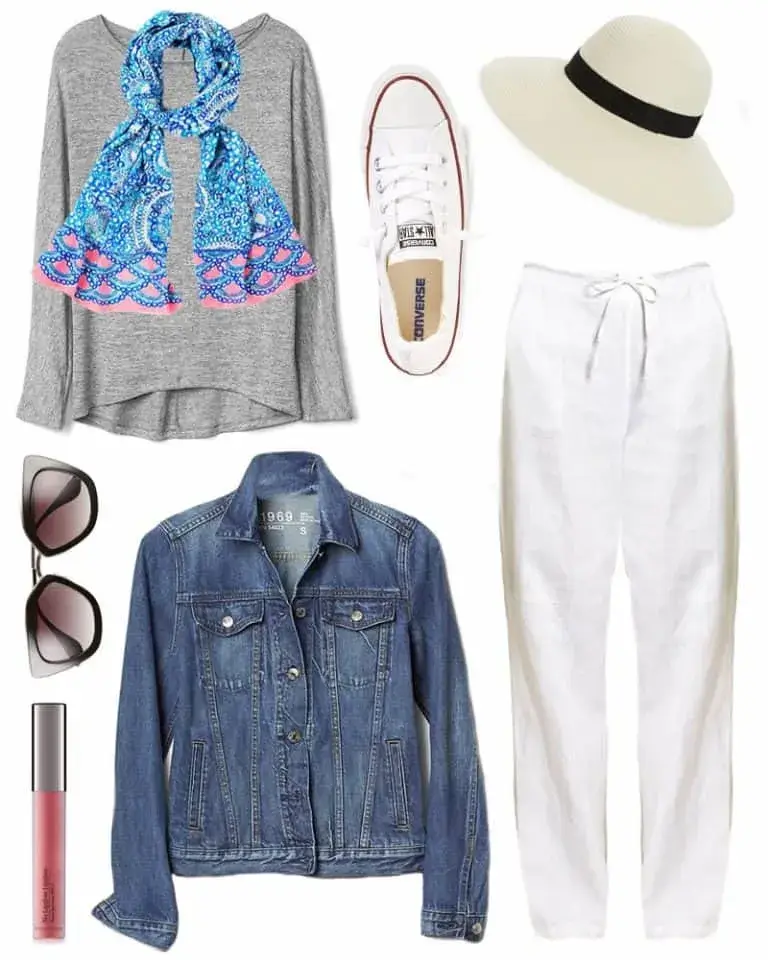 Dubai Desert Outfit During Summer
Despite sweltering weather conditions, a great number of tourists are visiting Dubai. When choosing a dress for desert safari in summer, Don't forget that summer months in Dubai are scorching. To guide you, I'd suggest wearing a simple cotton shirt combined with breathable cargo pants etc. Even though dark colorful dresses seem to be a good choice for the pictures, to beat the heat, light-colored clothing is most appropriate to wear.If you want to miss spectacular desert photos, wearing outfits with a vibrant pattern or shade to contrast against the sandy background could help you in capturing great photos. On top of that, To protect your face against sun rays, you can carry a baseball cap with you.
If you're going to overnight desert safari, bear in mind temperature can dramatically change from evening to late night. So ensure to carry a light jacket or fleece.
If a man accompanies you, he should wear shorts or light and comfortable trousers or jeans with a t-shirt or cotton shirt.
Dressing for Cultural
First, I want to point out that Dubai is known as a multicultural city because it's population is composed of over 85% expats including the Pakistani, Indian subcontinent, African, Southeast region, West and Middle East. However, When selecting what to wear on a desert trip, aside from your ease and comfort zone, you need to respect the local UAE culture as well. Considering other Middle Eastern cities, Dubai is extremely generous when it comes to female dress code, yet, it's advisable to dress conservatively, covering your shoulders and knees at least. Casual pencil dress with a belt would be an ideal dress to wear in Dubai.
What Shoes Should You Wear?
Putting on walking sandals may not be a great idea when going on a desert trip in Dubai. Better you carry close-toed shoes with you for walking in the desert sand. In winter, Light joggers and sneakers are also great options for desert adventure activities.
Additional Desert Safari Packing
Getting sunburned in the Dubai desert is not fun in any way. So ensure to carry a good sunscreen lotion and glasses as well.

If you're staying overnight in the desert, make sure you carry your mobile phone chargers. Aside if you're kind of allergic, carry your own towels and travel soap as well. You can also bring your own night dress. Remember, at night the temperature drops down in the desert. So, carry a warm dress
Evening Desert Safari Activities
Evening Dubai desert safari trip comes with a diverse variety of activities for its visitors. If you have no idea what those activities are, stick with me.
When it comes to dune bashing in desert safari, there is no way you miss it unless you're pregnant or have backbone issues. Dune bashing is actually the zaniest and the most daring activity in desert safari where a vehicle is driven over a sand dune with escalating and reducing speeds. To do so, you need special driving skills along with a special vehicle. Normally a sports utility vehicle (SUV) used to carry out dune bashing. It's not a necessity, but if you're a female, consider being dressed in a well supported shirt since you'll get thrown around in the car.
Riding on a camel in the desert is a dream for many of us. It's evidently an exciting activity for many tourists. If you've no idea what to wear when going for the camel ride, In my opinion, loose, long sleeves clothes and non-slip loose trousers/pants would be good outfitted for camel rides. If you're taking the came riding trip in Dubai during the summer, light-weight and light-coloured clothing would be the right ones.
It might be a completely new term in case you have never been on a desert safari trip before. Similar to snowboarding, Sandboarding is an activity that involves slipping down the slopes of a desert dune with exclusively designed boards fastened to your feet. Again, for this you are also suggested to wear loose trousers.
BBQ Dinner & Entertainment
Aside from previously mentioned activities, you'll also enjoy barbecue dinners under the stars, watch live entertainment shows like tanoura show, belly dance and fireshow etc during evening and overnight desert safari trips.
No matter which desert safari trip you're going with, you'll have an opportunity to get some amazing photoshoots with falcons. Most desert safari tour operators offer UAE national dress for photoshoot. If it attracts you, you can give it a try.
Most of the time, quad biking isn't included in desert safari basic trips. It's an optional activity. Quad bike riding in the Dubai desert is truly an activity packed with adventure and excitement. If you wish to experience a full scale desert safari trip with full scale, I encourage you to book quad biking with your desert safari Dubai tour.
Where to Book Desert Safari?
Since desert safari is considered to be a must to do activity in Dubai, there are countless tour operators that offer desert safari tours. However, I personally went with this tour operator. You can read my detailed desert safari trip review over here.