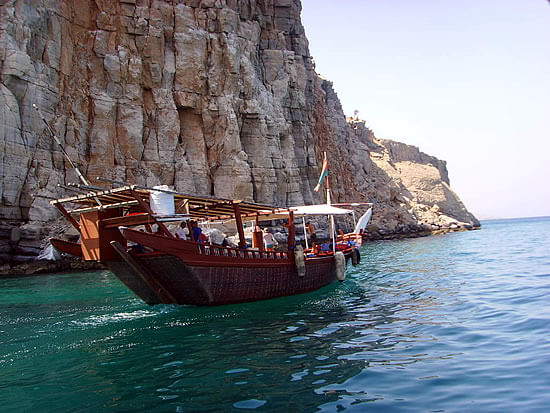 How to find best Musandam tour operator?
If you've ever tried to book Musandam Tour from Dubai, you will surely agree with me that most of the tour operator does not offer transportation from hotel. It took me approximately two hours in finding a Musandam tour operator which has the excellent reputation and offered me pick up and drop for the Musandam tour of my own apartment. I contacted almost 15 tour operators and only three tour operators offered me transportation from my apartment. After discussing price and checking company online reviews I decided to go with Musandam Travel LLC which seemed to be professional and provide Musandam tour with hotel pick up and drop off at an affordable price.
How much did I pay?
I was told that if I come to meeting points,  the cost would be 165 AED and if pick up from my location (Al Barsha), then I've to pay 195 AED which I guess a good price at least for me. Although I was okay with the trip price and itinerary, they were asking me for 20% down payment online by credit card which I did not want to pay. I also had some other queries in my mind regarding tour so I asked them and after getting answers to my questions and agreeing on 20% down-payment. I paid them deposit payment online by credit card and sent them my documents. I was expecting instant confirmation but unexpectedly, they took one and half hour before confirming my trip. Anyway the next day I was picked up at 7:30 Am from my given location on an air-conditioned bus and after picking guest from other locations we reached at Dibba point at 10:0 Am and then they took us on the cruise.
Things to do in Musandam
This peninsula is not only considered for peace and calmness but also a number of activities can be performed and experienced within the area. Tourists mostly make their trip to Musandam more memorable by some of the following activities.  
The day on a Dhow
The very first and important activity that every person who visits this peninsula do, is the ride on a special Omani boat named as DHOW to view all the sceneries housed or compact in this small area. Tourists do this boat ride especially to visit and explore the Omani fjords. The long, narrow area and the sea water following between the cliffs are a great source of happiness and joy for the tourists. The boat which is shaped in a unique manner depicting the creativity of Omani people is an attractive mean of transportation in this sea. It is very comfortable and equipped with the traditional cushions of Arabs where you can easily sit and enjoy the view. The long, narrow area and the sea water following between the cliffs are a great source of happiness and joy for the tourists. People from a different area and places usually come for having a ride on this special boat. Moreover, the dolphins jumping in the boat and the sunset views in the evening gives a very romantic touch to your tour.  
Road driving
As this area consists of a number of mountains around it. So the roads twisting around these mountains give another attraction to the tourists in this peninsula. The dwindling roads and rocky surface tempt the tourist to travel by road and explore more places here on 4 WD jeep. This is considered one of the adventurous activity for the people who love such adventures and have the capability to handle such hardcore trip. The jumping roads excite the tourists a lot. It is the best mean to explore the small ways crossing between these mountains and gives a splendid view of mountains and desert landscapes. Then there is a forest as well named as the "forest" of acacias that is 15 minutes away from the Khasab. It is considered to be the best place for picnics. People usually do hike as well to reach this forest. Sitting in between the forests, mountains and the sea flowing in between them gives a relief to your mind. Here you are compelled to forget all your worries and sorrows. Once you visit this place either with your families or friends you take a huge collection of memories.
Swimming
Then the easiest and common activity that can be done on this peninsula is the swimming. There are a number of beaches situated on the edge of the road that is moving from the UAE border to its Governorate Khasab. This is the only road that leads to the Musandam so one who comes here cannot avoid them the white sand and clean water is best for the swimming.
Note: I Will update more soon.